Description
In partnership with:



Salman Rushdie is one of the world's greatest storytellers. His acclaimed book Midnight's Children has been voted the Booker Prize's 'Best of the Booker' on two separate occasions and has sold over one million copies in the UK alone. He influenced an entire generation of Anglo-Indian writers and sparked a revolution in postcolonial literature with his distinctive magical realist style and depictions of the South Asian diaspora.
Now, Rushdie comes to the Intelligence Squared stage, in partnership with Vintage Live, to discuss his career, his life and his new novel Quichotte with the BBC's Razia Iqbal. Inspired by the classic Don Quixote by Miguel de Cervantes, the book is a wild ride through modern America — a society on the verge of moral and spiritual collapse — and examines racism, father–son relationships, the opioid crisis, cyber-spies, and the end of the world.
Join us on Thursday August 29th for an exploration of the life and work of one of the most celebrated writers of our times.
BOOK BUNDLES
Book bundles contain one ticket to the event plus one copy of Salman Rushdie's new novel Quichotte, to be collected from the venue on the night of the event.
Speaker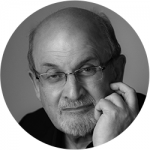 Salman Rushdie
Award-winning novelist
Author of fourteen novels, including Midnight's Children (which was awarded the Booker Prize in 1981), Shame, The Satanic Verses, and The Golden House. His book Midnight's Children was named the Best of the Booker – the best winner in the award's 40 year history – by a public vote. His fourteenth novel, Quichotte, will be published by Vintage in August 2019.
CHAIR
Razia Iqbal
BBC journalist and broadcaster
One of the main presenters of Newshour, the flagship international news and current affairs programme on BBC World Service radio. She also regularly presents The World Tonight on Radio 4.
Speakers are subject to change.