The SAS soldier - Blue Team leader of 22 SAS Regiment - in the Iranian Embassy Siege. Come face to face with the famous man with no gloves!
About this event
"I am not an emotional person – I was trained to do a job…"
Go! Go! Go! were the words given in 1980 to a group of elite SAS soldiers to storm the Iranian Embassy on Princes Gate, London and free hostages.
This was the first time the world got to see a glimpse of what Counter-Terrorism and Hostage rescue really looked like. Now is your chance to come face to face with "the man with no gloves" Blue Team leader of 22 SAS Regiment from that siege.
We go behind the scenes in an unseen talk with the man himself including footage never seen before as Rusty Firmin comes to the Isle of Man to share his story of that dreaded 6 day siege, along with thrilling tales and anecdotes of his illustrious career and life.
The evening will also include a private screening of the Embassy Siege full length feature film "6 Days" starring Jamie Bell as Rusty.
"Now a successful author – his book about the operation Go! Go! Go! has been turned into a Netflix film titled 6 Days. Rusty will also be available at the end of the event for a private book signing of his books Go! Go! Go! and The Regiment - 15 years in the SAS.
The evenings itinerary:
1900hrs Doors open
1930hrs Private screening of "6 Days"
2100hrs Interval
2145hrs Rusty Firmin Live on stage
2230hrs Live Q&A with Rusty Firmin and your chance to ask the questions yourselves.
2300hrs Finish/Book Signing.
Special Photograph signing in aid of SSAFA Isle of Man.
Hand Signed Iranian Embassy Siege Photo (opportunity to have personalised). £10 donation to SSAFA Isle of Man.
Photo (see below) for illustration purposes only (layout may differ).
Tickets
* £25 per person - Price includes VAT but excludes booking fee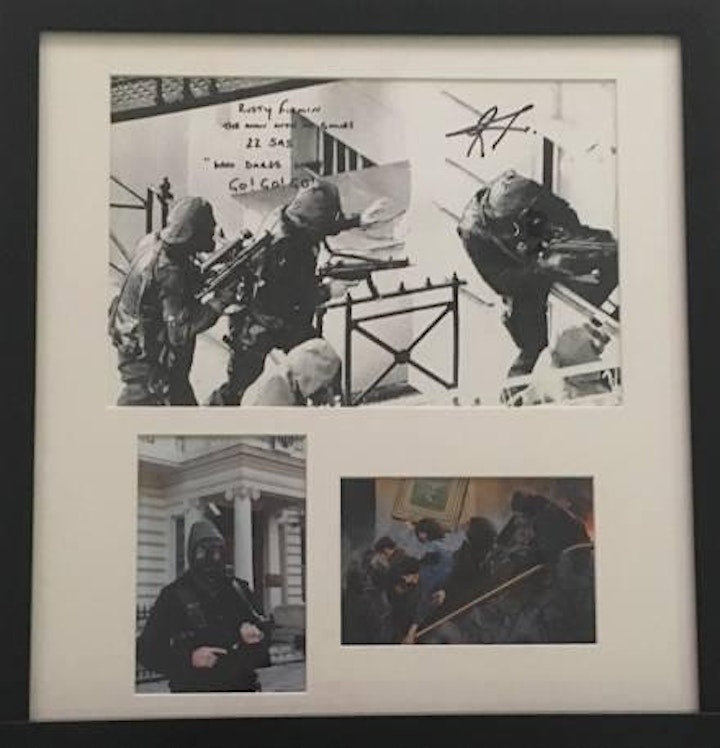 Organiser of An Evening with SAS Iranian Embassy Siege Hero Rusty Firmin
The Sporting & Dining Club is an exciting business!

We are an Isle of Man based event company, and have an established record of presenting and hosting successful events in Jersey and the Isle of Man, since 2006.

 Join us for our informal topic led evenings, where we like to re-invent your evenings and create an exciting alternative to having a drink in your local, are extremely popular!

We will pull together an impressive array of leading entrepreneurs, intellectuals, bright thinkers & incredible individuals to inspire your evenings and expand your mind.

Delve into a totally new subject and challenge your perspectives with like-minded, equally curious people. Its time to try something different - you never know where it may take you.

Psychedelics, Physics, Politics, Psychology, Neuroscience, Serial Killers, Soldiers and more!
 We also bring leading celebrities from the worlds of sport, business, entertainment and politics to speak at the fantastic black tie dinners that we host for our membership, and that we organise for other clients and charities. We are sure you will find the perfect event for you.
 Over the years we have worked with our community and many charities, to raise over £119,000 for many great local causes.