An Evening with Shaykh Abu Bakr Shatri in aid of Physicians Across Continents projects in Palestine and Africa
About this event
We would like to cordially invite you to the Physicians Across Continents fundraising dinner and networking opportunity entitled 'An Evening with Shaykh Abu Bakr Shatiri and Guests'. This will be a unique occasion to benefit from the wisdom of Shaykh Abu Bakr Shatiri. He will also be leading Maghrib prayers for guests.
Date: Friday 13th August 2021
Time: 6pm-10.30pm
Venue: Saffron Kitchen 300 Lea Bridge Road E10 7LD
The evening will include inspirational talks by various people. There will be a delicious 3 course dinner by Saffron Kitchen and networking opportunities. We will also have an amazing collection of special auction items on offer as well as a live performance from Muad including his new song entitled Palestine.
About Us
We are an international medical charity, established in 2003 providing high-quality medical care to people affected by crises and disasters, regardless of their race, religion and ethnicity. Healthcare is a universal right which unfortunately not all people have access to. We currently have two main campaigns across Africa and Palestine providing specialist surgeries and emergency medical aid.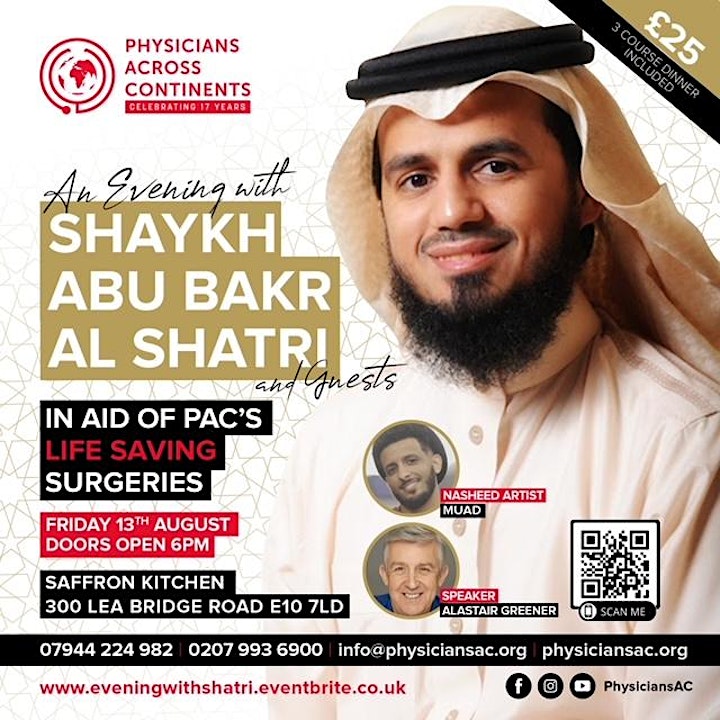 Organiser of An Evening with Shaykh Abu Bakr Al Shatri & Guests