Description
The Osprey, a spectacular fish-eating bird of prey formerly widespread in the UK, but hunted to extinction as a breeding bird by the 1850's, began a natural re-colonisation of Scotland in the 1950's with the famous eyrie at Loch Garten. Its return to the lakes and rivers of England and Wales might have taken another century, but for a ground breaking and ambitious translocation programme initiated by the Rutland Osprey Project in Central England in the mid-1990's. Now, twenty years later, a healthy wild population of Ospreys can be seen in the summer around the Rutland Water area as they build their nests and raise their young, delighting 30,000 visitors who come to see them each year.
Join Tim Mackrill and Ken Davies at Heffers for this illustrated presentation during 'World Osprey Week' and learn not only how this astonishing turnaround has been achieved, but also how advanced technology has enabled us to track these amazing birds on their twice yearly migrations to and from West Africa.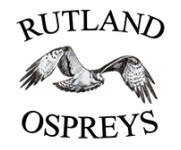 A range of publications by the speakers will be available to purchase on the evening.
Tickets for the event are priced at £3 in advance and £4 on the door. They can be purchased through this page, by calling 01223 463200 or in person at Heffers bookshop. Please note that tickets are transferable but non-refundable.