About this Event
Bob Tuxford was well known in the RAF for his exploits in the Air-to-Air Refuelling role, as a KC-135A instructor pilot on Exchange duties within the USAF, a Jet Provost Qualified Flying Instructor in Training Command and finally as a test pilot at the Aircraft and Armament Experimental Establishment, Boscombe Down.
On the night of 30th April/1st May 1982 during the Falklands War, the RAF undertook Operation Black Buck 1: the bombing of Port Stanley Airfield. Bob Tuxford was Flight Commander with 55 Squadron flying the Victor K2 Tanker and he played a pivotal role in the success of the operation.
On the 13th June at our Uckfield HQ, Bob will recount the planning and execution of the operation and how his quick thinking in the face of an ever changing set of circumstances and deteriorating weather, they managed to complete one of the most audacious raids in aviation history.
As well as this fascinating talk, Bob will be taking questions and he has also kindly agreed to an exclusive signing opportunity of his book "CONTACT!"
Hardback copies of the book will be available on the night at £20 a copy and a synopsis from the publish is below.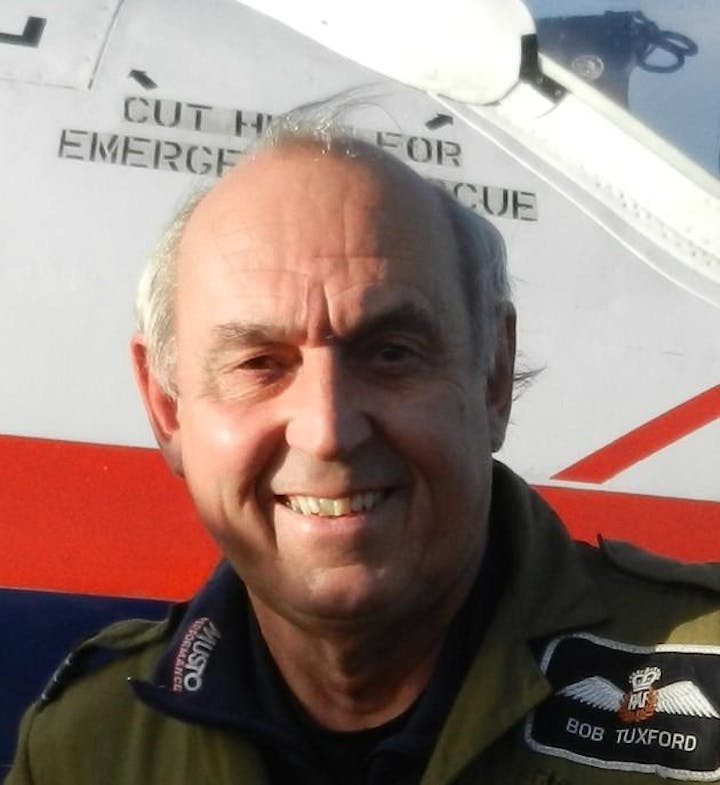 Contact! is an enthralling set of recollections from ex-RAF pilot, instructor and test pilot Bob Tuxford. The book follows his twenty-year career within the RAF and describes highlights of active service across the world, including an accompanied exchange tour in the US Air Force and participation in the Falklands war.
The title, a nod to the crucial response during air-to-air refuelling, underlines the important role that Bob carried out during his career as a captain of Victor K1s 214 Squadron in the 1970s, and K2s on 57 and 55 Squadrons in the early 1980s. This experience led to him playing a vital role in the first Black Buck mission during the Falklands campaign – by being the last Victor tanker to refuel the Vulcan piloted by Martin Withers before bombing commenced on that fateful night in 1982. For this, he was awarded the Air Force Cross for gallantry. In the latter years of his career, Bob made the transition to test piloting and became the senior test pilot on the heavy aircraft test squadron at the Aircraft and Armament Experimental Establishment, Boscombe Down.
This book is not just for aviation enthusiasts, but for those wanting a greater insight into the importance of the work carried out by tanker squadrons within the RAF during the Cold War.