Event Information
Refund Policy
Contact the organiser to request a refund.
Eventbrite's fee is nonrefundable.
Meet the creatives that are reimagining fashion relationships followed by a short exploratory workshop into our own fashion relationships.
About this Event
In 2020 many of us are concerned about sustainability in our wardrobes. Is it really as simple as finding an organic cotton t-shirt to wear?
We believe it is not so simple. As the saying goes 'loved clothes last'... It's a complicated relationship that we have with our clothes though...
Why is it that we even feel emotions towards our clothes? Sometimes we love them, they make us feel good. Sometimes they can make us feel less than special, or we just downright decide we hate them. What does it mean to create a new relationship with our clothes? Maybe this relationship is a reflection of the one that we have with ourselves?
On Tuesday 8th December, we are really excited to bring together three guest hosts whose work focusses on reimagining relationships with ourselves and fashion.
The event will be a 90-minute exploration; making space to hear about the creative work that is being done to restructure fashion relationships. And then we will take a journey within to consider our own fashion emotions.
Please bring a garment that you have a (good or bad) relationship with & a curious mind.

A little about our guest hosts :
Ciara LeRoy; well known as Pretty Strange Design from Ohio, USA. Ciara is a multi-disciplinary designer specialising in lettering, embroidery and fashion. The goal of her work is to unite imagination with everyday life. Sometimes that imagination is silly and smile-inducing. Other times that imagination is serious. Currently, it is imagining a more just and equitable world.
Aniela Fidler Wieruszewska; a designer, researcher, and sustainable fashion advocate based in London. Aniela's work is concerned with fashion as an expression of emotion. She researches fashion to express collective and individual identities, as well as to communicate and relate them to each other in order to understand and map possibilities for more satisfactory futures.
Chiara Spruit; a style coach and speaker. Her consultancy Indiaan in Je Kast is based in Amsterdam, the Netherlands. Chiara triggers women to discover the endless possibilities of their wardrobe. It is her mission to empower and inspire women and do it in a socially and environmentally responsible way. She likes to focus on matching your identity with your outfit, celebrating yourself, out of the box thinking and cherishing what you have. She does so by shopping with women in their own wardrobe and giving lectures and masterclasses.
We hope you will enjoy meeting them too & can't wait to see you there!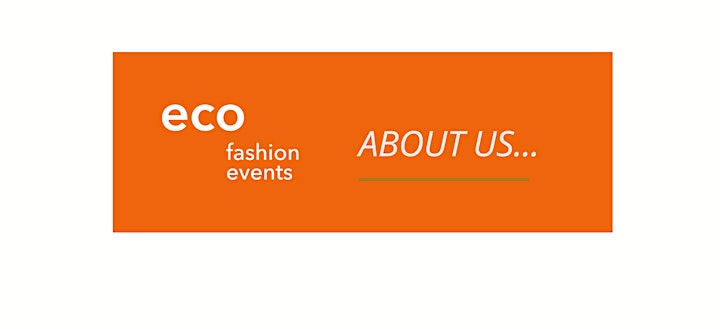 Eco Fashion Events are a collective who have been working inside the fashion industry for a number of years. You can meet us over on our social channels:
With the news that every 2 in 5 Christmas jumpers brought in the UK end up in landfill [source: Environmental charity Hubub 2019 report] the seeds for our eco festive fashion week were planted.
This year, we expect Christmas to be quite different to usual. Needless to say we don't expect there to be too many office parties or excuses for get-togethers. We also strongly believe that, as we draw this year to a close, we all need a good excuse to enjoy ourselves, reflect and reset.
We really hope that, along with highlighting the best of eco & ethical styling at Christmas, our week of events will leave you inspired and empowered.
What your ticket price covers:
The price of your ticket is helping to compensate those taking part for their time, knowledge, and energy. It's also covering the organisation and set up costs-so thank you for your kind support!
Please note, our ticket prices have been designed so that students and unwaged people might be able to benefit from a discount, as well as those that are able to contribute a little extra to cover our costs.
In the event that you cannot afford the suggested fees, we would love to hear from you as we have reserved a few spaces for such eventualities. There really is no judgement on our part, we want as many people as possible to join us! Please get in touch: eco.fashion.events@gmail.com
Although we really hope you can make this event live and in person (via video call) to get the full benefit of the session, we do understand that often things happen that are out of our control, so worry not, this event will be recorded and if you've signed up you will receive a link to the recording in the days following.
Please also follow us to find out more about our full range of events happening
Eco Festive Fashion Week : 5th - 11th December 2020.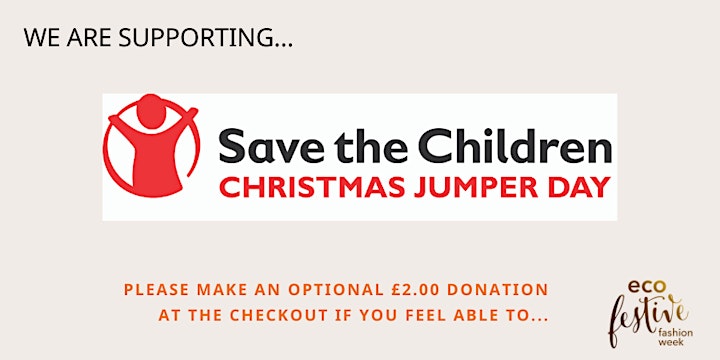 Date and Time
Location
Refund Policy
Contact the organiser to request a refund.
Eventbrite's fee is nonrefundable.