Disabled people must be included in conversations about climate resilient futures. At GDI Hub we believe that there is an untapped resource
About this event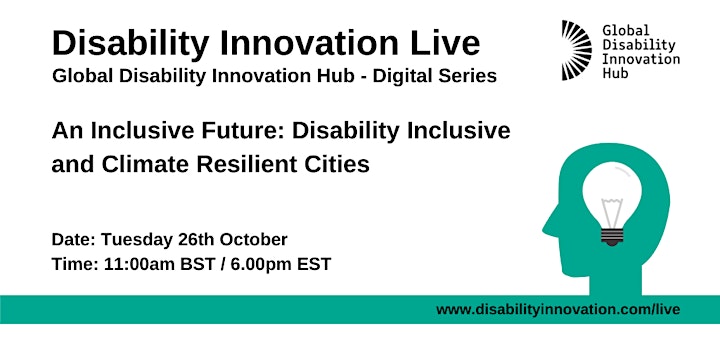 Ahead of COP 26 GDI Hub are focusing the next Disability Innovation Live webinar to be on disability inclusive climate resilience in cities.
Disabled people must be included in conversations about climate resilient futures. At GDI Hub we believe that there is an untapped resource in the nexus of climate resilience and #disability #inclusion: inclusive #design. The design and planning of the urban built environment and #infrastructure has a crucial role in a more equitable and resilient future. Applying a lens of disability inclusion and inclusive design to the design of sustainable, urban solutions will create opportunities for resilience and ensure marginalised groups are not left behind.  
We will hear from speakers in organisations like GDI Hub, Asian Development Bank and Kota Kita who will discuss infrastructure and urban development projects in countries including Mongolia, India, Indonesia, Pakistan and Kenya. They will draw out issues and challenges the projects faced in terms of both inclusion and #sustainability or resilience and look at what was done to address them.
Sign up now to join this exciting and topical webinar!
GDI Hub at COP26
GDI Hub is hosting a side event at the UN #Climate Change Conference (COP26) on Thursday the 11th of November that will set an agenda for the inclusive design of more climate resilient #cities. To prepare for this event, we want to bring together our network to collect best practices and community-led solutions that can be showcased at #COP.
Examples of best practice
If you are working in the space of disability inclusion and climate resilience or sustainability please fill out this form to help us collect examples of best practice ahead of a series of events leading to #COP26. Let us know about your work and we will get in touch!