For STEM Ambassadors who are interested in working with young people with ADHD and other neurodiverse conditions
About this event
As part of Neurodiversity Celebration Week, the 3 STEM Ambassador Hubs in Scotland are delighted to invite you to this event to hear from 2 STEM Ambassadors and their experience of young people living and working with ADHD and other neurodiverse conditions.
The event will be an insight into how you can adapt your own behavior and activities to provide a better experience for young people and yourself.
Carla Henison is a STEM Ambassador will offer her experience and says "I'd love to spend some time talking you through my son's experience of being ADHD. He's 10 and was identified as being ADHD last year. I'm also keen to bust some myths and give you some factual information I've gleaned from books, journals and a short course I did through Kings College London. Most importantly though I can give you my experience, as those who're ADHD are the real experts. I'm also ADHD and in May I started an ADHD coaching course run out of America. I'm excited to raise awareness and help others manage the neurotypical world. "
Jane Essex is a STEM Ambassador who has delivered many STEM Activities to ASN groups and will chat about working with very neurodiverse learners and sharing the benefits of STEM much more widely than it currently is. Jane will have relevant research to share, as well as some lived experience.
STEM Ambassadors will have the opportunity to chat and ask questions/share experiences after each talk.
This event will take place over Zoom - note that you do not need a zoom account to participate. We will send you the link 48 hours before the event starts.
If you have any questions or would like more information please contact Science Connects, West of Scotland STEM Ambassador Hub at stem-ambassadors@glasgow.ac.uk
There are 3 STEM Ambassador Hubs in Scotland: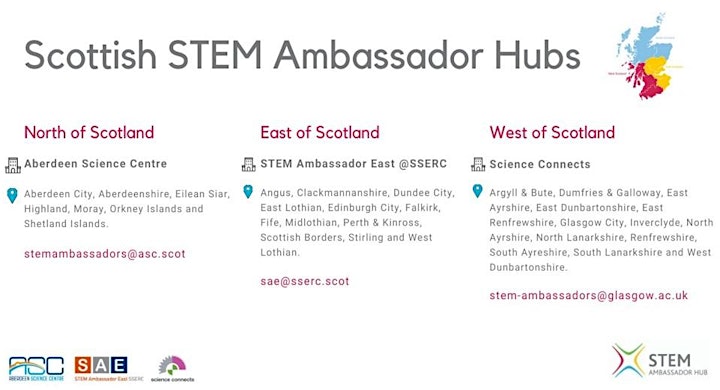 Organiser of An insight into working with young people with neurodiverse needs
Science Connects manages the STEM Ambassador Hub for the West of Scotland, covering 13 local authorities from Dumfries and Galloway to Argyll and Bute. We are based at the University of Glasgow and provide opportunities and support for over 3,000 STEM Ambassadors who offer their time to inspire and enthuse young people in the STEM subjects.