An intro to Content Marketing - and what the Game Plan is all about

Friday, April 4, 2014 from 10:00 AM to 11:30 AM (BST)
Event Details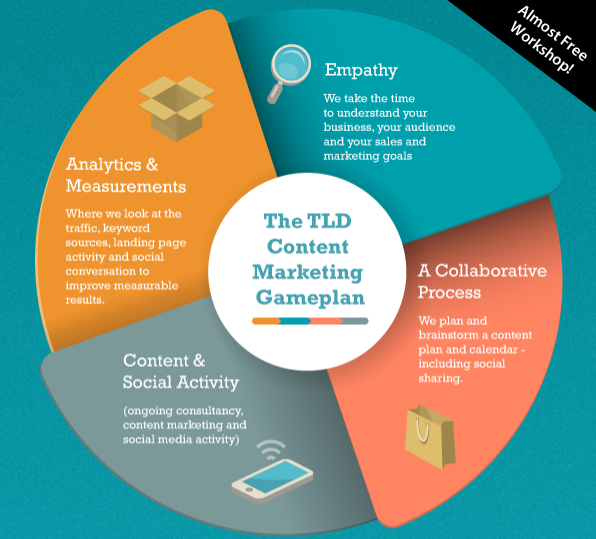 Things have changed. Expectations are changing.
Your website isn't going to be enough. You need to compete with the constant stream of information and even - dare we admit it - funny cat videos and music memes - for attention.
You need to get into the heart of your customers and show you understand them and can solve their pains! 
Our intro to Content Marketing will help you understand:
What is Content Marketing and do I need to do it?
How does it integrate with Social Media?
Should I be blogging? If so - how often?
To what extent do I need to be doing "content marketing" for my business?
What can I outsource? What can I do in house?
Should I be looking at Vine, Pinterest, Instagram, and Vimeo?
What about video marketing? Should I do it? 
Social Media is a way of life. Websites have to be interactive.
People are hungry for content. You don't want to miss out on the opportunity to grab their attention. But you have to do it right.
And that's why we wanted to run this event - and to introduce our new service - The Content Marketing Game Plan.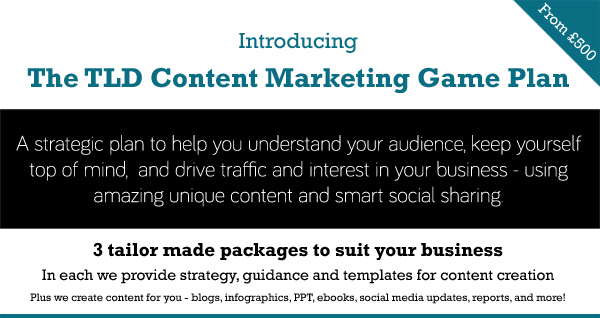 This event will debunk the myths and help you see digital marketing in a completely different way, so you can make wise and strategic choices about where you spend your time, money, and energy.
In a 45 minute talk, we (Keren Lerner, CEO of design agency Top Left Design, and Al Cattel - digital marketing and data analytics expert and part of the team at TLD) - will share our knowledge and expertise so you can arrive into the new year with a clear plan of action for marketing your business more effectively than ever before.
Snacks and refreshments - as always at TLD events, will be served.
Some testimonials about Keren and Al:
People with skills and knowledge like Al are in short supply. He has a fantastic ability to articulate complex technical jargon into every day business language.
I was always impressed with his ability to get stuff done, both because of his interpersonal skills and because of his detailed knowledge of how the web is put together.
Gregor McKelvie - Founder of buildtracks.com
-----
Keren's workshop truly exceeded my expectations. I left with a better understanding of the value of social media and feel much more confident about using it to expand my brand. Keren is clearly an expert in her field and I highly recommend her to businesses and individuals looking to expand their online presence.
Lisa Orban, The Golden Notebook
-----
Working with Al has been a privilege. He is calm, personable and incredibly knowledgable - with a broad range of both technical and strategic skills, and a great manner. He has vision and integrity; his ability to seek out the right solution for a new client was second to none. Always the professional, face to face or on the phone, Al gives you assurance that he can back up his suggestions with tangible benefits.
Hanna Cevik - Bid Writing at Squiz
-----
I would like to recommend Keren as a market leader in web design and social media training. Her natural creativity and ingenuity has given her a clear advantage over the competition in providing cutting edge marketing strategies using social media.
Her professionalism is second to none, her passion shines through and after a session or workshop with her without even realising it you suddenly have acquired in-depth understanding of how you can utilise applications to increase your company profits.
As if all this was not enough Keren is beautiful warm and funny so any time spent learning flies by.
Sarah Bowles, MAC Financial
-----
Having worked with Al for a number of years I can say without a doubt he easily grasps the business and technical facets of being a creative marketing technologist. This is illustrated in the way he can succinctly articulate the concepts to businesses that have trouble in understanding them, ultimately helping them to better understand their own goals and allowing them to be successful in todays digital world.
Matthew Taylor -
Managing Director at Fathom Business Solutions
-----
I have had the pleasure of attending a number of Keren's excellent Social Media Seminars. Not only do I leave feeling energised and raring to go with regards to our wn social media strategy but I also learn something new every time. Her enthusiasm for the subject palpable and her knowledge is vast. I would recommend Keren's courses without hesitation, you will leave feeling empowered.
Will Watts, Seminars at 38
-----
I recently had a social media training with Keren, and I must say that she is a true professional. Keren's positive and direct approach helped me to distill and identify the right message to convey on my Linkedin profile. She was also available to offer other professional development advice. I will highly recommend Keren's to anyone wishing to improve or learn about social media.
Taiwo Okwor, Portigon Financial Services
-----
I attended a seminar run by Keren on how to use social media as a tool in order to raise my profile and gain awareness for my own consultancy. Keren demystified the subject matter and showed me how social media can be used in targeted ways which are effective, creative and straightforward. The seminar was delivered extremely professionally and it was a highly enjoyable day. The knowledge and confidence I gained enabled me to branch out and offer social media marketing consultancy myself, to other sole traders and small business. I think this was a great result and is testament to the clarity, expertise, helpfulness, thoroughness of the seminar, and the follow up service offered by Keren.
Stephen Hooker MMRS
-----
BIID Keren was the speaker at our BIID social media seminar. She did an excellent job and we have had lots of great feedback from people who attended the seminar. It's always great when people email or call up after an event just to say how good it was, and this was one of those events!
Louise Nornes,
When & Where

TLD Offices
12 Bourchier Street
W1D 4HZ London
United Kingdom


Friday, April 4, 2014 from 10:00 AM to 11:30 AM (BST)
Add to my calendar
Organizer
We are a unique design agency and consultancy (based in Soho, London, established 12 years) offering amazing client care, advice and service.
Our talented, creative and efficient team apply ideas, experience and strategy for a memorable online brand and presence you can be proud of - to raise awareness, build credibility and create a connection with your audience.