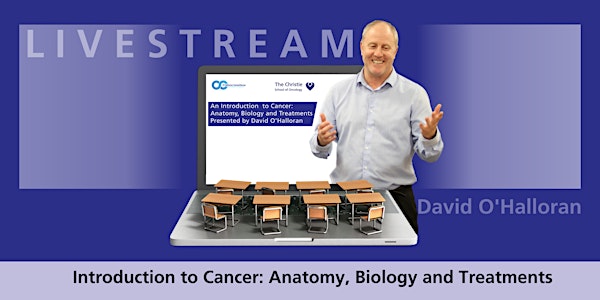 An Introduction to Cancer: Anatomy, Biology & Treatments
Location
Online
-
-
-
M20 4BX
United Kingdom
This is a two day course by David O'Halloran which presents a basic understanding of cancer.
About this event
This study day is a live event whereby delegates can interact live on the day. All those registered for the study day will be able to catch up on all sessions on-demand - the perfect solution should you have prior clinical commitments or leave. The links to the recordings are typically available a few hours after the event has finished.
Through a series of presentations, the speaker describes how cancer develops, the commonest types of cancer, cancer detection and treatment modalities. The sessions are supplemented by quizzes to aid understanding and group interactive question and answer sessions to keep everyone engaged.
Topics Covered:
- Introduction to cells, tissues and cancer
- Classification of cancer
- The spread of cancer
- Overview of treatment options
- Colorectal cancer
- Leukaemia and lymphoma
- Lung cancer
- Breast and prostate cancer
Learning Outcomes:
Upon completion of this course delegates will understand:
- Why cancer can be found in many places in the body
- Why knowledge of different cell types helps identify where certain types of cancer are more likely
- Why cancer has the ability to move and grow away from the primary site of origin
- The methods of spread such as local invasion, lymphatic and blood spread, seeding & transcoelomic spread
- How disease progression will influence pain management
- How tumours can be classified with specific consideration of staging and grading systems
- The role of radiotherapy, chemotherapy and targeted therapies in the treatment of cancer
Intended Audience:
All those new to oncology including research, admin support, industry, CTU, hospice and any other staff groups who require an overview and understanding of the anatomy, biology and treatments of cancer.
Fees:
£220
Booking terms and conditions can be found here
Further Information:
Please email the-christie.education.events@nhs.net or call 0161 918 7409.
Booking Terms & Conditions:
Your place will only be confirmed once The Christie receives payment or the production of an official purchase order to confirm that your trust are willing to pay your delegate fees.
Once your place is confirmed, you will be sent a confirmation email informing you of your place. Bearing this in mind, please write legibly on your booking form and ensure that your email address is correct.
Joining instructions, including directions to the venue, will be e-mailed to you approx. 2 weeks before the conference commences. This will contain details of how to get to the venue and an up to date agenda.
Payment should be made before the course commences. If this does not occur, we reserve the right to cancel a booking in the case of non-receipt of payment prior to the day of course.
If another member of your organisation is processing your application, please ensure that your booking form (or a copy of it) is sent to the event production team in order to provisionally book a place.
In the event of a cancellation, you or your employer will be charged the full fee if you do not inform the course organisers at least 5 working days before the event.
There will be an administrative charge of £50 for all cancellations unless a replacement delegate is identified.
It is the responsibility of the representative booking the training course(s) to ensure that the event organisers are informed of any special dietary or access requirements.
Speaker presentations will not be distributed on the day but delegates will be given a link to access the slides after the event subject to authorisation from the faculty members.