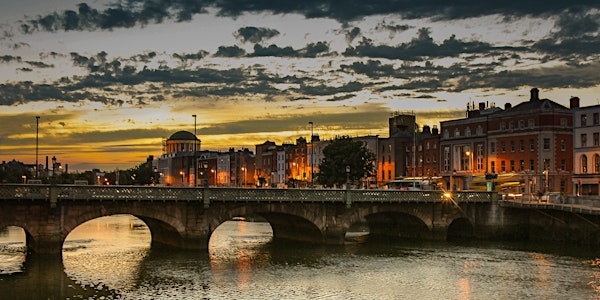 An Introduction to CFT for Eating Disorders in Ireland (Sept 2022)
Location
Fitzpatrick Castle Hotel
Killiney Hill Road
A96 N125 Killiney
Ireland
An Introduction to CFT for Eating Disorders (Sept 2022). This is a two-day workshop in Dublin, Ireland.
About this event
Dates and Times: Monday 5th September: 9:30 am - 4.30 pm | Tuesday 6th September: 9.30 am - 4:30 pm - These times are UK GMT Time
This workshop will be 14 hours towards your CPD points.
This workshop is designed to introduce the principles, philosophy and techniques of Compassion Focused Therapy CFT, how these can be modified and applied to help people recover from an eating disorder. It introduces a specific approach to eating disorder formulation and treatment (Compassion Focused Therapy for Eating Disorders – CFT-E) and evidence that supports its incorporation into mainstream eating disorder treatment.
The workshop consists of didactic teaching, role plays and the practice of key CFT techniques (such as imagery and breathing exercises). It is aimed at health professionals who are working, or want to work, therapeutically with people with an eating disorder.
It is an introductory workshop, and no previous knowledge of CFT is required.
Compassion Focused Therapy and Compassionate Mind Training
Compassion focused therapy is derived from the evolutionary model of social mentality therapy (Gilbert 1989, 1995, 2005a,b, 2007). CFT was developed to help people who frequently experience shame and self-criticism. These factors have been associated with the development and maintenance of a range of mental health problems, and are often difficult to treat using traditional psychotherapeutic approaches.
CFT is a scientific model that draws on many branches of psychology (e.g., developmental social and evolutionary) and neuroscience science. It has a specific formulation model that notes that internal and external experiences can activate our "threat" system. We find various ways to manage these painful emotions and thoughts as best we can. Sometimes this can lead to unintended consequences that can exacerbate our problems and make it even more difficult to manage life's challenges.
Key to CFT is the idea that we have evolved with a brain and emotional systems that can be very difficult to manage, and that much of the way we respond to the world is not our fault, but our (often automatic) responses to threat. However understanding these responses can help us to take responsibility for the ways we respond to threat, and find new, more adaptive, ways of coping.
CFT is designed to help clinicians develop therapeutic relationships that are most likely to be helpful for people who experience high levels of shame and self-criticism, or who find compassion and receiving care from others (including their therapist) difficult to manage. It is an integrative approach, utilising the wisdom of both Western and Eastern approaches to helping people change. CFT argues that we can be taught to train our minds (Compassionate Mind Training) to help us to experience compassion, develop various aspects of compassion for ourselves and others, improve our abilities to self-soothe and affiliate with others, and to foster the courage and wisdom we need to cope with difficult life events, memories or emotions.
To find out more about CFT you can visit the Compassionate Mind Foundation Website at www.compassionatemind.co.uk. It has lots of useful information about the model, training materials, links to key papers and commonly used measures, and to clinicians and researchers working with compassion around the world.
Recommended Reading
Goss, K. & Allan, S. (2010) Compassion focused therapy for eating disorders. International Journal of Cognitive Therapy 3 (2):141-158
Gale, C., Gilbert, P., Read, N., & Goss, K. (2012) An evaluation of the impact of introducing Compassion Focused Therapy to a standard treatment programme for people with eating disorders. Clinical Psychology and Psychotherapy. In press.
Gilbert, P. (2009) The Compassionate Mind. A New Approach to the Challenges of Life. London: Constable & Robinson.
Gilbert, P. (2009) An introduction to compassion focused therapy. Advances in Psychiatric Treatment, 15, 199-208.
Gilbert, P. (2010) Compassion Focused Therapy: Distinctive Features. London: Routledge. Gilbert, P. (ed.) (2010) Compassion Focused Therapy: Special Issue. International Journal of Cognitive Therapy. 3, 97-201
Workshop Leader :
Adjunct Professor Clodagh Dowling, Director of Psychology at St Patrick's Mental Health Services (SPMHS) and Adjunct Professor at the School of Psychology University College Dublin (UCD), is a practising Clinical Psychologist. She is a committee member of Compassionate Mind Ireland representing the Compassionate Mind Foundation in Ireland.
Clodagh has worked as a psychologist since 2004. She has been delivering Compassion Focused Therapy for Eating Disorders (CFT-E) group programmes since 2015 at SPMHS.
Previously Clodagh established the psychology service at Willow Grove Adolescent Unit at SPMHS and so has experience using CFT-E in individual therapy and group therapy with both adolescents and adults. Clodagh has extensive training in the Dynamic Maturational Model of Attachment both in administrating and coding the Adult Attachment Interview and integrates this knowledge of attachment into her CFT-E formulation and treatment. Clodagh also supervises and trains other psychologists nationally and internationally in CFT-E. She regularly presents research and runs workshops.
Clodagh is the Clinical Lead of the first Complex Trauma Programme in St Patrick's Mental Health Services which integrates Compassion Focused Therapy for Trauma, Attachment Theory as well as specialist trauma-focused models of therapy.
She is passionate about supporting clients in compassionately formulating their difficulties with an attachment and trauma-informed lens.