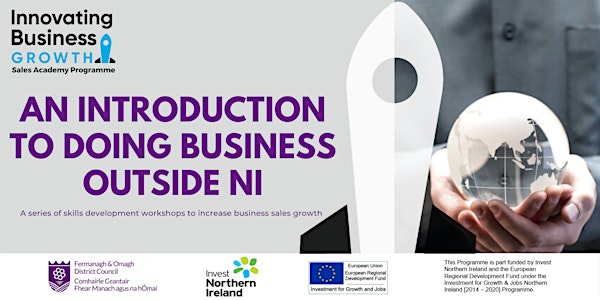 An Introduction to doing business outside NI - Sales Academy Workshop
Workshop 5 of the Innovating Business Growth Programme Sales Academy.
About this event
Because of the limited market opportunity in NI, many small business owner-managers understand that they need to look further afield if they are to realise their full growth potential.
A core theme of this workshop will therefore be sales and valuations – assessing current sales structures as the business seeks to growth outside NI and assessing multibuyer methodologies such as selling direct to customers or via agents, distributors or via e-commerce.
This project is part funded by Invest Northern Ireland and the European Regional Development Fund under the Investment for Growth & Jobs Northern Ireland (2014-2020) Programme.
If you would like to avail of 1:1 bespoke support for your business through the FODC Sales Academy Programme, you must be;
Based in the Fermanagh and Omagh District Council Area
Employing fewer than 50 full time equivalent staff members
To apply or find out more, visit https://bit.ly/3BuNbUt
Organiser of An Introduction to doing business outside NI - Sales Academy Workshop