Join us for this hybrid morning event to begin understanding EMS and its suitability and accessibility to your business.
About this event
Climate crisis. Interlocked ecological crisis. Is your business part of the problem or part of the solution?
You have probably already put measures in place - recycling waste materials, operating smaller vehicles, even turning down the heating. But how do they add up? Do they make any real difference? Can you even measure how you are doing…whether it all adds up to a business cost or saving?
You will never know until you have a system to coordinate your actions. That is what an environmental management system (EMS) is, what it does, and what it is for. It pieces together lots of small actions and shows the bigger picture and overall numbers. It isn't difficult, it needn't be expensive - it just takes coordination.
If you a B2B business and would like to understand EMS, come along to this hybrid business breakfast with expert speakers from Future Leap, Cala Sustain and University West of England to find out more.
Expect informative talks, valuable networking opportunities and inspiring discussions to further support your ability to discover, collaborate and innovate.
Government guideline and pandemic dependent, this event will take place physically and virtually. Both options offer the full event experience, including networking, Q&A and our famous 60 second pitches. Virtual attendees will need to B-Y-O-Breakfast!
If you purchase a physical ticket but the event is moved fully online, you can choose to have your ticket fully refunded or attend virtually with a partial-refund.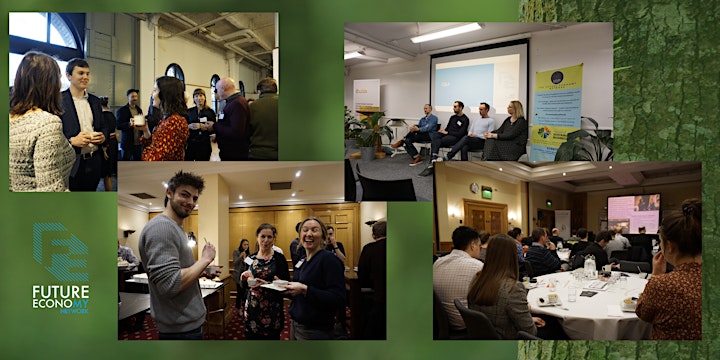 Louise Hart, Environment Officer at University West of England, will be looking at where ISO 14001 sits within the organisation and evolution of the system. She will also outline their lessons learned from the process, including:
The ability to explain the purpose of an EMS
The scope can grow
Interpretability
Audits can be vehicles for change and build relationships
How measuring performance allows for enhanced management
Richard Bromley, Co-Founder and Director, Carbon Lens Ltd will be explaining what ISO 14001 is, as an internationally recognised environmental standard that introduces good environmental practice and reduces our risk of damaging the environment.
What do we have to do?
-- Ensure top management commitment
-- Define the scope of the system
-- Publish an environmental policy statement
-- Identify relevant needs and expectations of interested parties
-- Check and measure our current environmental performance (Environmental Aspects)
-- Meet legal requirements
-- Set objectives
-- Continually improve the system
Mark Hedges, Founder, Cala Sustain
The implementation essentials, common challenges and opportunities:An Environmental Management System (EMS) is multi-faceted but what are the key areas for focus?How do the key elements of an EMS interact?What are the common challenges and pitfalls for implementation and ongoing management?Why implement and EMS? - an exploration of some of the benefits and opportunities
Agenda
08:00 – 08:20 - Registration, Refreshments and Networking [Plus Virtual Attendees Networking Session]
08:20 - 08:30 – Event Introduction
08:30 - 08:40 – Richard Bromley, Carbon Lens - An introduction to ISO 14001
08:40 - 08:50 - Q&A
08:50 – 09:05 – Mark Hedges, Cala Sustain – The implementation essentials, common challenges and opportunities
09:05 - 09:15 - Q&A
09:15 - 09:30 - Louise Hart, University West of England - Case Study
09:30 - 09:40 - Q&A
09:40 - 09:45 - 60 Second Pitches
09:45 - 09:50 - Close
09:50 - 10:15 - Networking & Nibbles [Plus Virtual Attendees Networking Session]
Meet Our Speakers!
Louise Hart, Environment Officer at University West of England (UWE)
Louise's role includes Lead auditor for ISO 14001, as well as collaborative projects and an advisory role across the institution. She has been part of the UWE community since 2007 and landed in the Sustainability team in 2013. Louise has led the system for 5.5 years in which they were one of the first universities to transition to the most current version of the ISO 14001:2015.
UWE is a multi-site university based in and around Bristol, with approximately 32,000 students, 4000 staff and an income of £300 million in 2019/20. UWE is in the process of the development of a 900 bed student hall designed and built to PassivHaus standard, one of the first in the UK.
Mark Hedges, Founder and Lead Consultant, Cala Sustain
Mark founded and leads Cala Sustain, a consultancy that specialises in responsible business. The Cala Sustain team has designed and implemented over 100 environmental management systems. Marks first was in 1998 for British Gas. Mark and his team are qualified lead auditors and frequently design systems for customers to meet the requirements of ISO14001, ISO50001 (energy management), ISO9001 (quality), ISO45001 (health and safety) and BS8903 (sustainable procurement, Mark was a technical committee member and wrote the standard).
Richard Bromley, Co-Founder and Director, Carbon Lens Ltd
Richard has over 25 years experience as an environmental consultant. He has an outstanding track record of working with organisations of all sizes to assess and manage their impact on the environment and improve resource efficiency. Richard has written and implemented, environmental, quality and OHSAS management systems to ISO 9001, 14001, 45001 and BS 18001 standards for a wide range of industries. He has also delivered reports and feasibility studies for resource efficiency and renewable energy projects and successfully registered complex renewable energy installations with OFGEM in order to claim Renewable Heat Incentive (RHI) support.
----------------------------
Want to Know More?
If you would like to join our sustainable business community please get in touch via info@futureleap.co.uk or sign up easily here.
Follow the Future Economy Network on Facebook, Twitter, Instagram & Linkedin
Never miss what's next in sustainability by signing up to our monthly newsletter HERE
Opportunities, Suggestions and Conditions
Physical attendees must adhere to all safety guidelines sent in advance of the event.
You can get 20% off your next online event with us by choosing the add on option during booking.
Most of our events are available on demand here, however this does not include opportunities to network, take part in the discussions or do a 60 second pitch!
We will share your name, job title & company with the other event attendees for this event only. If you don't want this information to be shared please let us know when you have purchased your ticket.
We take photos at our events for marketing purposes, if you don't want your picture taken please let us know in advance.
We record some of our events for marketing purposes, if you don't want to be in the recording please let us know in advance.
We have included a £1 carbon offsetting fee to all event tickets in our commitment to being carbon neutral in our operations. You can find out about our chosen charity here.
Please let us know at least one week in advance if you require closed captions or have any other accessibility needs.
If you require a complimentary carers/assistant ticket, please email events@futureleap.co.uk at least one week in advance and we will be happy to support you!
#wegrowthhub #business #seminar #sustainable #sme #bristol #businesswithpurpose #sustainablebusiness #sustainability #ems #environmentalmanagement
Organiser of An Introduction to Environmental Management Systems (ISO 14001)