Description
An Introduction To Google Analytics For Small Business
Who is this Workshop For?
If you're using Social Media and other strategies to drive customers to your sales pipeline, this workshop will show you how to use Google Analytics to measure what's working, what isn't, and how you can save time, money and get more sales.
If you're thinking of implementing them yourself or buying in these services, this workshop will set you on the path to save you time, a fortune in consultancy fees and disappointing results.
What Will You Get By Attending This Workshop?
You will find out how to properly configure Google Analytics for your business, be able to generate reports, set up specific goals and measure conversion values.
You will go beyond the basics which means you can understand the numbers you can measure and how you can use them to grow your business.
Google Analytics is a powerful free tool giving detailed insights into who your website audience is, how they're finding your website and what they're doing (or not doing!) once they're on it.
Key Features
Go from using Google Analytics as a reporting tool to an analytical tool that helps improve your website.

Become more user-focused to boost your website's productivity.

Ensure you're set-up to receive non-default reports that tell you much about your website.
Google Analytics Workshop Agenda includes:
What is Google Analytics
Putting context to numbers – Google's definition of the most reported stats
How best to analyse the bounce rate
The importance of the landing pages report
How to analyse the traffic sources report
Ensuring you're set up for and are utilising the search queries report – see how you're performing in Google
Installing the Chrome Extension to see how visitors are navigating your website
How to track interactions like external links, PDF downloads etc
How to better monitor online marketing activity
Segmenting data and drilling down stats for very specific target audiences
How to use demographic data
Learn which devices to test on
Decide which traffic should be filtered from reports

The session closes with a Q and A.
---
The workshop is delivered by Mark Jennings
Mark Jennings is a WordPress and Google Certified Business Consultant, Speaker and Trainer.
He co-founded Stormchasers Digital, the WordPress and Google Analytics company based in Kent, who specialise in fixing and caring for WordPress Websites.
Mark's particular expertise is simplifying technical information so his clients understand what's happening with their website and data, and he just loves to solve problems. This means Stormchasers can happily tackle any WordPress website regardless of how it was built or who originally created it.
Mark also implements the strategic ROI driven elements of Google Analytics for those businesses who care about their numbers.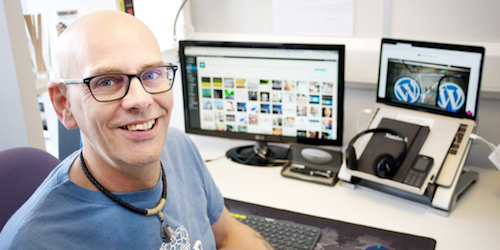 Venue Details
Unit 9B Magazine, Ordnance Yard, Lower Upnor, Rochester, Kent ME2 4UY
This is an upstairs venue with staircase access.
There is parking at and close by the venue on the same complex.
Tea, coffee, water and biscuits will be provided and there are pubs serving food close by if you wish to stay around the waterfront area of Upnor for the afternoon.