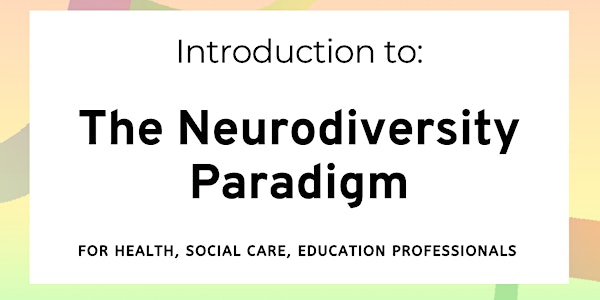 An Introduction to The Neurodiversity Paradigm
Refund policy
Contact the organiser to request a refund.
Eventbrite's fee is nonrefundable.
Sales Have Ended
Ticket sales have ended
Thankyou. We are looking forward to meet you!
An Introduction to The Neurodiversity Paradigm: helping professionals make a paradigm shift in their practice
About this event
Divergent Perspectives: "Centring neurodivergent voices to transform practice"
Join Speech and Language Therapists (SLTs) Elaine McGreevy and Emily Lees for a 3 hour training via Zoom, on the Neurodiversity Paradigm. This training features 2 clinicians who are unapologetically advocating for radical shifts in therapy practices, in order to empower neurodivergent people.
This course will help any professional wishing to improve their understanding of neurodiversity and learn how to better support neurodivergent people.
Note - This course is not specific to SLT practice, but rather it is aimed at any professional seeking to broaden their knowledge and understanding of neurodiversity in their practice e.g. Occupational Therapists, doctors, psychologists, service managers, teachers, teaching assistants, headteachers, social workers, carers, healthcare assistants, researchers etc.
A CPD certificate will be made available.
BRIEF OVERVIEW OF TRAINING:
Attendees will learn about the origins of Neurodiversity, and how the dominating Pathology Paradigm is not relevant (and is in fact harmful). Attendees will reflect on Ableism, including looking at discriminatory practices which are embedded within society and in health and education.
Neurodiversity is the umbrella term for diversity of the human mind, including those who are neurotypical and neurodivergent. Increasingly, the critical importance of Neurodiversity for a thriving society is being recognised. The historical marginalisation and exclusion of disabled people has led to health, social, and education services being made inaccessible for those who do not have the privilege of being able-bodied or neurotypical.
Neurodivergent people face daily barriers in accessing the community and are frequently neglected and re-traumatised by health/social/education professionals. This is largely due to a lack of knowledge, understanding and awareness of neurodivergence. Since neurodivergent people are significantly more likely to experience mental health problems and unemployment than neurotypical people, it is vital that professionals reflect on their practice and learn how to enhance the authentic skills and cognitive styles of neurodivergent people.
The Medical Model of disability which aims to 'treat' neurodivergent people and reduce their 'symptoms' still dominates the medical, social, health, and education community. Neurodivergent people's behaviour continues to be pathologised and labelled as "dysfunctional", "challenging", "inappropriate" and "odd". This mindset leads to diagnostic overshadowing which is when a health professional assumes a patient's difficulty is the result of their disability / health condition, rather than exploring possible reasons as to what is driving the presenting behaviour e.g. pain, accumulated trauma, sensory overload, communication difficulties.
WEBINAR ACCESSIBILITY
As Speech and Language Therapists Elaine and Emily understand the importance of making information, training, and meetings accessible. The virtual training will be made as accessible as possible. They will have a meeting prior to the event specifically for embedding accessibility strategies. Please request your accommodations via the booking form. You can contact them via email or through their websites (see further down for contact information)
SPEAKERS:
Elaine McGreevy, based in Northern Ireland has worked as a Speech & Language Therapist for 25 years and is the Founder Director of Access Communication C.I.C which offers pro-neurodiversity Speech & Language Therapy. Elaine has been a lead clinician since 2001 and has been involved in setting up and developing Speech & Language Therapy services for autistic children and young people. Elaine wants to contribute to making a change in how society accepts and supports neurodivergent people, especially autistic children and young people.
Emily Lees is a proudly autistic Speech & Language Therapist, professional speaker, and founder of www.autisticslt.com. She graduated from the University of Manchester and works in a specialist setting supporting autistic children and young people. Emily does not provide behaviourist interventions which are based on outdated research that assumes autistic children have social impairments. Emily provides a consultancy service where she offers accessible information, signposting, and bespoke training. Through her lived experience and Speech & Language Therapy expertise, she campaigns for radical changes in therapy practices. Emily brings a unique perspective both from being a professional, and from her lived experiences of how it feels to be a patient / service user / student / client in services that are not set up for neurodivergent people.
CONTACT
Email: info@divergentperspectives.co.uk
Web: www.divergentperspectives.co.uk/
Twitter: @DivergentSLT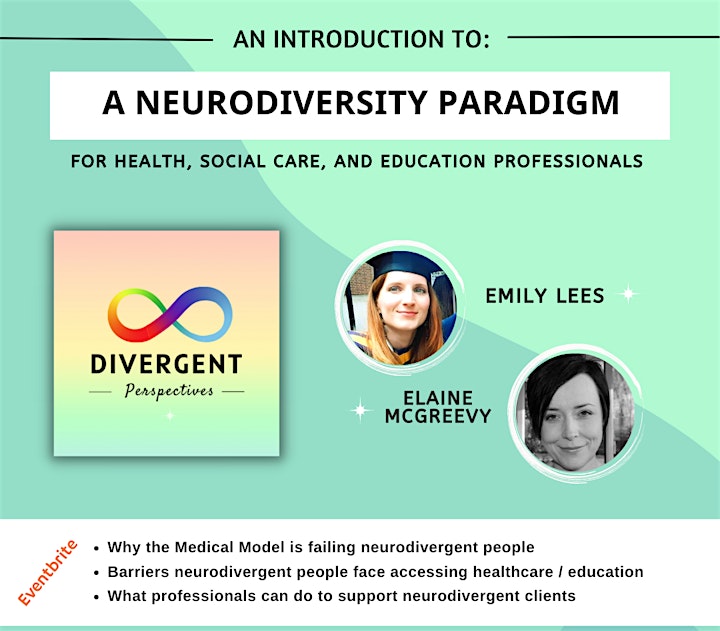 [Alt text of flyers]
Flyer 1
The background of the flyer is a gradient of green, blue, yellow, orange and red. Event flyer reads:
An introduction to a neurodiversity paradigm for health, social care, and education professionals. Two images of the speakers with their names underneath: Elaine McGreevy and Emily Lees. The details of the event are:
28th February 2022. Via Zoom. Tickets are £99 per person.
In this course you will learn:
Why the Medical Model is failing neurodivergent people
Barriers neurodivergent people face accessing healthcare / education
What professionals can do to support neurodivergent clients