Join us to learn about the SLS data at this free event via self-learn training material & a hands-on online lab session in R.
About this event
(1) Once you sign-up via Eventbrite you will be given access to self-learn training materials (videos) which will focus on the SLS & the types of research that can be done with the it, including:
Introduction to the SLS & what we can do with the SLS
Accessing the SLS & linking health data to the SLS
Education data, the SLS Data Dictionary & bringing in external data to your SLS project
(2) On Friday 10th Dec 10am to 1pm a live hands-on online lab session using SLS synthetic data run by key SLS-DSU staff. The hands-on session run in R will include:
Variable selection from a SLS project on NEET
Recoding variables/exploratory data analysis to get a feel for working with SLS data
Further, this drop-in open session, provides an opportunity for anyone interested in using the SLS data to ask questions to SLS-DSU staff about potential new research projects using the SLS data (as these can form Zoom breakout rooms). It is also an opportunity to ask any questions relating to the SLS online self-learn training materials.
Booking will close Wednesday 8th Dec as log-in details to the secure online server space to run R need confirmed and a SLS Synthetic Data Undertaking form needs to be signed in advance of accessing the SLS synthetic data in R for the hands-on online lab part. Access to the server with the SLS synthetic data in R will close the following week (to allow some time to work with the SLS synthetic data after the hands-on session). However, self-learn training materials will be available online afterwards. R scripts produced as part of the hands-on online lab part can be cleared by SLS-DSU staff, to be shared afterwards if required.
About the SLS:The Scottish Longitudinal Study (SLS) SLS links together routinely collected administrative data for a 5.3% representative sample of the Scottish population (about 270,000 people). It includes a wealth of information from the censuses (1991-2011), vital events registrations (births, deaths, marriages), and education data from 2007 onwards. The SLS with appropriate permissions can also be linked to other health data sources including cancer registry and hospital admission data. The size and scope of the SLS make it an unparalleled resource for analysing a range of socio-economic, demographic and health questions, including those which are based on reasonably rare events. The longitudinal nature of the SLS is particularly valuable, it provides insights into the health and social status of the Scottish population and, how it changes over time.
----------------------------
Please note upon booking your space, the self-learn modules (videos) and the SLS synthetic data will be made available in advance of the live session.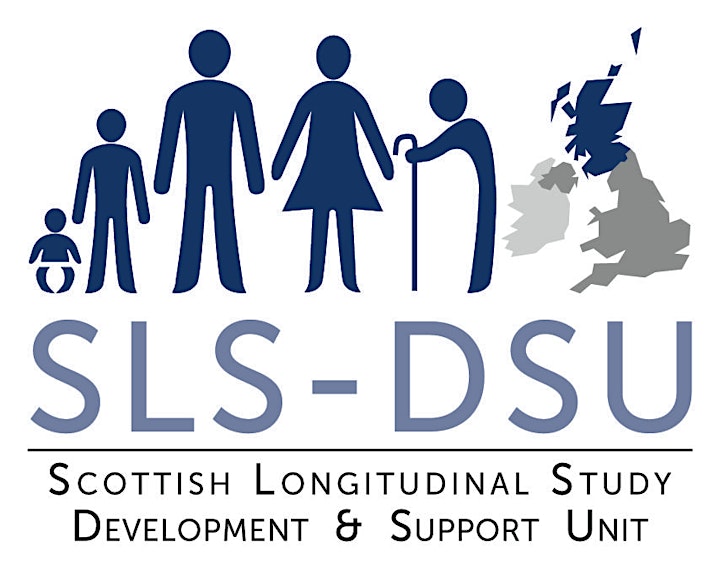 Please note that by registering to attend this event via Eventbrite you are providing consent for your personal data to be held by Eventbrite and that this data may be held on international servers. Your data will be used for the purposes of event administration only.
If you do not wish to provide your personal data in this way, you can also register your attendance by email: sls@lscs.ac.uk
Organiser of An Introduction to the Scottish Longitudinal Study (SLS) Data
The Scottish Longitudinal Study is a ESRC funded joint project between the University of Edinburgh and The National Records of Scotland.