Sales Have Ended
Registrations are closed
Booking for this event is now closed. For further information of possible availability, please contact: Neville Martin, Development Manager by email: Neville.Martin@fsb.org.uk
Sales Have Ended
Registrations are closed
Booking for this event is now closed. For further information of possible availability, please contact: Neville Martin, Development Manager by email: Neville.Martin@fsb.org.uk
Description
Local MP seeks business insight at breakfast meeting
You are cordially invited to join with local members of the FSB to meet with Paul Blomfield MP who, since his election in 2010, has sought to consult on an annual basis with the local business community.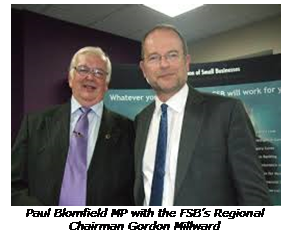 In September of each year he holds a Consultation Week to present his annual report and engages in an intense period of local consultation. On the basis of the successes of previous years, he is looking to repeat the process and has asked the FSB to help provide an opportunity for members of the local business community to meet with him at a Business Networking Forum.
In October 2016, Paul was appointed as a Shadow Minister in Labour's Brexit team, led by the Shadow Secretary of State for Exiting the European Union Keir Starmer MP, holding the Government to account as they negotiate Britain's departure from the EU. He was previously a member of Parliament's Business and Skills Select Committee, where his interests included further and higher education, science and innovation, skills and apprenticeships.
Paul looks forward to the opportunity to talk to local businesses about their views on Brexit and their priorities for the EU negotiations, as well as other current national issues and agendas. You are therefore cordially invited to the Business Networking Forum.


Refreshments and breakfast sandwiches will be provided.
We look forward to welcoming you to this event.

Follow us on Twitter: @FSBSEYorks #FSBSYorks
or why not visit our Regional website? http://www.fsb.org.uk/regions/south-east-yorkshire