Description
"Join me for an enjoyable and interesting Italian wine journey through at least 7 beautiful Italian wines. We have assembled a lovely selection of wines to showcase the wonderful diversity of flavours and styles of wine available from Italy. We will get the party started with a welcome drink of sparkling Franciacorta (by La Boscaiola Vigneti Cenci - one of the best we have tasted) from Lombardy. Then we will be sampling a selection of luxurious white and prestigious red wines. It will be tasty and fun! To complement the tasting experience, we will have a musical interlude by much-loved and acclaimed tenor Yuri Sabatini, who will sing a selection of operatic and Neapolitan songs. We will conclude with a lovely 3 course dinner in Fish Central's highly regarded fish restaurant" - Gordon

For details of full programme (including dinner), see below:

---

VENUE: Fish Central

DATE: Tuesday 4th September 2018

TIME: 18:00 - 22:00
---

PROGRAMME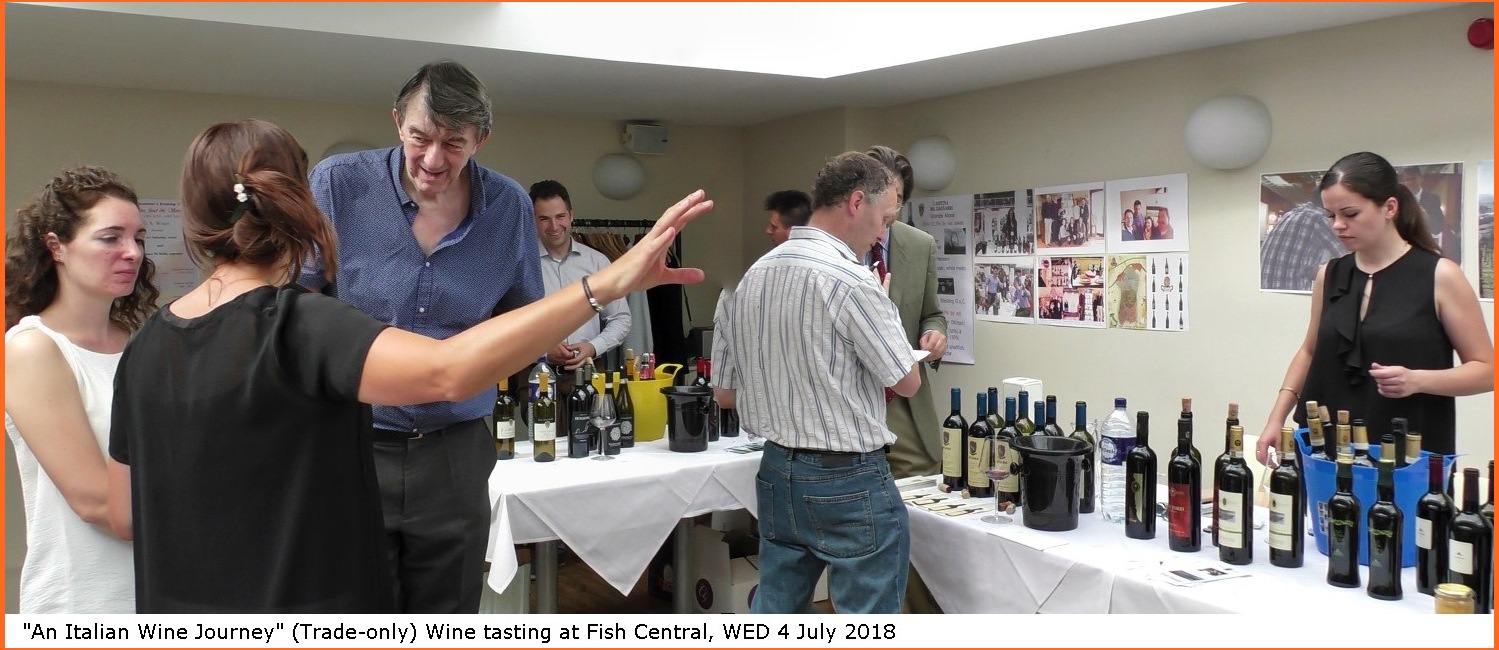 Following on from our successful Italian winemakers' event in July, where our guests were amazed by the quality and diversity of the wines presented (several of which were made from grapes they had not heard of before) we thought we would like to share some of these wine discoveries with the general public.
For your delight, we will feature a top class Franciacorta - Italy's answer to Champagne. It is made from similar grape varieties and in a similar method, but with a different 'terroir' and warmer climate, it is of similar quality but subtly different from Champagne.
We will feature a beautifully crafted, elegant, venerable red wine from Tuscany made mainly from Sangiovese grapes. In addition, we will introduce Mornasca, a grape variety thought to be extinct until the beginning of the 21st century (we have mature but still fruity 11 year old example) and the intriguing Buttafuoco Storico (from Oltrepò Pavese, Lombardy), a superb blend of Croatina, Barbera, Uva Rara and Ughetta grapes.

18:00 Welcome Drink - a chilled sparkling premium Franciacorta wine, by La Boscaiola Vigneti Cenci, as an aperitif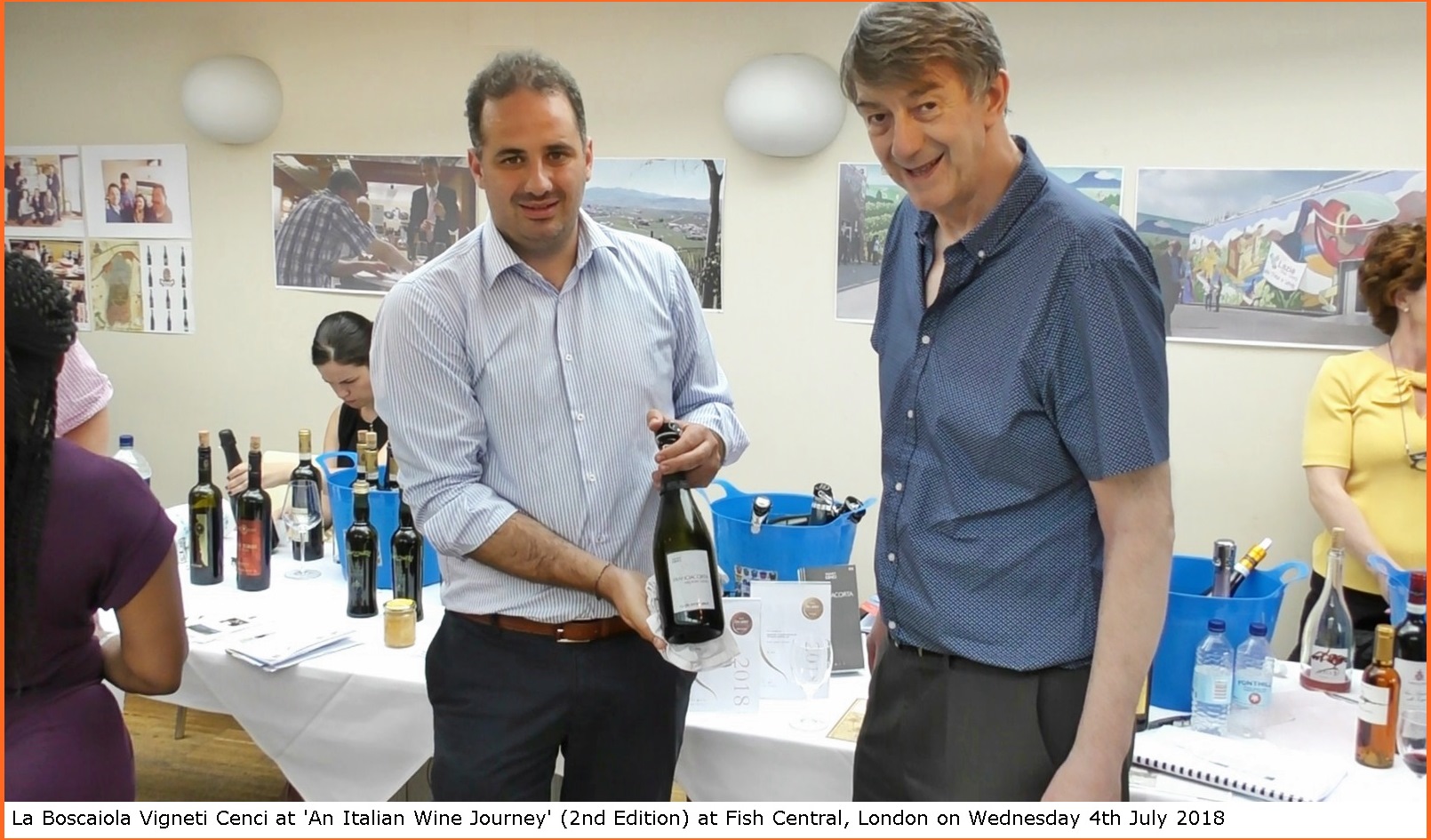 19:00 Guided Wine tasting, with illustrated talk by Gordon Stuteley CEO GS Wines

Suggested Wine List (to be finalised) to include:


19:45 Intermission - Tenor operatic performance by Yuri Sabatini

Previous Italian wine tasting, music and dinner events by GS Wines at Fish Central

20:10 Dinner - 3 courses:
(Suggested Menu - may be subject to modifications on the day, depending on availability of ingredients)

Pre-starter: FIsh Central Fish cake
Starter - Prawn cocktail or Scallops or Fish Soup
Main - Choice of haddock, plaice or cod and chips with mushy peas [Glass of Italian wine to have with the main course is included]]
Dessert - Strawberry Cheesecake or Tiramisu

21:30 Prize Draw (included in the ticket, to win a selection of wines and non-alcoholic Italian produce)

21:45 Optional Coffee (not included in ticket) plus glass of Italian dessert wine (included in ticket)

22:00 Close
---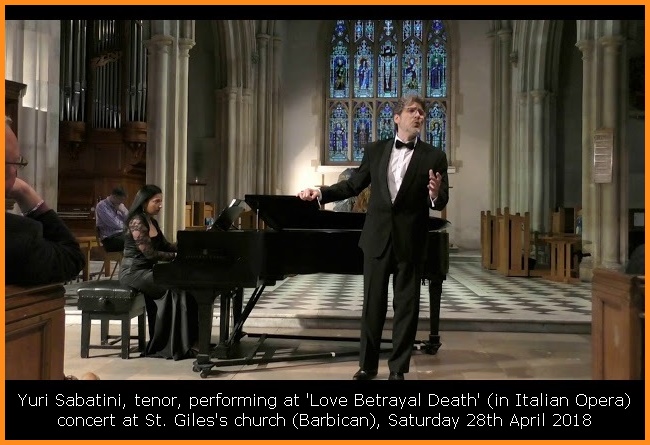 Yuri Sabatini, born and bred in Rome, moved in London in 2003 and since his professional UK debut in 2008, he has established his reputation as a versatile artist with a beautiful tone of voice, expressive singing and convincing interpretation. He has played leading roles on stage in many operas, including Carmen, Lucia di Lammermoor, La Sonnambula and The Tempest. Yuri appears regularly on the concert platform throughout England and Germany, providing entertainment for exclusive parties, weddings, private functions and corporate events. Recently he performed songs of the late, great American-Italian Mario Lanza in a sell-out concert at Burgh House. Singing teacher by vocation, he coaches voice and Italian pronunciation to individuals and choirs, but also finds the time to generously support charity events.