LINKS Network seeks to support the development and evaluation of early childhood development programmes in societies affected by conflict
About this event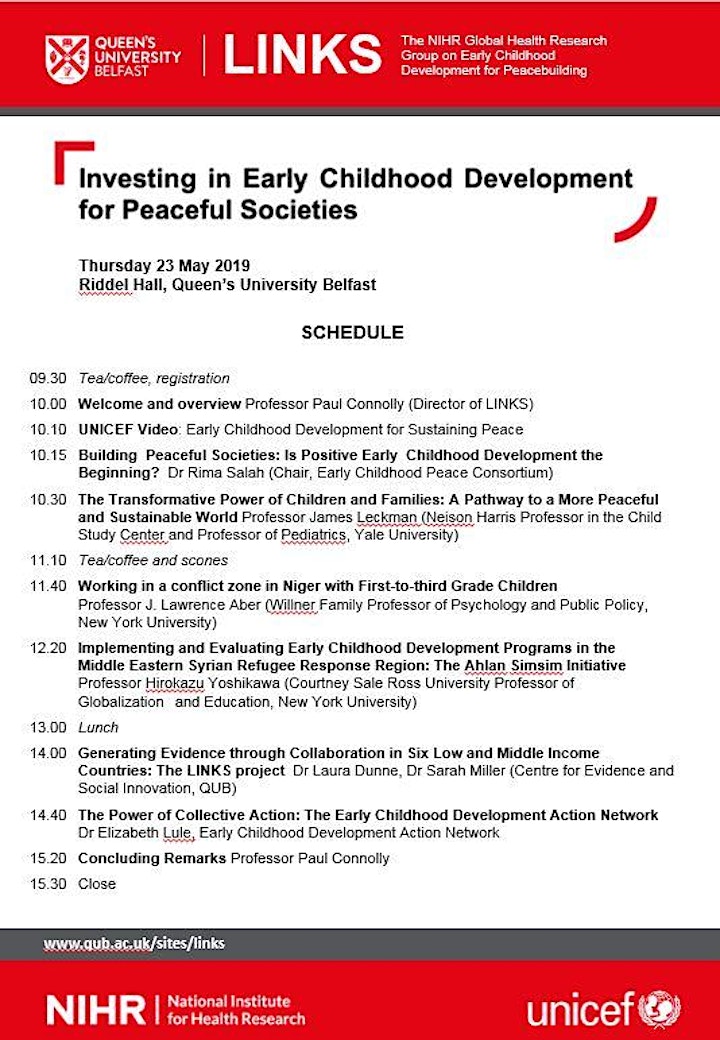 Speakers include:
Professor Larry Aber, New York University
Dr Laura Dunne, Queen's University Belfast
Professor James Leckman, Yale University
Elizabeth Lule, Early Childhood Development Action Network
Dr Sarah Miller, Queen's University Belfast
Dr Rima Salah, Early Childhood Peace Consortium
Professor Hiro Yoshikawa, New York University
Buffet lunch and refreshments provided.
Organiser of An Open International Symposium
The Centre for Evidence and Social Innovation (CESI) has partnered with UNICEF, Yale, Harvard and New York University in leading a new global research network, LINKS.
The LINKS network is part of the international Early Childhood Peace Consortium (ECPC) hosted by UNICEF, New York and seeks to support the development and evaluation of early childhood development (ECD) programmes in societies affected by conflict. During its first phase, the network will support the development of programmes in Egypt, Kyrgyzstan, Mali, Tajikistan, Timor-Leste and Vietnam. At the heart of our work is the development of a measurement framework which can be used as a resource for governments, policy-makers, researchers and ECD service providers working in conflict-affected areas to guide investment in, delivery, and evaluations of ECD programmes for peacebuilding and social cohesion.
Group on Early Childhood Development for Peacebuilding