Description
Analytics and Conversion, 2020 & Beyond
Join industry-leading analytics and conversion practitioners for an afternoon of informative and actionable talks and workshops. With a programme focused on the cutting-edge, you'll leave with an understanding of the latest industry innovations and how they can help you better understand your website visitors and drive them to convert.
Still unsure? For a better idea of what to expect, read the summary of last year's conference here >>>
Programme Announced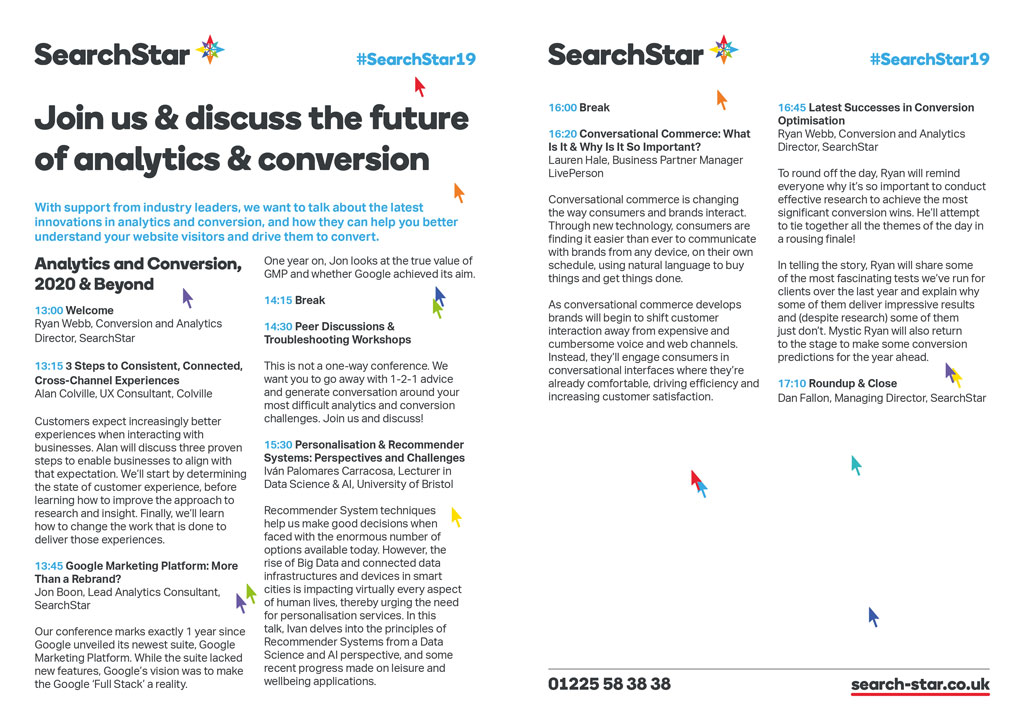 Click here to see the programme in full
The Day's Speakers
Our conferences thrive off an exhcange of ideas between industry-leading speakers, members of the SearchStar team and our attendees. This year we're pleased to welcome the following people to the stage:
Alan is an award-winning Service Design Consultant living in Bristol. He's spent almost two decades in a variety of roles; the customer experience (CX) guy at large companies like BT and Virgin Media, a UX designer for digital agencies, founder of a web start-up and part of an international cooperative of designers and developers.
Recently, Alan's brought customer-driven research, strategy and design to FTSE 100 companies, Arm and Rentokil Initial. Today, he's using the power of digital to help a Russell Group university transform the services it delivers its students and staff.
Lauren is an experienced customer experience (CX) design and B2C marketing consultant. Currently working with LivePerson, the world's foremost AI messaging platform for brands, Lauren helps businesses better communicate with their customers.
LiveEngage, the company's enterprise-class platform, helps global businesses - Adobe, HSBC, EE, IBM, L'Oréal, Orange, PNC, and The Home Depot - engage with their audience more efficiently, saving time and money.

Iván is a lecturer in Data Science and Artificial Intelligence at the University of Bristol (UoB), Head of the Decision Support and Recommender Systems Lab at UoB and fellow of the world-renowned Alan Turing Institute.
Iván's research interests include data-driven and intelligent approaches for recommender systems, personalisation for leisure and tourism in smart cities, large group decision making and consensus, data fusion, opinion dynamics and human-machine decision support.
The SearchStar Team
Supporting our esteemed guest speakers will be SearchStar stalwarts Ryan Webb (Conversion & Analytics Director) and Jon Boon (Lead Analytics Consultant). Focusing on the future of their fields, Jon and Ryan will guide you through what's coming next in analytics and conversion and offer real-world insight into what we're achieving with our clients right now.
With a little help from you!
This is not a one-way conference. Part of the half-day conference will be given over to a series of interactive workshops, put together to offer you something more. We want you to go away with in-depth 1-2-1 advice and generate meaningful conversation around your most difficult analytics and conversion challenges.
We hope you'll contribute and we'll be in touch with the next steps closer to the day.
Photos from Previous Events
General Information
This event is for client-side marketers. Delegates from other agencies - while we appreciate your interest - are by invitation only.
Food & Coffee/Tea
Conference registration is open from 12.30pm. While coffee and snacks will be offered throughout the event, a full lunch will not be served. We suggest you have a nibble beforehand in one of Bath's many nearby cafes.
Travel & Parking
The Apex Hotel is situated near the centre of the city and a mere 10-15 minute walk from Bath Spa Train Station.
If travelling by car the closest car parks are the Charlotte Street Car Park and Avon Street, both of which are within 5 minutes of the venue.
Organiser of Analytics and Conversion, 2020 & Beyond
As a leading UK digital media buying agency, we've made it our mission to bring together leading industry figures in a varied programme of carefully curated events.
Future-focused, our conferences, breakfasts, talks and seminars aim to give attendees a look at what's coming next in the advertising industry, as well as actionable advice and a view of what's working right now.
We're always planning new events and they never fail to sell out - scroll below to see what we've got coming up. You don't have to book today, but it might just be your last chance!