Description
Join us at Heffers on Thursday 6th October for an evening with Michael Scott, who will be talking about his latest book Ancient Worlds: An Epic History of East and West.
Acclaimed historian and TV presenter Michael Scott guides us through an epic story spanning ten centuries to create a bold new reading of the classical era for our globalised world. Scott challenges our traditionally western-focused perception of the past, connecting Greco-Roman civilisation to the great rulers and empires that swept across Central Asia to India and China - resulting in a truly global vision of ancient history. With stunning range and richness Ancient Worlds illustrates how the great powers and characters of antiquity shared ambitions and crises, ways of thinking and forms of governing: connections that only grew stronger over the centuries as political systems evolved, mighty armies clashed, universal religions were born and our modern world was foreshadowed.
Michael's talk will be followed by a book signing.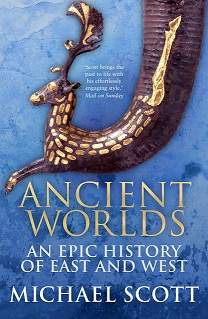 Tickets for the event are priced at £5 (inc VAT) and can be purchased through this page, by calling 01223 463200 or in person at Heffers. Please note tickets are transferable but non-refundable. Ancient Worlds will be available to purchase at the event for £20 (RRP £25).