Event Details
15:00 - 17:30 SALON Only
FREE
OR
15:00 - 22:00 SALON + DINNER + MOVIE
Tickets £10
 
Hosted by Rob La Frenais, with Rachel Mayeri and Sarah-Jane Vick

Booking Essential


What is it that makes us human? Does trying to understand other intelligent species such 
as chimpanzees or dolphins tell us something about ourselves, our belief that we are somehow unique? In this salon and bus tour of Knowsley Safari Park we explore interspecies communication and whether we can break free of what John Berger called the "loneliness of man as a species".
 
Joining the discussion are Rachel Mayeri, creator of AND Festival highlight Primate Cinema: Apes as Family, and expert in chimp cognition Dr Sarah-Jane Vick.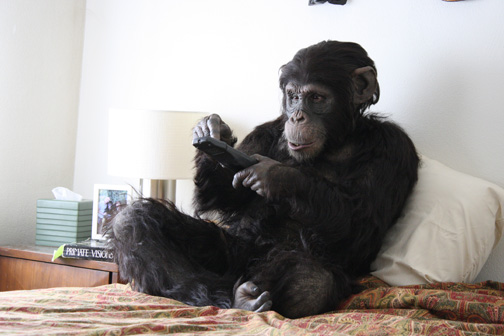 Please note: Unlike previous salons, this Salon is taking place at Knowsley Safari  Park including a bus from Liverpool and a tour of the park. Our coach will be picking up guests in Liverpool at The Art Organisation (TAO) Gallery, 102 Seel Street, Liverpool, L1 4BL

Paying guests are invited to stay at the Knowsley Safari Park and join us for a dinner and a Drive-In screening of the 1968 film Planet of the Apes, we'll provide the cars and the popcorn, then return you safely back to Liverpool. Click here for screening info.
Spaces are limited and booking is essential.
15:00 Meet at TAO Gallery – Take a look around Rachel Mayari's exhibition Primate Cinema – Apes as Family


15:20 Tour Bus Leaves for Knowsley Safari Park! Depart


15:45 Bus Arrives Knowsley Safari Park - Welcome from Knowsley


16:00 – 17:00 Safari Park Tour


17:30 – Bus back to TAO Gallery Liverpool


OR (with £10 ticket)



17:00-18:30 Dinner at the Karamojo Restaurant.


19:00-21:15 Drive-In Screening of Planet of The Apes (we provide the cars!)


21:15 Bus back to TAO Gallery Liverpool
When & Where


Leaving from TAO Gallery
102 Seel Street

Liverpool
L1 4BL
United Kingdom
Sunday, 2 October 2011 from 15:00 to 17:30 (BST)
Add to my calendar
Organiser

Festival of New Cinema, Digital Culture & Art
03 – 05 October, Liverpool
AND 2013 will be an exciting foray into current artistic and cinematic practice.
For details of the full AND 2013 programme go to www.andfestival.org.uk