A feast of beautiful art, ceramics and jewellery from Andrew Douglas-Forbes, David Grosvenor, Lindy Martin and Gill Clement.
About this event
To view the complete exhibition visit www.albanygallery.com
Andrew Douglas-Forbes grew up on Gower, Swansea and after training in London as a singer, he lived and sang professionally in Italy for six years before moving back to Wales settling in Llandeilo.
His unique approach to creating an artwork is to lay down initial abstract mark making and develop forms that 'emerge' into a finished piece. This collection of work shows flowers and plants and their journey through the seasons.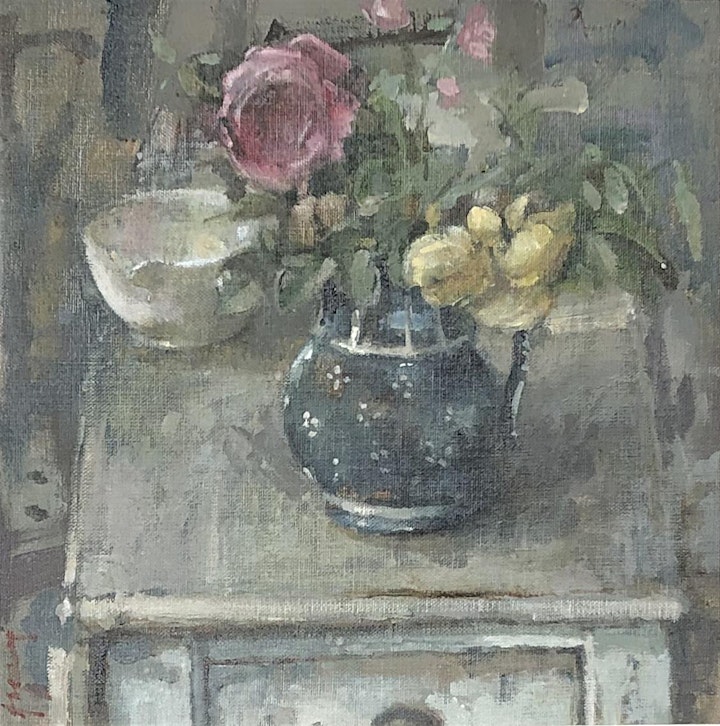 He says: "The work presented is largely based on flowers and plants from the Georgian walled teeny town garden. Having grown up literally in the potting shed with my paternal grandmother, flowers and plants mean everything to me.
"They were all painted over the last year. The full cycle I have watched and painted has returned just in time for this show, even the early roses are just back which is a reminder of continuity and belonging."
He says: "Some constantly repeated, others playing second soldier from the left to balance compositions. They are not 'set up' - more 'happen' as some will know the house looks like one giant still life, and I live this still life daily.
"Colour, structure and form, story. Many objects are very precious - as in 'First Asparagus' - a chippy paint chair I was given many years ago that holds dear memories and clings on tight to the past, it's not just a chair I paint."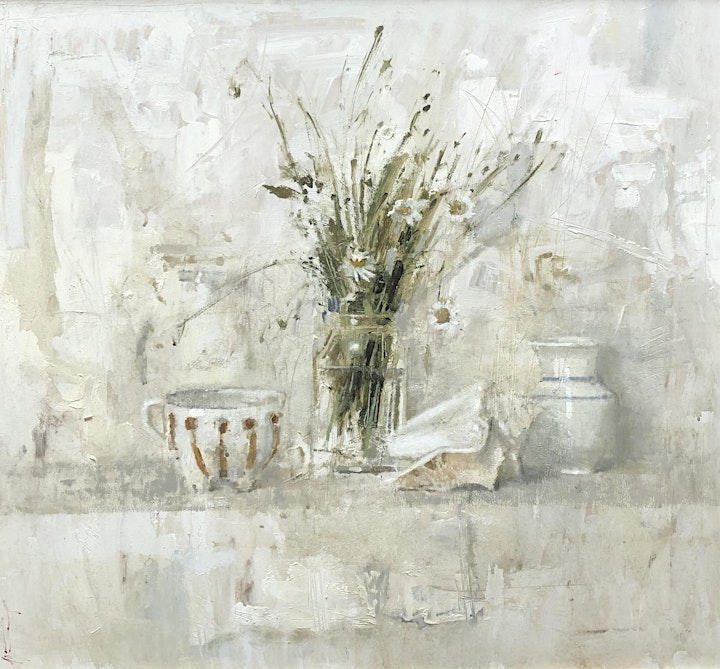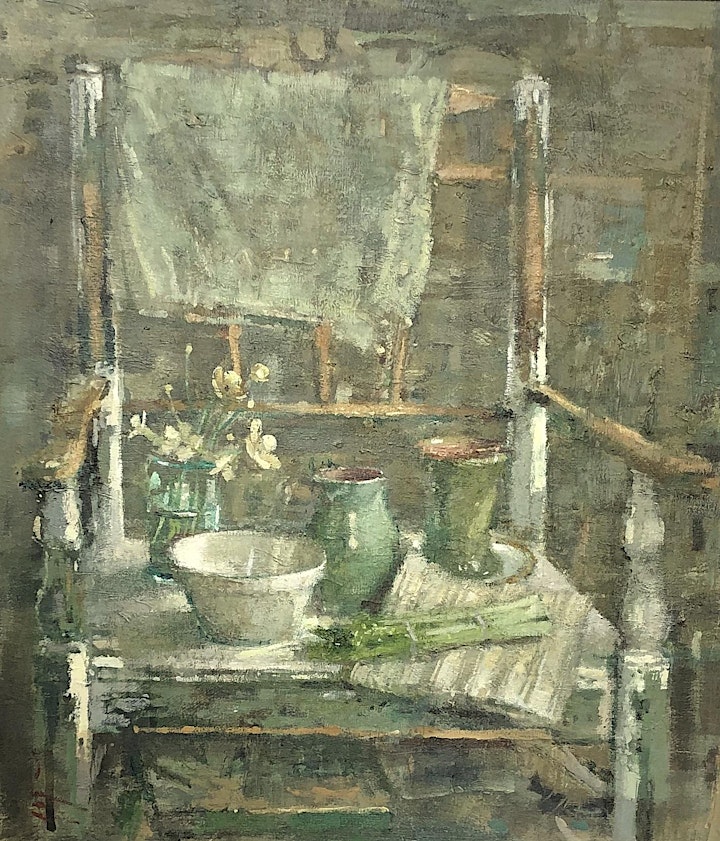 David Grosvenor's collection of new work reaffirms his position as one of North Wales's most sought after landscape painters and his subjects again depict the mountains, coast, lakes and rivers of this area of outstanding natural beauty.
David now lives in the pretty little seaside town of Criccieth, which features regularly in his subject matter. Recent lockdowns and restrictions of movement mean that there are fewer mountain scenes than usual this year but this has enabled him to return to one of his most popular subjects and that is still life painting and in particular flowers.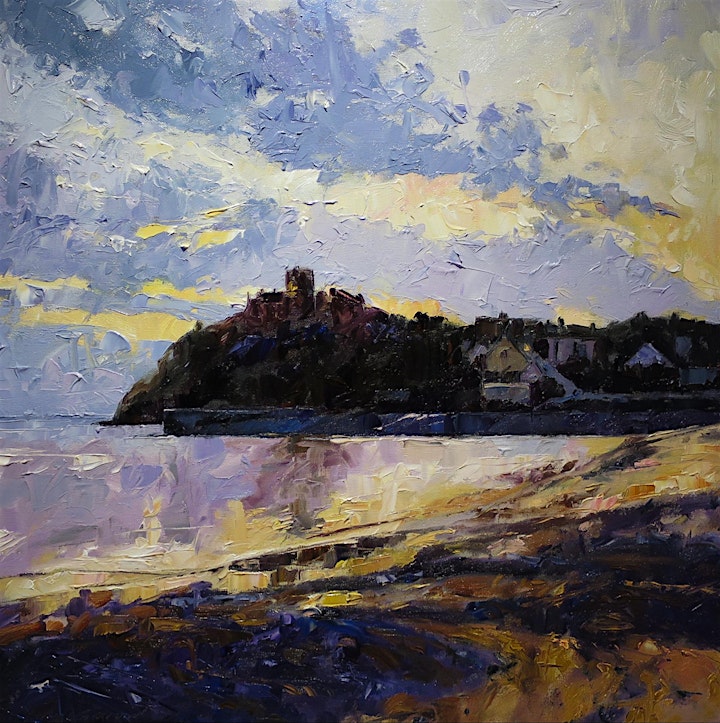 Like his landscape subjects, David tackles flower painting in a fluid, almost impressionistic way and the paintings are far from botanical. All his paintings are full of colour and reflect his love for the subject.
"I like to paint scenery that is familiar to me - places I love to visit and revisit both literally and as subject matter. I have a particular fondness for painting water, be it lakes, rivers or the sea. My flower paintings are generally worked from flowers picked from my precious garden and I find this helps me to feel warmth and affection for these subjects too."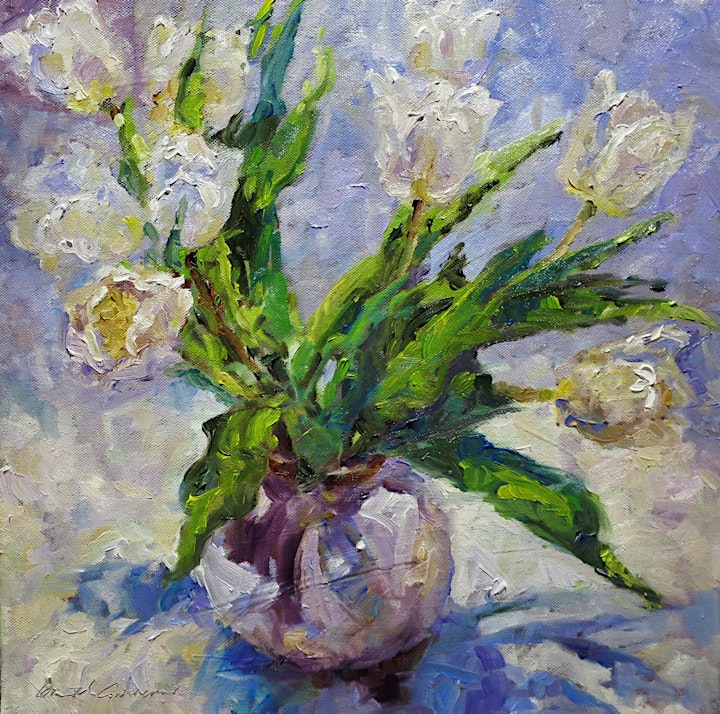 In his oil painting, David generally paints using a technique known as impasto. This is where the paint is liberally applied giving texture and drama to the surface of the work. This very often needs to be seen and walked around in person rather than from a photograph so David is very relieved that the lockdown situation now allows for people to visit galleries rather than look and purchase online only.

The exhibition will also feature work from Lindy Martin. Lindy is a ceramicist, practicing artist and part-time lecturer who returned to education after an evening class sparked a total addiction to clay.
She returned to Wales to study full time at Carmarthen School of Art, Coleg Sir Gar in her fifties and graduated from there in 2014 with a First Class Honours Degree in Ceramics.
She says she has always been drawn to places and things on the edge where nature starts taking over from man, like "shorelines where manmade objects, altered by the elements, are returned to us; old tips full of once treasured objects are discarded, their useful, honourable lives over and now decorated with intricate patterns of the cracks and patinas imposed by their new surroundings."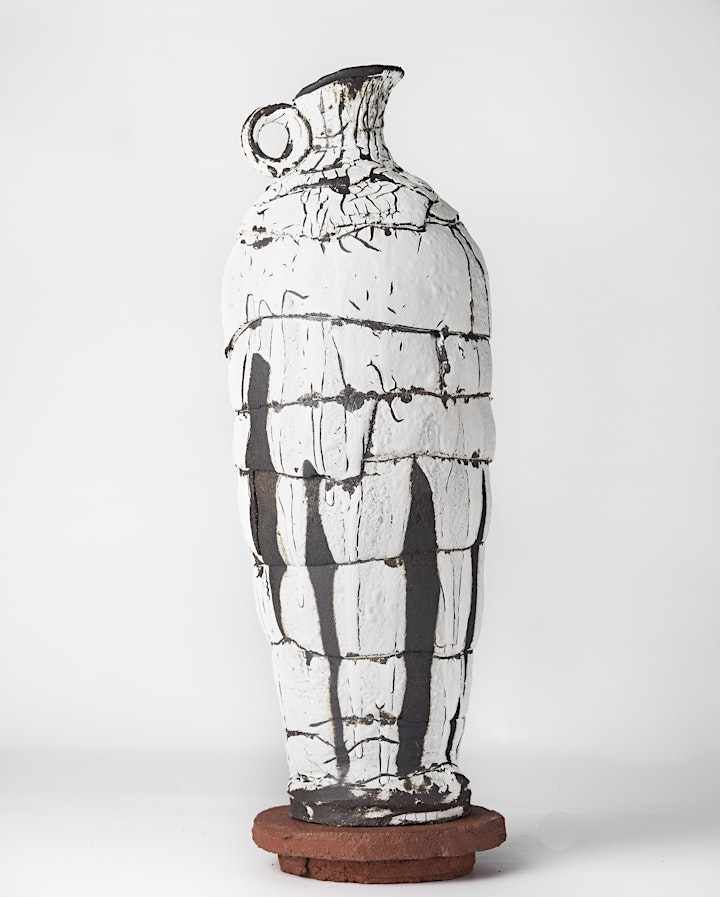 She says her work represents the close relationship we have with domestic ceramics.
"We cuddle cups and bowls with both our hands for warmth and comfort; we place them close to our faces to further appreciate their contents and occasionally slam them on the table. Most importantly they are witness to our stories, hold our secrets and share our intimacies. My ceramics have stepped out of the kitchen to tell their tales and make you think again about the power of these everyday items."
Gill Clement's pieces have featured in films, music videos and adorned the shelves of Harrods and Saks Fifth Avenue.
Gill says: "It's 40 years since I left Sir John Cass School of Art in London so to mark this I've decided to remake a selection of my handmade classic paisley and heart brooches originally designed for Jean Muir and sold worldwide. And to show various more recent cast pieces, mixed with crystal, semi- precious stones and freshwater pearls. Standing the test of time. All made from various uses of pewter. My jewellery is a celebration, an enhancement of mood. It's sentimental, it's a conversation starter."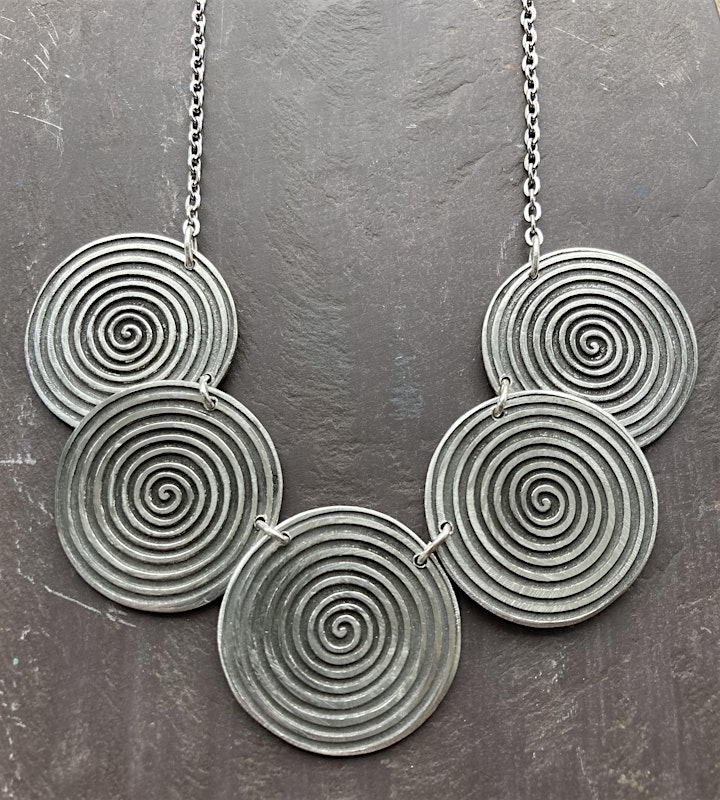 Organiser of Andrew Douglas-Forbes and David Grosvenor
The Albany Gallery was established in 1965 and is recognised as one of Wales' most successful and long-established privately owned commercial art galleries. The monthly exhibition programme of leading Welsh & British artists provides a showcase for solo and group exhibitions in a variety of media.
Exhibitors include Royal Academicians, members of the New English Art Club, The Society of Women Artists, The Royal Cambrian Academy.