Description
Little Joe presents Andy Milligan's Vapors and Nightbirds
introduced by Stephen Thrower
Tuesday 29 May 7.00pm, The Cinema Museum
Little Joe's A Little Film Club presents a double-bill of American underground film director Andy Milligan's rarely seen works, introduced by author and musician Stephen Thrower.
Little Joe have created a limited edition poster that will be available to purchase at the event.
As featured in Little Joe No. 3, Andy Milligan (1929 - 1991) was a tour de force of cinema, cranking out lurid, exploitation horror movies that were frenetic and transgressive in their atmosphere. Showcasing Milligan's work outside of the horror genre, this screening includes his radical, Caffe Cino-inspired debut short Vapors, set in a gay bathhouse, and his East London-based psychosexual thriller Nightbirds, recently restored by the BFI with the help of Drive director and Milligan obsessive Nicolas Winding Refn.
Vapors (Andy Milligan, USA, 1965, 31mins)
Before making a name for himself in the exploitation and horror genres, Andy Miligan's first film Vapors explored the lives of a group of gay men in a New York bathhouse, centring around the awkward and unfulfilled interaction between two strangers. Exploring loneliness and lust, Vapors gives a realistic and gritty image of gay life pre-Stonewall and was remarkably brave for its use of taboo topics, male frontal nudity and implied gay sexual activity.

followed by Nightbirds (Andy Milligan, UK, 1970, 78mins)
The first of the five films Milligan made in London, Nightbirds is an erotically charged twisted love story, restored and presented here for the first time since its initial run. The mysterious Dee (Julie Shaw) takes Dink (Berwick Kaler) off the street, offering him shelter and protection. The two soon develop a curious relationship which oscillates, often without warning, between sexual intimacy and raging jealousy. As tenderness gives way to cruelty, they become consumed by darkness and their relationship spirals out of control. Previously thought lost, this extraordinary film has been remastered to HD from the only surviving film materials.
Nightbirds is released on BFI Dual Format Edition as part of their acclaimed Flipside label on 28 May.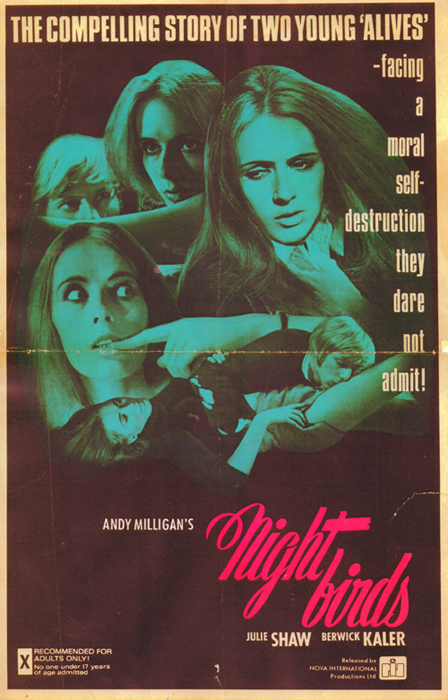 Little Joe's A Little Film Club is supported by Film London's Community Pilot Fund through National Lottery Funding on behalf of the BFI.
www.facebook.com/littlejoemagazine