Location
Harrogate Spiritual Healing Church
14 Princes Square
Harrogate
HG1 1LL
United Kingdom
Refund policy
Contact the organiser to request a refund.
Eventbrite's fee is nonrefundable.
Angelic Reiki :Your Personal and Spiritual Healing ~ An Angels and Ascension Healing System for the 21st century
About this event
Welcome to Angelic Reiki Degree Levels 1 and 2: ~Your Personal and Spiritual Healing - the beginning of your journey to Self Healing~
This weekend training course will give you the most perfect gift for YOU.
The original Divine Vibration of the reiki symbols was lost when Man disconnected from Source and so through these Angelic Reiki attunements we bring forth a restoration of this clear, pure energy.
The Angelic Kingdom of Light gifts this to us now in this new Galactic age and because of this the symbols in this weekend course are given entirely through the Angelic vibration. Healing Angels give the attunements and then these angels will work with you on a permanent basis taking your connection to the Angelic Kingdom to a new level.
Angelic Reiki Degree levels 1 &2 will impart to you a complete system of healing through the Angels and the Reiki symbols and
participants are given practical 'hands on' experience in the various healing techniques. They are : healing as a channel, healing with intention, healing with an Ascended Master and Galactic Healers and multi-dimensional healing
You will also learn how to attune spiritual tools such as crystals and essences for personal use and use in your healing room.
'Angelic Reiki will support your own personal healing and spiritual journey, open up gifts and spiritual talents, reveal your dharma and life's purpose. It may be to help you to support family and friends or be a step on the way to share it with others as a professional healer or teacher. It may totally change your life!You may not know, but your Soul will know why it has brought Angelic Reiki to you.It has the potential to change your DNA, your cells and molecules and activate your Lightbody. It will enable you to merge more intimately with The Angelic Kingdom of Light.
All spiritual teachings and energies are universally available to everyone, but through his guidance from the Master Djwhal Khul and Archangel Metatron, and his great knowledge of spiritual principles and ancient teachings, Kevin Core has woven together a unique and profound system of healing. This system has been named Angelic Reiki." taken from the 1&2 Degree Manual.
Degree Levels 1 and 2 will include:
Two Angelic Reiki cleanses and attunements;
One Archangel initiation and blessing;
A definition and understanding of the nature of Angelic energy;
The principles of clearing and dedicating space;
Six healing methods including self and distant healing;
Four practical healing exchanges;
Cleansing and tuning of crystals;
The Laws of healing according to the Divine hierarchy as given by Djwhal Khul.
Given with Love to You.
You will receive a comprehensive First and Second Degree Manual to take away. (This manual is revised and updated by Christine Core in line with current energetic requirements within Angelic Reiki. It is the internationally recognised manual which all students worldwide receive (non english speakers receive an approved translated version)
A Terminator point Brazilian quartz crystal to attune to the Angelic vibration
A Certificate of training achievement to 1st and 2nd Degree in Angelic Reiki
Dates are: Friday 21st Feb 7-9pm
Saturday 22nd Feb 9.30am - approx 5.30pm
Sunday 23rd Feb 9.30am - approx 5pm
Course fees: £264
Deposit and balance payments are available using other payment methods.
We require confimation and payments several weeks before course commencement to help with ordering manuals.
Visa debit and credit card payments through Eventbrite.
We require a minimum of 4 students to run this course ~ this course is being advertised in multiple places.
Course numbers 4 -10 places
For more information on anything written here please email Hannah : angelicconnectionsuk@gmail.com
www.angelicconnections.co.uk
07377 330445
Angel Blessings <3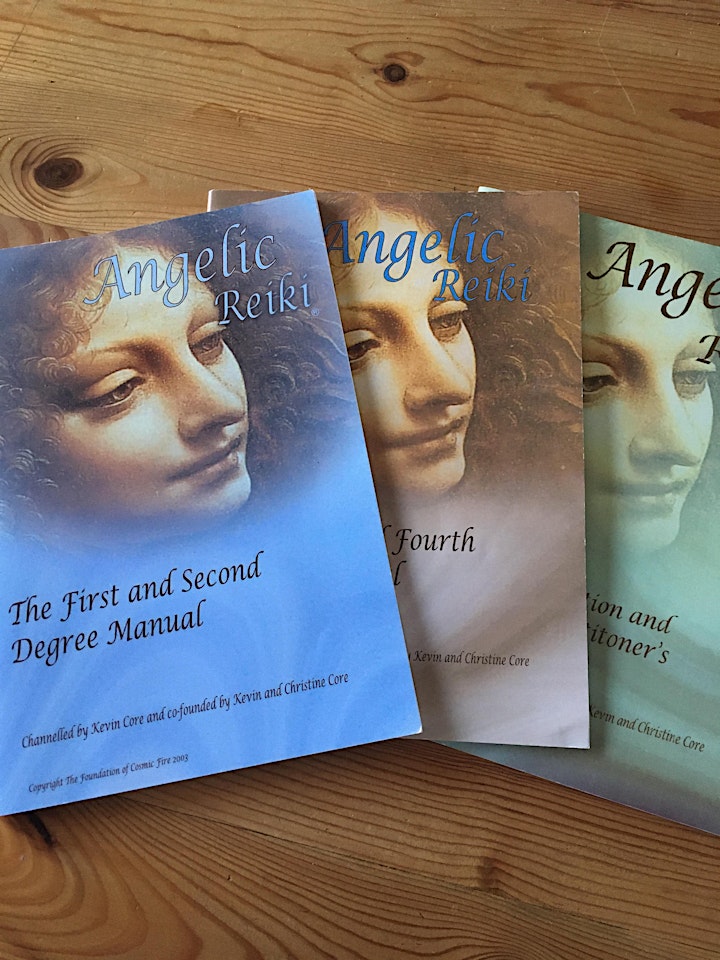 Angelic Reiki Manuals available through to Professional Practitioner