Anglesey Early Action Together Journey and Progress Event
Description
Anglesey Early Action Together Journey and Progress Event

In November 2017, the Home Office awarded almost £7 million to the four Police Forces and Police and Crime Commissioners, Public Health Wales, Barnardo's and Criminal Justice partners for the collaborative Wales National ACE Approach to Policing initiative.
The funding resulted in the Early Action Together programme that aims to facilitate the transformation of policing in Wales to a multi-agency; ACE (Adverse Childhood Experience) informed approach that enables early intervention and root cause prevention. In North Wales, we are also exploring how voluntary and community organisations can support the Early Action Together programme more widely and how the programme can help ensure that professionals and the public are 'ACE aware' and trauma informed.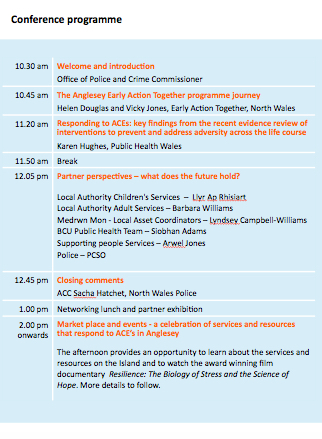 The programme is now into its second and final year.
About the event
There are two parts to this event.
In the morning, the Early Action Together conference will describe the journey and progress so far and explore how the learning can be consolidated and the impact sustained. Please see the programme below. In the afternoon, a market place comprising partner exhibitions and events including a screening of the Resilience film will take place.