Event Information
Location
Orton Hall Hotel and Spa
The Village
The Rayner Room - Orton Longueville
Peterborough, Cambridgeshire PE2 7DN
Description
Do you fear public speaking?
Do you want to become a better communicator?
Would it help you to think on your feet?
Would you like to build your confidence?
Learn, develop and master new skills... These are just some of the benefits you will get by joining us.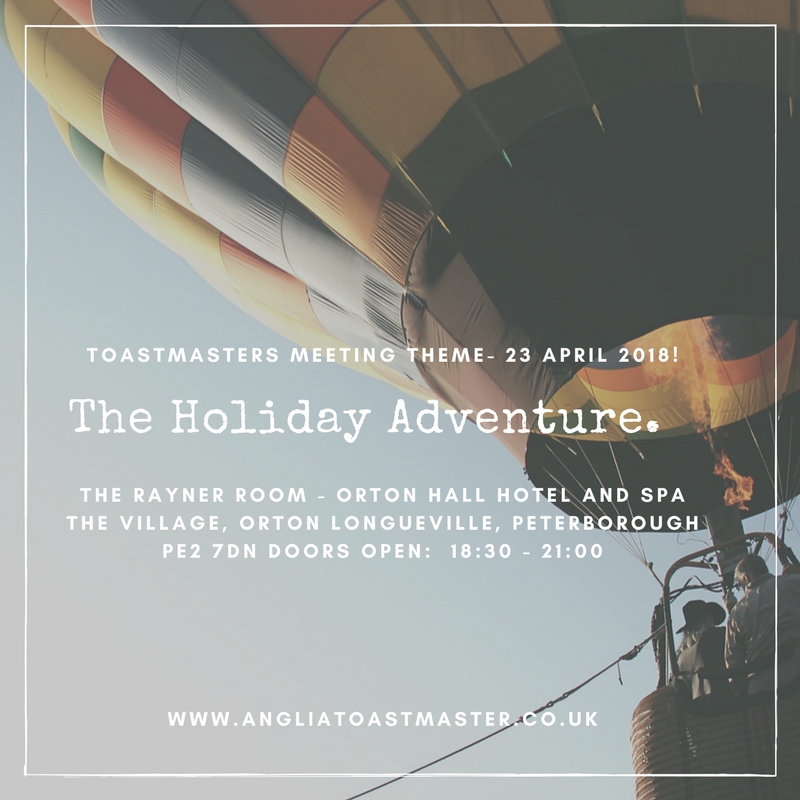 No matter where the #Toastmasters journey takes you, enjoy the #AngliaCommunicators Holiday Adventure.
Meeting Theme - The Holiday Adventure
Prepare to embark on a Toastmasters journey of possibilities and achievement
Find out more about how to start your Toastmasters Journey learning experience to powerful communication and leadership. This unique educational journey is filled with opportunities to grow more skills and master new competencies. Pathways gives you more flexibility, yet maintains the fundamentals of Toastmasters: you develop speeches and leadership skills and get feedback in a safe, supportive environment.
Why is Toastmasters Journey valuable to me?
Now you can benefit from a learning experience tailored to your personal and professional goals.

Meet and see our members in action. It's free to attend.
You are very welcome to attend and if you know friends, work colleagues and family who might be interested about the losing the fear of public speaking, please help to spread the wor and invite them along!
All the very Best,
ANGLIA TOASTMASTERS TEAM UK
Date and Time
Location
Orton Hall Hotel and Spa
The Village
The Rayner Room - Orton Longueville
Peterborough, Cambridgeshire PE2 7DN