Description

Pay-per-click (and particularly Google AdWords) has become so complicated that a 2-day course is just not enough to grasp the basics of setting up and managing your PPC in-house. The Anicca AdWords Training Boot Camp is an extensive mixture of taught classroom sessions and practical workshops.
Our MD Ann Stanley, who will lead the classroom sessions, is an experienced lecturer in PPC who has been teaching and running pay per click campaigns for over 10 years. You'll also get to meet some of the the Anicca team who manage accounts daily, drawing on their expertise in specialist areas tips and tricks to running and maintaining accounts for the long term. We are now running our PPC Training Boot Camps every three months at our central Leicester office.
The flexible workshop programme
The first day of these intensive hands-on workshops start with "PPC for beginners" – with an introduction to all the different PPC techniques, how to open a new AdWords account, as well as how to use the keyword planner tool. Day 2 -5 is where we take both the newbies and more experienced delegates through the practical and more advanced processes in setting up and managing your account (with day 5 being how to set-up and use Analytics). This format allows you to choose to join us for 1, 2, 3, 4 or 5 days, depending on your current level of experience. We have recently added more practical sessions, to ensure you go away after 5 days with the experience you need to manage your account yourself.
Build your own campaigns during the optional 5-days of supervised sessions
We have opened our doors of our Leicester office for an additional 5-days, so that you can set-up your own campaigns. Our technical team will be here to help you every step of the way, which ensures that you put into practice what you have learnt (before you return to your day-job).
 
You can also opt to sit in on a schedule of supervised revision sessions – these should give you enough experience to sit your Google AdWords Fundamentals exam on day 10. This qualification is often the minimum requirement for starting a career in AdWords and will be a great asset on your CV! ****100% pass rate of Fundamentals exam in all our previous AdWord boot camps!****** Intrigued? Then keep reading to see more details on what is covered on each day of our AdWords boot camp. Also note that we run a regular 5-day SEO boot camp and a Social Media boot camp.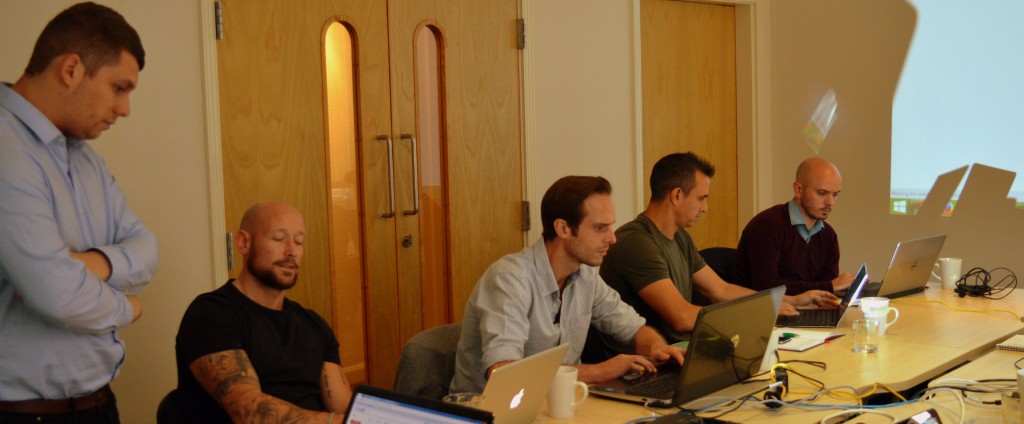 PPC Boot Camp – agenda:
Day 1 – Introduction to pay-per-click and doing keyphrase research
An introduction to Pay Per Click (PPC) marketing, what it is and how it works
An overview of the main PPC techniques
Setting up Google AdWords
Opening your AdWords account
Using the Keyword planner tool
Practical session on opening an account and keyphrase research
Day 2 – Understanding ads and landing pages and using the AdWords dashboard
Introduction to creating and testing Ads
Ad extensions
Reviews and stars
Introduction to creating and testing Landing pages
Using the AdWords dashboard
Practical session on creating ads and ad extensions
Day 3 – Planning and creating your campaigns and a practical session on using Google AdWords Editor to create single keyword Ad groups
Understanding AdWords reports
Planning your campaigns
Site reviews to help plan your campaigns (practical)
Using AdWords Editor to create SKAGS (practical)
Campaign settings and options
Day 4 – Understanding the principles of quality score and how to optimise and manage your account and an introduction to advanced AdWords techniques
Introduction to Quality Score
Understanding optimisation processes
Managing your budget
Bid management and bid modifiers (enhanced campaigns)
Practical – Assessing the Quality Score of your account (using pivot tables)
Practical – Using the weekly optimisation checklist
Introduction to advanced techniques (including Shopping ads, Remarketing, Display Network)
Day 5 – Google Analytics and AdWords conversion tracking
Setting up conversion tracking and linking AdWords to Analytics and other accounts
Is your Analytics set-up properly?
Understanding the key metrics in Analytics
Further configuration and customisation e.g. ecommerce tracking, goals and funnels
Using Analytics and AdWords data for optimisation and account management
Understanding attribution in AdWords and Analytics and the differences between the two
Who would benefit from this course?
The boot camp is suitable for all levels, whether you are an in-house marketer looking to get your company set up on PPC, or someone who is looking to get started in a career in PPC. The boot camp has been designed to give you all the tools you need to kick start your PPC knowledge!
What is required?
You will need to bring your own laptop
Login details for your existing AdWords account if you have one
Login details for Google Analytics and Search Console accounts if you have these set up
You will be provided with refreshments throughout the week
Accommodation is not included but please ask for local hotel recommendations
Unfortunately we can not offer free on site parking but can make local recommendations
For more information on any of our services, visit www.anicca.co.uk.