Description
Feminism and Animation around the world. Isabel makes of Animation a true artistic expression, teaching animation techniques between Germany and India. A reference of Spanish Animation. Isabel Herguera visits Edinburgh College of Art.
Named by Variety as one of the 'Spanish Women on the verge of Breaking Out' the truth is that Isabel Herguera broke out to Cinemaattic programmes nearly ten years ago. Her films have been part of Cinemaattic's programmes since 2010, and we declared ourselves 'Hergueristas' for her commitment with feminist narratives and her strong artistic understanding of Animation.
Isabel Herguera discovered animation thanks to a friend who showed her how to work a Bolex camera and gave her his animation equipment. Since then, she has been imagining stories that take place in different parts of the world, on stages that always fit in her luggage.
Isabel Herguera studied Fine Arts at the Kunstakademie Dusseldorf, Germany and animation at the California Institute of the Arts – Los Angeles, USA. She worked in advertising and has since 2005 been juggling between making films and teaching. She gives workshops at the National Institute of Design – NID in Ahmadabad and is a visiting professor at China Central Academy of Fine Arts in Beijing. Since 2017 Isabel Herguera teaches animation at the Kunsthochschule für Medien KHM in Cologne, Germany.
This restless international journey makes of Isabel Herguera an artist with a particular multicultural gaze, her animation blurs the boundaries between artistic creation and reality.
Sometimes as a director, others as producer, Isabel Herguera works in hybrid projects. Her work seek a balance between the free and organic creative process of fine arts and the rigour and discipline demanded by the film production process.
Lleida animation fest Animac director until 2011 Herguera is developing "Sultana's Dream," a toon/live-action feature inspired by a classic feminist tale by Bengali social activist Begum Rokeya published in in 1905. Dystopian "Dream" takes place in a women-ruled city where men live in confinement. "I like films with no definitive answers, taking formal and story-telling risks and challenging spectators' fantasies and intelligence," Herguera says.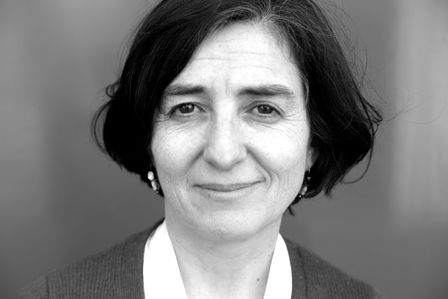 Director's extended BIO
Isabel Herguera studied Fine Arts at the Kunstakademie Duesseldorf, Germany and Animation at the California Institute of the Arts (Calarts). She worked for several animation productions in Los Angeles before returning to Spain in 2003 to direct Animac, the International Animation Festival of Cataluña and to take on the coordination and programing for the Laboratory of Moving Image (LIM) in Arteleku, Center for Contemporary Art in San Sebastian, Spain.
She has directed and produced several short films including La Gallina Ciega (2005), Ámár (2010), Bajo la Almohada (2012), Amore d'inverno (2015) and Kutxa Beltza (2016). Her films have won over fifty international awards, including a Goya Award nomination in 2006 and have been widely shown in festivals and venues around the world. Since 2005 she has taught regularly, an experimental animation workshop, at the National Institute of Design (NID) in Ahmedabad, India. For the last three years she has been a guest animation professor at the China Central Academy of Fine Arts (CAFA) in Beijing, China.
FILMS
2016 Kalebegiak (segment "Kutxa beltza")
2016 Winter Love (Short)
2016 Sailor's Grave (Short)
2012 Under the Pillow (Short)
2010 Ámár (Short)
2005 La gallina ciega (Short)
This event is part of Cinemaattic's retrospective KIMUAK: 20 YEARS OF BASQUE FILMS, celebrating twenty years since the Basque Government decided to include the production and distribution of short films as a core area of support and interest. As a result, the public agency Kimuak ('Sprout' in Basque) became the major driving force behind a whole new wave of Basque filmmakers.
Cinemaattic's Retrospective KIMUAK: 20 YEARS OF BASQUE FILMS is a project supported by Etxepare Basque Institute, Film Hub Scotland and Acción Cultural Española (AC/E) through the PICE's grants programme.