Description
Hello!
This is an OPEN invite so SAVE THE DATE!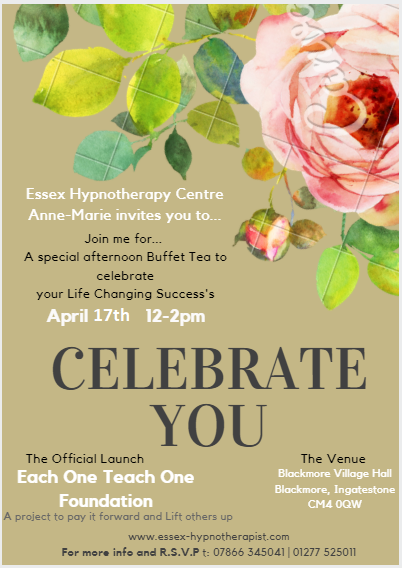 I hope you are looking forward to joining me in a wonderful celebration with some of 'Life's Achievers' who are all exceptionally inspirational.
Taking place at the Blackmore Social Club, our Celebratory Tea will be held on Tuesday 17th April from 12 - 2 pm.
I am excited to share I shall be gifting everybody who attends with a 'Goody bag of Delightful Opportunities', who doesn't like to be presented with an 'Opportunity'?
This is also a wonderful opportunity to bring along a friend who you may feel will benefit from talking with people who have experienced positive 'life changing experiences' with Hypnotherapy & Life Coaching.
Whats in it for you?
Free Tea and Nibbles.

Knowledge & information about Hypnotherapy.

Meet people who have received successful Hypnotherapy.

Learn about future success opportunities.
A goody bag of opportunities.
I can't wait to meet you!
Anne-Marie Wickham x