About this Event
The Academy of Arts & Arabic heritage CHOIR concert will be a marvellous concert, the choir will perform the most beautiful traditional songs, representing the different kind of folk singing, professionally trained voices of men and women, led by a well-experienced Maestro: Basel Saleh accompanied by a band of the best Arabic Arab musicians in Britain.
Our aim is to convey the messages of peace and love through music and singing and to show the bright and elegant image of Arab culture, by showing the aesthetics of this art to British communities through concerts and music festivals.
Academy of Art and Arabic Heritage CHOIR thirty singers, both professionals and amateurs, from all walks of life.
Founded in London, 2016, the choir has brought together people from all over the Arab region who share a passion for keeping their musical heritage alive and showcasing it to the world.
Our repertoire consists of folk music from all over the Arab world as well as Muwashahat from the Andalusian times. We create harmonies in the music while maintaining the integrity of Arabic style and melodies.
If you want to view the summary of the previous annual concert click on the video link below:
15% discount for families, group bookings and students
Get your Early Bird tickets booked now before they sell out
Only children aged 12 and above allowed access *
Theatre doors open 6 pm and the concert start at 7 pm*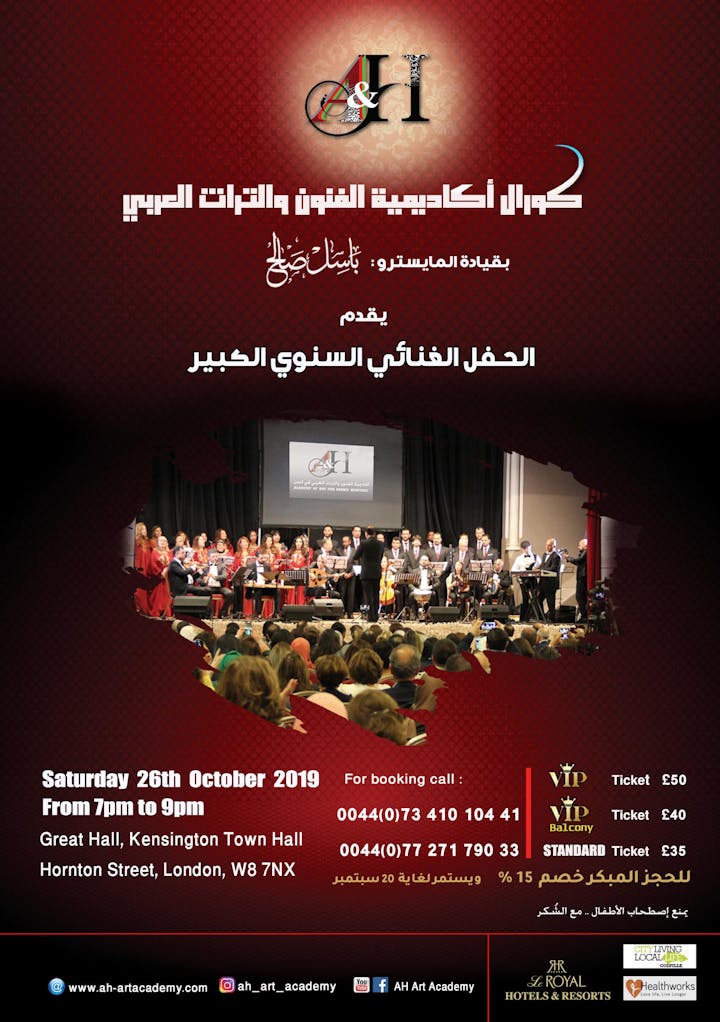 كورال أكاديمية الفنون والتراث العربي في بريطانيا
وبقيادة المايسترو المبدع باسل صالح
يقدم :
الحفل الغنائي السنوي الكبير
سيقدم الكورال حفلاً يرتقي ويتجلى فيه الغناء العربي الأصيل في لندن
الحفل يوم السبت المصادف 26 - 10 - 2019 من الساعة 7 - 9 مساءً
على مسرح القاعة الكبرى في Kensington Town Hall - لندن
في العنوان التالي:
At: Great Hall, Kensington Town Hall, Hornton Street, London, W8 7NX
سعر البطاقة :
- VIP Ticket £50
- VIP Balcony Ticket £40
- STANDERD Ticket £35
خصم 15% للعوائل والحجز الجماعي والطلاب أيضاٌ
يسمح للأطفال من عمر 12 فما فوق فقط
للحجزالإتصال :
0044 (0)73 410 104 41
0044(0)77 271 790 33