Annual CWI Symposium - Creating Future Connected Spaces
Research/visions about wireless technologies for Satellite, UAV, AI/ML, advanced metamaterials/metasurfaces by Academics & industry experts.
About this event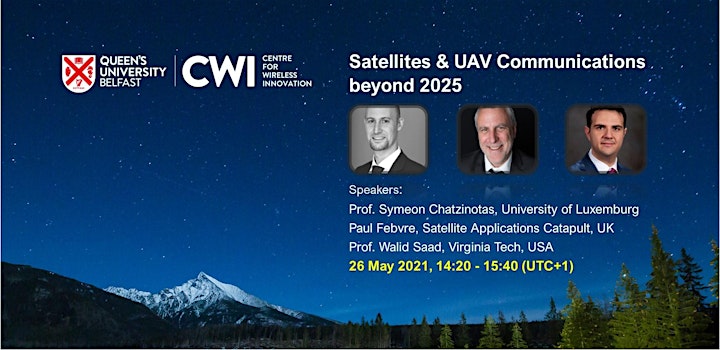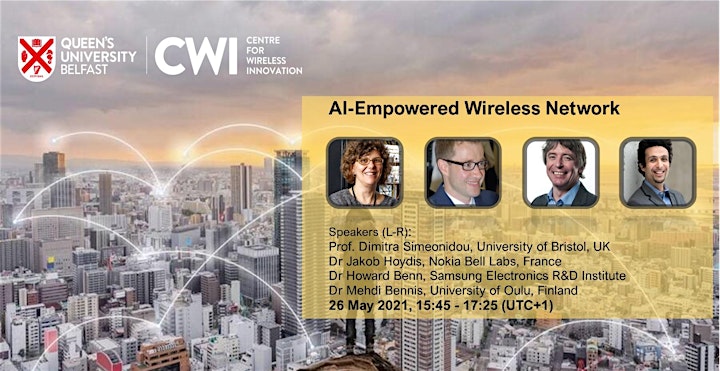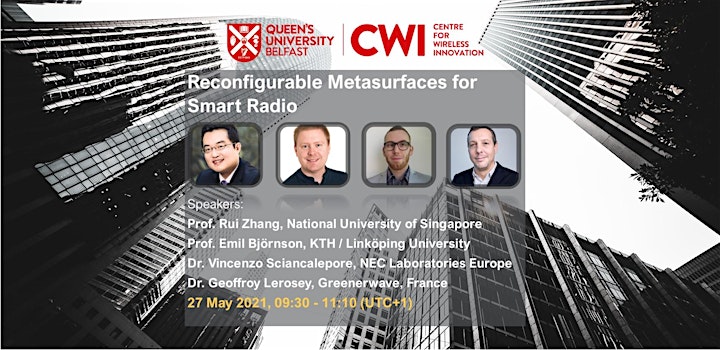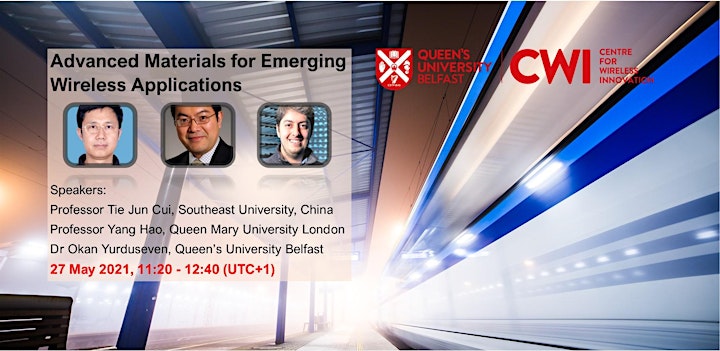 Join us to learn from industry and academic global experts about the future of wireless communications for satellites and UAVs, the use of Artificial Intelligence in wireless networks, how metasurface technologies will re-shape advanced 5G and 6G communications, and how metamaterials will be used in wireless applications.
Speakers from Ericsson, Nokia Bell Labs, NEC Labs, Greenerwave and the Satellite Applications Catapult, as well as the universities of Virginia Tech (USA), Singapore, Nanjing (China), Linkoping (Sweden), Luxemburg, and the UK (Bristol, Queen Mary London, Queen's of Belfast).
Agenda
26 May 2021: Start at 14:00 (GMT+1)
Welcome, Prof Emma Flynn, Pro-VC Research & Enterprise, QUB
Welcome, Prof Simon Cotton, Director, Centre for Wireless Innovation (CWI)
Introduction, Prof Vince Fusco, CTO, Institute of Electronics, Communications and Information Technology (ECIT)
Session 1: Satellite and UAV Communications Beyond 2025
Professor Symeon Chatzinotas, University of Luxembourg
Paul Febvre, CTO, Satellite Applications Catapult, UK
Professor Walid Saad, Virginia Tech, USA
Session 2: AI-Empowered Wireless Networks
Dr Jakob Hoydis, Nokia Bell Labs, France
Professor Dimitra Simeonidou, University of Bristol, UK
Dr Howard Benn, Samsung Electronics R&D Institute, UK
Dr Mehdi Bennis, University of Oulu, Finland
Conclusions, Prof Simon Cotton, CWI
Ends at 17:30 GMT
27 May 2021: Start at 09:25 (GMT +1)
Session 3: Reconfigurable Metasurfaces for Smart Radio
Professor Rui Zhang, National University of Singapore
Professor Emil Björnson, KTH / Linköping University, Sweden
Dr Vincenzo Sciancalepore, NEC Laboratories Europe. Germany
Dr Geoffroy Lerosey, Greenerwave, France
Session 4: Advanced Materials for Emerging Wireless Applications
Professor Tie Jun Cui, Southeast University, China
Professor Yang Hao, Queen Mary University of London, UK
Dr Okan Yurduseven, Queen's University Belfast, UK
Conclusions, Prof Simon Cotton, CWI
Ends at 12:45 GMT
Organiser of Annual CWI Symposium - Creating Future Connected Spaces