Annual Event for the Scottish Government's Non-Domestic Energy Efficiency F...
Description
On behalf of the Scottish Government and the Project Support Unit (PSU) for the Non-Domestic Energy Efficiency Framework (NDEEF) for public bodies in Scotland, you are warmly invited to attend our Annual Event and Networking Lunch.
Venue: Glasgow City Chambers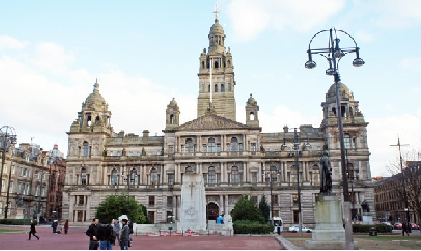 This event is highly relevant to those in Scottish public bodies with strategic responsibility for energy management, estates, facilities and asset management, reduction of carbon emissions, and for finance and procurement specialists involved with buildings, their energy consumption and maintenance.
Across the morning you will hear presentations discussing;
• Latest updates on projects underway and completed, and how they have been financed, procured and implemented through Energy Performance Contracting.
• Future plans for NDEEF activity and wider initiatives to drive rapid implementation of energy efficiency measures at scale across the estates of Scottish public sector organisations, including local authorities, universities and colleges, national agencies and non-departmental bodies, the NHS and beyond.
In addition to the review of current and future NDEEF projects and the lessons which are being learned, this CPD-Certified event will include additional presentations and workshops on:
• Measurement and verification of energy savings
• Energy management and behavioural change
• How NDEE will interface with other Scottish Government energy efficiency initiatives under SEEP (Scotland's Energy Efficiency Programme).

The event also provides an invaluable opportunity to network with colleagues from across Scotland's public sector, including existing Framework users who will share their experiences, and representatives from the 12 contractor suppliers on the Framework, and PSU experts from Mott MacDonald and Carbon Trust.
Numbers for the event are restricted due to space, so please register early to avoid missing out.
Full agenda to follow.
This event is restricted to those working in Scottish Public Sector Bodies (and related organisations) who are able to take advantage of the NDEEF, plus the invited representatives of the contractors on the Framework and in the PSU. We reserve the right to decline registrations/attendance from anyone else.
For more background information about the NDEEF, the PSU and the Energy Performance Contracting approach which this provides for Scotland's public sector bodies; please visit the dedicated NDEEF pages at the Scottish Government's website HERE and the NDEE Works and Services Buyers Guide HERE.

If you have any questions, please contact NDEESupportUnit@mottmac.com