Shifting Cultures: Reframing the future with the North East's independent creative workforce.
About this Event
You are warmly invited to join us online for Shifting Cultures, the North East Culture Partnership Annual Forum, 2021. Shifting Cultures is for anyone from the arts, culture or heritage sector based in the North East of England.
Shifting Cultures is a chance for the North East's culture and heritage sectors to come together for a day of conversation, reflection and discovery.
Shifting Cultures will bring together voices from across the North East's creative independent workforce for panel discussions, conversations and artistic interventions to explore how we can work together to reframe the future for arts, culture and heritage in the North East.
The day will offer attendees the opportunity to reflect on their own shifting cultures and will serve as an invitation to make commitments to implement the changes that will enable us all to thrive in the future.
Taking place online, the event will shed light on the many ways in which the creative independent sector have adapted, responded and continued to change as a result of the impact of the events that shaped 2020.
Events will run online between 10.30am and 3.45pm (and will be followed by a social on Zoom, 3.45pm-4.30pm)
Events will be BSL interpreted.
Tickets are free but numbers are limited, so reserve your place today!
What does the day involve?
Introduced by North East Culture Partnership (NECP) Co-Chair Jane Robinson (Pro-Vice Chancellor, Engagement and Place, Newcastle University) the day will be moderated by NECP Board Member, musician and performer Hannabiell Sanders, covering urgent and emerging questions including:
What are the best conditions for sustaining a creative practice during and post-pandemic?
What does leadership in the independent sector look like?
What feels possible now, that didn't feel within reach a year ago?
What have we learnt, what do we want to leave behind, and what are we taking forward?
It will be a stimulating day - do join us.
Confirmed speakers, panellists and facilitators include:
Vici Wreford Sinnott, Artistic Director of Little Cog; a disabled-led theatre company
Melissa Johns, Actor working in Theatre & TV (LIFE and Coronation Street)
Patrick Ziza, Performance Artist, Dancer & Choreographer
Nadia Iftkhar, founding Artistic Director & CEO of Company of Others dance theatre company
Jayne Dent/Me Lost Me, Artist & Musician
Lisette Auton, disabled writer, activist, poet, theatre-maker & creative practitioner
Leila D'Aronville, Independent Producer and Consultant and founder of Tyne & Wear Cultural Freelancers
Martin Hylton, founding Artistic Director of Gateway Studio Project; a dance and related arts charity
Andrea Carter, Lead Producer at D6: Culture in Transit; visual arts producers
Stella Hall, co-founder and Festival Director of Festival of Thrift
Nick Malyan, Project Manager, Consultant and Director of Empty Shop; non-profit arts organisation
Hannabiell Sanders, Composer, Music Director, Educator and NECP Board Member
Rowan Brown, Chief Executive, Museums Northumberland, and NECP Board Member
Jill Cole, Director Northern Heartlands and NECP Board Member
Mariam Rezai, Composer, turntablist, performer, and Artistic Director of The Old Police House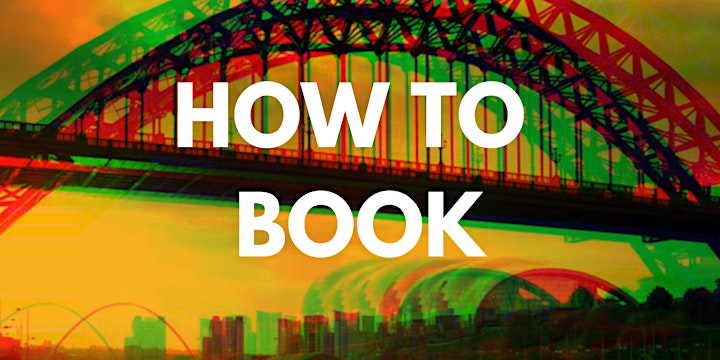 How to Book
Events will run online between 10.30am and 3.45pm. Your free ticket gets you access to all these events.
Long Table Lunches are optional small discussion groups covering various topics and are limited to ten spaces per group. If you want to attend one of the groups you will need to reserve your spot which you will be able to do during the process of getting your ticket.
Please select one option only. If your preferred discussion group is full, please choose another group.
An optional social on Zoom will take place between 3.45pm-4.30pm.
Events will be BSL interpreted.
Tickets are free but numbers are limited, so reserve your place today!