Annual Manuel Irujo Lecture with Professor Joseba Zulaika
Description
Annual Manuel Irujo Lecture in Basque Studies
City, Architecture, and Labyrinth: Bilbao's Appeal
Speaker: Professor Joseba Zulaika – Centre for Basque Studies, University of Nevada, Reno
With the international acclaim brought by Gehry's Guggenheim Museum, Bilbao became the paradigm of a post-industrial city revived by the power of architecture.
This presentation will focus on the role of arts and architecture in transforming a city's image and economy. But why did Gehry's masterpiece become such an instant landmark and dominate the architectural imagination of the turn of the century? It has to do with what Nietzsche wrote: "If we willed and dared an architecture according to the kind of souls we possess, the labyrinth would be our model!"
It will be argued that the success of the new Bilbao's architectural emblem—the curled and twisted forms of this "shipwreck" by the Nervion river, as well as the art of Serra's torqued ellipses, Bourgeois's glorious spider, and Oteiza's broken sphere that accompany the iconic building—it has to do with the ways in which such an anti-architecture of ruins and torsions provokes and shapes the viewers' subjective landscape.
This lecture is free to attend and open to all, the lecture will be followed by a drinks reception.
This event is supported by the Etxepare Basque Institute.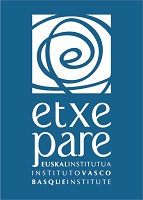 Organiser of Annual Manuel Irujo Lecture with Professor Joseba Zulaika