Annual Public Lecture in Entrepreneurship with Mike Soutar
Description
Public Event - Open to all - Students, Staff, Alumni and General Public
'Making An Entrepreneur'
He may be best known for grilling candidates on the BBC's The Apprentice, but one of the country's top businessmen says that he is "thrilled" to be giving a lecture at the University of Dundee.
Mike Soutar, who has interrogated potential employees and business partners on behalf of Lord Alan Sugar for the past eight years, will return to his home city to address students, staff and the wider public as part of the University's Entrepreneurship Week.

The co-founder of Shortlist Media will deliver the University's 3rd annual Lecture in Entrepreneurship on Wednesday 27th February as part this year's Entrepreneurship Week.
"I'm thrilled and honoured to be asked to come and give a lecture in my hometown at the University of Dundee," he said. "Dundee has for centuries been an outward-looking, ambitious, enterprising city and over the last few years it has become a hub of dynamic, modern, creative industries. Dundee is blazing a trail of transformation and I'm so excited to help celebrate the amazing people and ideas that are building such an optimistic future for the city."
"Dundee's unique character comes from its people: down-to-earth, witty and always on the lookout for a new opportunity. I was born in Dundee and it is where, at 17, I began a career that has taken me all over the world. I can't wait to return to tell my story and share some of the business lessons and entrepreneurial insights I've picked up along the way."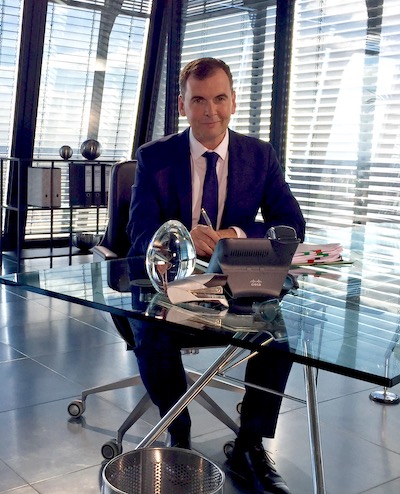 Having started his career at DC Thomson, and subsequently Virgin Records, Mr Soutar's career in publishing has seen him at the helm of era-defining magazines, including Smash Hits and FHM.
In 2007 he transformed the media landscape with the launch of "freemium" title Shortlist. The ground-breaking distribution model, providing premium content free of charge, proved so successful that a sister title, Stylist, followed two years later. Last year the two publications were achieving a combined circulation of more than 900,000 per issue, and in November Mr Soutar stood down as Chairman of Shortlist Media to focus on his passion for assisting start-up businesses as well as being on the board of IPSO (the Independent Press Standards Organisation).
This event is running as part of the University of Dundee's 'Entrepreneurship Week 2019' featuring events and workshops around a range of cutting edge business topics for more details: http://uod.ac.uk/entweek #UoDEntWeek19

Please book early, and arrive in advance of the start of the lecture to avoid any disappointment.
Please also note - overspill lecture theatres may be in use.