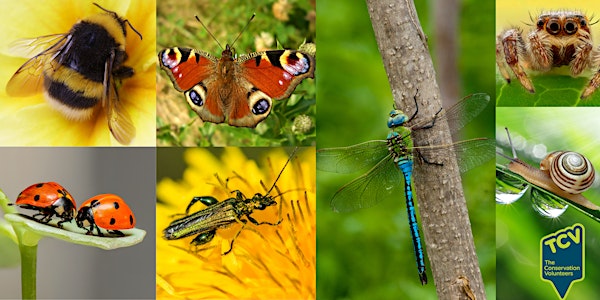 Annual Review of 2021 Invertebrates and Pond Surveys - The Paddock
Event Information
Location
The Paddock Community Nature Park
The Paddock Community Nature Park
Ferry Lane
London
N17 9NG
United Kingdom
Learn about local wildlife, meet new people and get to know The Paddock Community Nature Park-a wild hidden gem in North London!
About this event
We did it, an entire year of wildlife surveying!
- We will look at the results of all the invertebrate and pond surveys we did in 2021 including bees, butterflies, dragonflies, snails and more.
- We will refresh our memories on ID skills and species knowledge.
- We will reflect on improvements for 2022 surveys.
New volunteers welcome. This is a perfect opportunity to start your wildlife journey!
**Pre-booking is essential, book now to confirm a place.**
Throughout 2022 we are running weekly fun and friendly wildlife surveys and workshops for volunteers at the Paddock. Whether you are an expert or beginner this will be a chance to get outdoors and explore the wildlife on your doorstep!
Please be aware booking closes one day before each surveying event at 12pm – this gives us time to prepare the activity packs in time fore the following day.
If you have to cancel your place for any reason, please get in touch via thepaddock@tcv.org.uk or by the contact numbers below to let us know.
More info:
You will be issued with a field recording sheet, species guide sheets, a clipboard and a pencil that are yours for the day, which will have been disinfected before being given to you.
If you own further ID guides/books, you are welcome to bring them along.
We are unable to provide refreshments for the time being - please bring what you need with you, including plenty of water.
Individual surveys will run outdoors for about an hour, please be sure to check the weather/temperature and dress accordingly.
Under 18s:
If you want to volunteer and are 16-17 years old please ensure you get in touch with us at thepaddock@tcv.org.uk, as you will need a completed parent/guardian consent form to join in. For everyone aged 15 and under they will also need a parent/ guardian with them to attend.
COVID-Safe Measures:
Social distancing and COVID-safe measures remain in place for all projects. Please keep a safe distance from volunteers and staff, always wash hands before eating/drinking, and use assigned equipment.
Meeting point:
We will meet at the Paddock main entrance next to the 2x green office buildings on Ferry Lane, N17 9NG.
Contact Info:
The session will be run by Anna and Cassandra.
Telephone: Anna (07483 045 734) Cassandra (07483045713).
Email: thepaddock@tcv.org.uk
About TCV:
The Conservation Volunteers (TCV) are a national charity. Our vision is to create healthier, happier places for everyone. Our mission is to connect people and green spaces to deliver lasting outcomes for both.
https://www.tcv.org.uk/london/haringey/thepaddock/
https://www.tcv.org.uk/
Date and time
Location
The Paddock Community Nature Park
The Paddock Community Nature Park
Ferry Lane
London
N17 9NG
United Kingdom