Event Information
Location
The Hub Islington
4th floor
5 Torrens Street
London
EC1V 1NQ
United Kingdom
Description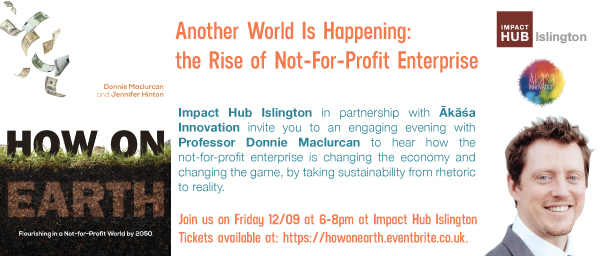 Not-for-profit enterprise will be at the heart of the global economy by 2050.
This is the compelling vision outlined by Professor Donnie Maclurcan in his forthcoming book How on Earth (co-authored with Jennifer Hinton), based on a growing body of evidence that the world is already shifting toward an 'economics of enough'.
From construction and manufacturing, through to software development, food catering and retail, the not-for-profit ethic is permeating global commerce. Community interest companies, cooperatives, government-owned corporations and social enterprises all show how reinvesting, rather than privatizing profits, is the healthiest and most sustainable way to manage a business.
Around the world, more and more people are helping to lay the foundations for a flourishing post-growth economy by choosing to set up their organizations – from major multinationals to community football clubs – as not-for-profit enterprises. People are thinking creatively about generating their own income. For some it means setting up a business that pays excellent salaries and reinvests profits in social good, others are generating income from membership fees or even barbeques, rather than relying entirely on philanthropy.
Impact Hub Islington in partnership with Ākāśa Innovation invite you to an engaging evening with Professor Donnie Maclurcan to hear how this enterprise model is changing the economy and changing the game, by addressing the roots of our environmental crises and social pressures, and by taking sustainability from rhetoric to reality.
About Professor Donnie Maclurcan
Donnie Maclurcan is co-founder and director of the Post Growth Institute based in Oregon, USA. His other current roles are: Affiliate Professor of Social Science, Southern Oregon University; Distinguished Fellow, Schumacher Institute, and Associate at the Institute for Sustainable Futures. More about Donnie here.
His forthcoming book co-authored with Jennifer Hinton How on Earth: Flourishing in a Not for Profit World by 2050 is available for pre-order here.
Date and time
Location
The Hub Islington
4th floor
5 Torrens Street
London
EC1V 1NQ
United Kingdom