Antarma Live & The Rose Collective at One Church, Brighton
About this event
Antarma plays in Brighton for the first time! We gather in this beautiful church where the acoustics sound superb and we have plenty of space to open our hearts wide. Antarma takes us on a meditative journey and slowly builds the energy until we reach ecstatic dance, joining hearts to the rhythm of the drum!
Antarma has been on the path of meditation for 17 years now. With the blessing of his guru in South India he shares mantra and meditation. His music creates joy, uniting hearts and voices with such purity and grace. He plays heart opening songs on guitar, and ecstatic Afro Brazilian djembe drum rhythms, with a taste of soul, reggae and hiphop beats.
Here is Antarma's debut single just released 'Aum Shakti Aum' produced by Grammy award-winner, Duncan Bridgeman (1Giant Leap, Nessi Gomes)
https://antarmamusic.bandcamp.com/track/aum-shakti-aum
This special evening begins with The Rose Collective taking us on a devotional journey of the heart. Come as you are and unite in hearts and voices, release that which does not serve and celebrate and connect.
The beautiful heart opening plant medicine ceremonial Cacao will be offered to enhance and energise our devotional practice.
The Rose Collective consist of Elian Kidd, a medicine musician and devotional song space holder. Elian has been holding song circles and supporting ceremonial space musically for the past 4 years.
Seren Rose is a breath taking devotional singer, she is currently recording her first Ep.
George Fogel is a Jazz pianist with more than a decade of experience in the field of experimental jazz music, now currently focusing on many styles and flavours of music from Brazil. He plays samba, afro Brazilian spiritual music, devotional music from around the world, and supports musically in ceremonial space.
George will also be accompanying Antarma this evening.
Here's a song recently recorded by The Rose Collective
https://soundcloud.com/englishrosecollective
Tickets are available on Eventbrite only, there will be no tickets on the door.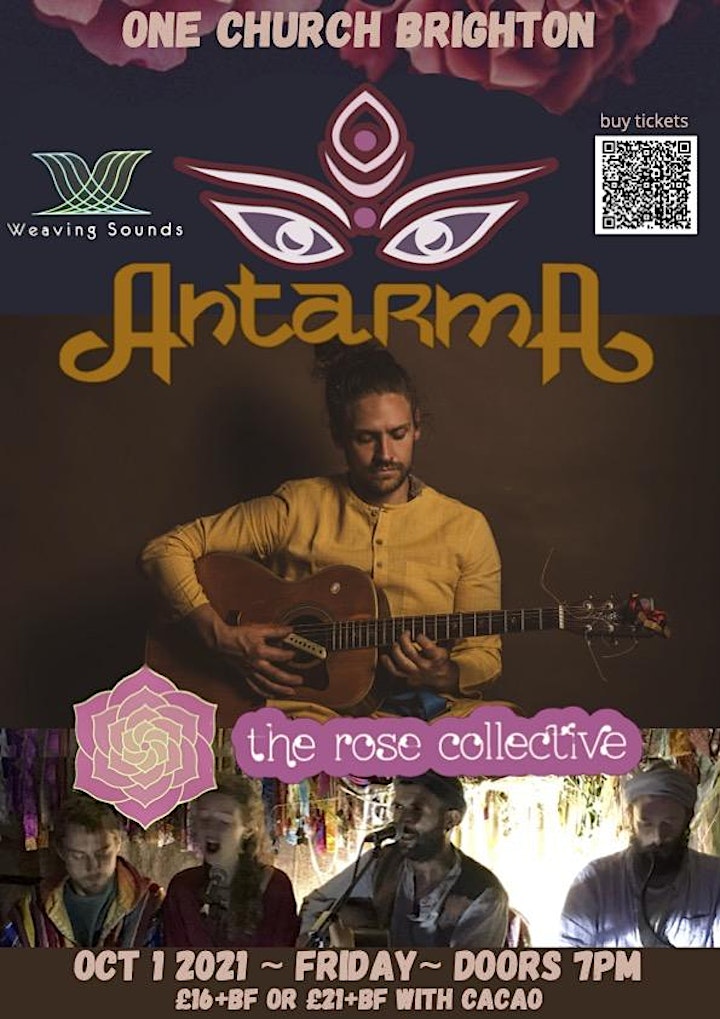 Organiser of Antarma Live & The Rose Collective