About this Event
ANTI DIET RIOT FEST 2020
Over 12 hours.
20+ speakers.
Talks, art, workshops, movement.
Inspiring, challenging and creative workshops and talks exploring body, sex and food liberation
Absolute no diet chat or body shaming. AT ALL.
_____________
In January it will be 2 years since Anti Diet Riot Club first launched to try and combat society's obsession with thinness, narrow beauty ideals and fat phobia. What a journey it's been since then!
In the same month, millions of people who feel their bodies aren't good enough will embark on ANOTHER new diet/exercise regime fueed by the 'New Year, New You' bullsh*t that we've been fed for years.
So we thought what better time to throw our BIGGEST EVENT YET! A mini-festival that throws a MASSIVE middle finger up at the false dream that if we could only modify ourselves to fit the perfect ideal (read: thin, white, able bodied etc) then we'd be happy. Well, we're not falling it for anymore...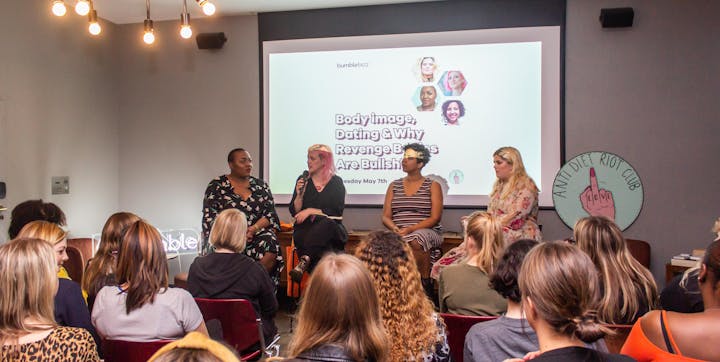 For the first ever ANTI DIET RIOT FEST, expect a day of inspiring, challenging and creative workshops and talks. Spread across 3 rooms of Colours Hoxton in Shoreditch, it will delve deep into the topics we're passionate about and bring our beautiful, colourful, diverse community together under one roof!
Featuring the likes of:
Stephanie Yeboah - Award winning blogger, freelance writer, body confidence advocate
Molly J Forbes - campaigner & Naked Beach presenter
Joeley Bishop aka @thevagaggle
Honey Kinney Ross - Writer, activist and Pink Protest co-founder
Harri Rose - Coach, author & speaker on unapologetic body acceptance
Devinia Noel aka @thedietboycott
...speaking on topics covering intuitive eating, male body image, disability, beauty, ugliness, race, sexuality, fitness and activism.
Plus workshops including:
The School of Strut
Feminist embroidery
Anti Diet Riot Life Drawing
Beginners yoga
Protest art making
Creative writing & journalling
Self-care workshops
More TBA.
Full programme announced November 18th.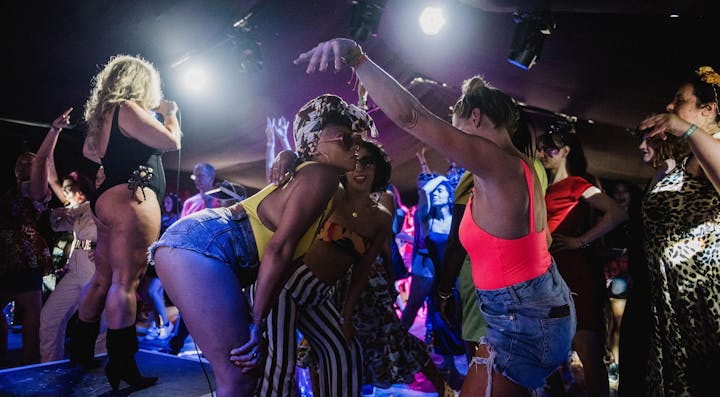 Super early bird tickets just £25 SOLD OUT
Early bird tickets = £32 + bf
Standard tickets = £40 + bf
Tickets include:
1 x Workshop
2 x Talks/Panels
+ access to the event, the open workshops, food vendor, stalls and good vibes throughout the day.
You will be able to book your place onto the workshop and talks of your choice from January 3rd. Details and reminders will be emailed directly to the address you use on checkout (so make sure its one that you check!).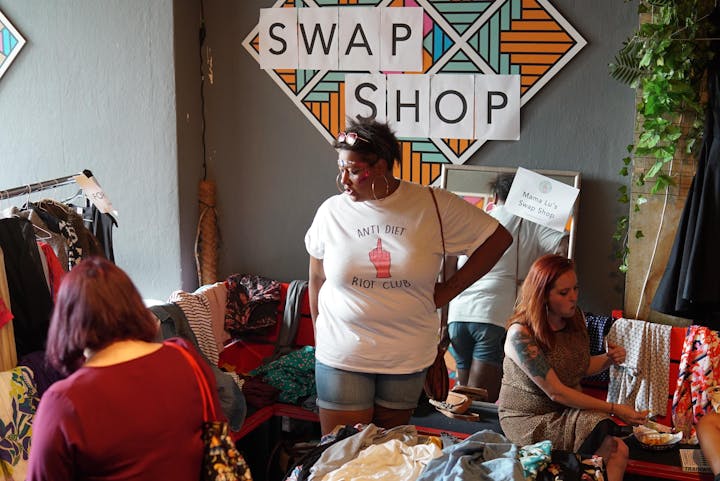 FAQS
Who can come to Anti Diet Riot Club?
This event is open to anyone 18+
We welcome humans of all sizes, genders, races, sexualities and abilities to our events and hope we can make it accessible and useful for as many people as possible. Get in touch if you think we can do better at this.
What's the venue's accessibility like?
The venue is wheelchair accessible with a self-operated lift and accessible toilet on the ground floor. There are some steps in the building but with alternative doors every room is accessible to wheelchair users. Please do email us to let us know if you other accessibility needs, so we can make the event as comfortable as possible.
We are able to provide a BSL interpreter for certain sessions, and transcripts for others.
There are no flashing lights during the event, however their will be music and quite a lot of people - but we are working hard to make sure one of the rooms is kept free and/or quiet most of the event for those who need a break.
What if I can't afford the full ticket price?
We don't want limited funds preventing anyone, especially people from marginalised groups, from attending.
Please email info@antidietriotclub.co.uk if you are seriously prohibited from coming to the event and we will aim to offer discounted tickets. We also give 1 free ticket for a caregiver to those who need one.
I want to get involved with the event, who do I contact?
For programming enquiries please email becky@antidietriotclub.co.uk
Please send press, partnerships and trading opportunity send enquiries to chelsea@welldefined.co.uk