Location
Keyworth Centre
Keyworth Street
London
SE1 6NG
United Kingdom
Meet the authors and be part of this important conversation
About this event
In June 2020, a group of academics, staff and students formed a community to develop a counter-narrative of action to inform and accelerate transformation required for the UK higher education sector to becoming anti-racist, and cultivate meaningful and long-term solutions to Anti-Racism, inclusion, diversity and equity.
Through a series of discussions and contributions with an intersectional group, this action book was rapidly developed to represent the evidence, data, voices and reflections that will enable changes in the sector to accelerate working towards Anti-Racism. The editor, Dr Arun Verma, is pleased to announce the launch of the book 'Anti-Racism in higher education: an action guide for change", which this event forms a critical milestone in the higher education's sector to build and develop an anti-racist institution.
We invite you to acknowledge, meet and celebrate the achievements of the authors who have shared the enriching provocations, personal narratives, evidence, reflections and actions for change. This event marks a turning point in the higher education sector and we invite those who are seeking to cultivate approaches to Anti-Racism, belonging and inclusion in their institution.
Programme
16:30-16:45: Welcome from LSBU - Professor Shaminder Takhar, School of Law & Social Sciences and Professor Deborah Johnston, DVC Academic Framework
16:45-17:00: Introducing the book from the Editor - Dr Arun Verma
17:00-17:40: Panel discussion with Musharrat J. Ahmed-Landeryou, Pamela Thomas and Deya Mukherjee
17:40-18:00: Questions
18:00-19:30: Networking and refreshments
We hope you can join us to engage with the editor and authors as they share their expertise in a critical discussion pertaining to themes of the book.
PLEASE NOTE: This event will not be live streamed.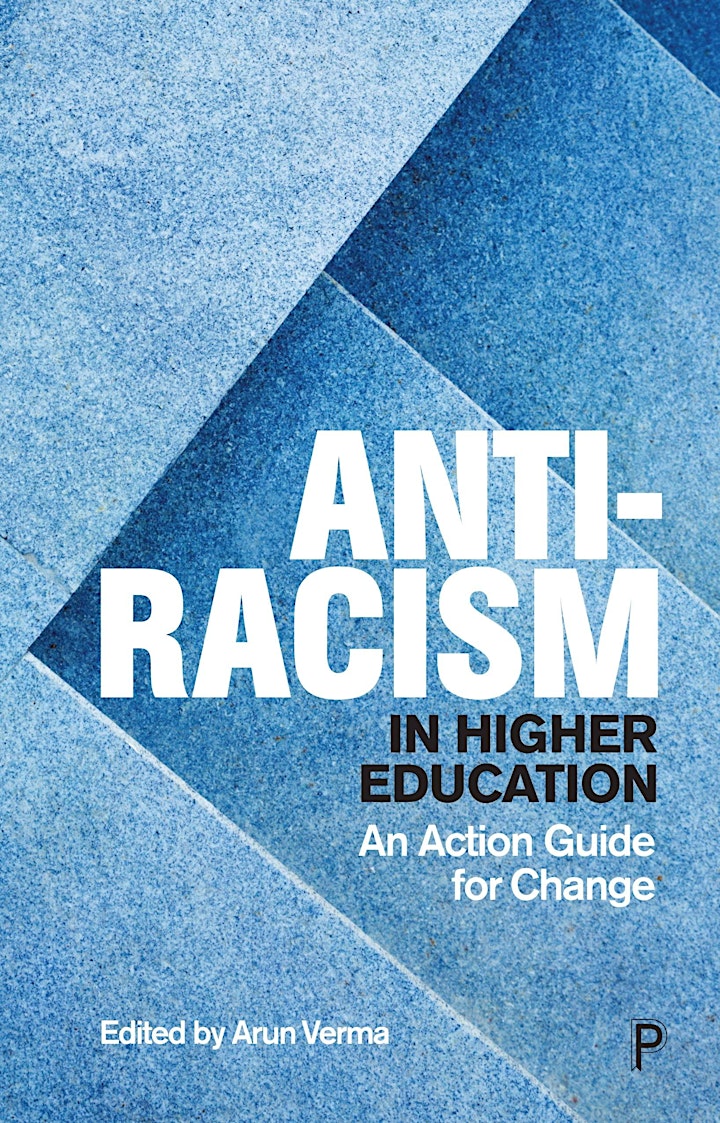 Biographies
Dr Arun Verma is a leader in integrating intersectionality in design, development and action throughout the higher education, third, private and public sectors and is the Head of the Race Equality Charter (Advance HE), Academic Tutor (University of Dundee) and Fellow of the RSA. He completed his doctorate exploring intersectionality in healthcare students' learning, retention and success. He has led the integration and embedding of intersectionality and anti-racist practice in government commissioning, national and global programmes development and education through developing and implementing intersectional and inclusive policy and praxis interventions. He is a Trustee for Getting on Board working to diversify boards and governance and his edited collection 'Anti-racism in higher education: An action guide for change' is now available.
Musharrat J. Ahmed-Landeryou is Associate Professor in Occupational Therapy, London South Bank University (LSBU) and leads the decolonising Allied Health Professions curricula strategy at LSBU. Her 'Decolonising Curriculum Checklist Wheel: A Reflective Framework' will now become part of the academic curriculum framework at LSBU. Musharrat is co-founder of BAMEOTUK, a network of BME heritages occupational therapy students, staff and educators, to disrupt recycling of institutional racism/discrimination in the profession and professional body nationally and internationally.
Pamela Thomas is a Learning Developer in the Centre for Research Informed Teaching at London South Bank University. While on a 6-month secondment as the EDI Manager, she had the opportunity to co-write the chapter with her colleagues. She is a Senior Fellow of AdvanceHE, an Associate Member of Institute of Leadership and Management, the Chair of the Culture Working Group for the Race Equality Charter, and until recently, the Secretary/Co-Chair of EquiNet, the BAME and Ally Staff Network. She is responsible for embedding learning development in course curricula using an academic literacy approach to support student writers to navigate and negotiate their way through the academic writing process within their subject-specific discipline.
Deya Mukherjee is a writer based in Bristol, who has previously worked as an Equality, Diversity and Inclusion Advisor in the Higher Education Sector. She currently works providing operational support for an LGBTQ+ housing service and is currently working on a novel.