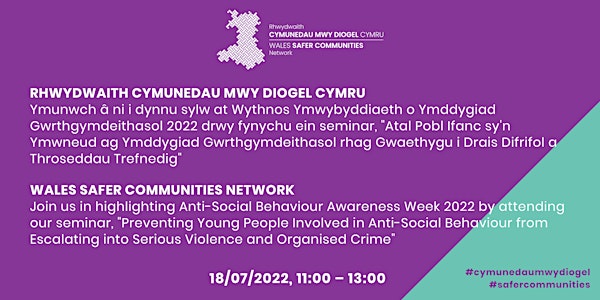 Anti-Social Behaviour Awareness Week 2022 - Wales Safer Communities Network
Wythnos Ymwybyddiaeth o Ymddygiad Gwrthgymdeithasol 2022 / Anti-Social Behaviour Awareness Week 2022
About this event
Sgroliwch i lawr am y Saesneg / Please scroll down for English
Atal Pobl Ifanc sy'n Ymwneud ag Ymddygiad Gwrthgymdeithasol rhag Gwaethygu i Drais Difrifol a Throseddau Trefnedig
Ymunwch â Rhwydwaith Cymunedau Mwy Diogel Cymru i dynnu sylw at Wythnos Ymwybyddiaeth o Ymddygiad Gwrthgymdeithasol 2022.
Bydd y seminar hon yn archwilio'r dulliau sy'n cael eu defnyddio i fynd i'r afael ag Ymddygiad Gwrthgymdeithasol (ASB) a'i leihau sy'n cynnwys pobl ifanc rhag gwaethygu i Drais Difrifol a Throseddau Trefnedig.
Gyda chyflwyniad gan Jeff Cuthbert, Comisiynydd Heddlu a Throseddu Gwent a Arweinydd Plismona Lleol ar gyfer Ymddygiad Gwrthgymdeithasol, Chymdeithas Comisiynwyr yr Heddlu a Throseddu (APCC), byddwn yn clywed gan amrywiaeth o sefydliadau traws-sector yng Nghymru am y gwaith y maent yn ei wneud ac enghreifftiau o arfer gorau. Mae'r seminar hon yn arbennig o berthnasol yng ngoleuni'r Canllawiau ar Ddyletswydd Trais Difrifol sydd ar y gweill.
-----------------------------------------------------------------
Preventing Young People Involved in Anti-Social Behaviour from Escalating into Serious Violence and Organised Crime
Join the Wales Safer Communities Network in highlighting Anti-Social Behaviour Awareness Week 2022.
This seminar will explore the approaches being taken to tackle and reduce Anti-Social Behaviour (ASB) involving young people from escalating into Serious Violence and Organised Crime.
With an introduction from Jeff Cuthbert, Police and Crime Commissioner for Gwent & Association of Police and Crime Commissioners (APCC) Local Policing Lead for Anti-Social Behaviour, we will hear from a range of cross-sector organisations in Wales regarding the work that they do and best practice examples. This seminar is especially relevant in light of the upcoming Serious Violence Duty Guidance.