Description

Antibiotic resistance is one of the biggest threats facing us today!
European Antibiotic Awareness Day (EAAD) is part of the UK 5 Year Antimicrobial Resistance Strategy 2013 to 2018, which focuses on antibiotics and sets out actions to slow the development and spread of antimicrobial resistance.
This year, to run in line with EAAD; Public Health England has established the Antibiotic Guardian pledge campaign. It calls on everyone in the UK, the public and healthcare community to become antibiotics guardian by choosing one simple pledge about how they will make better use of these vital medicines.
Why it is relevant to you:
Without effective antibiotics many routine treatments will become increasingly dangerous. Setting broken bones, basic operations, even chemotherapy all rely on access to antibiotics that work.
What we want you to do:
To slow resistance we need to cut the use of unnecessary antibiotics. November 18th is European Antibiotic Awareness Day. As part of that we're asking everyone in the UK, the public and the medical community to become Antibiotic Guardians.
Call to action:
Choose one simple pledge about how you'll make better use of antibiotics and help save this vital medicine from becoming obsolete.
To ensure that the information and knowledge on Antibiotic Stewardship is disseminated to those practising healthcare across the nation, a series of awareness and educational events have been developed. These educational workshop events, to be held in Leeds, Birmingham and London, will provide guidance, resources and information for practitioners on topics associated with antibiotic awareness. The events will provide an opportunity to understand how you and your organisation can support combat the global challenge faced by antibiotic resistance whilst gaining advice, support and resources to inform patients and staff.
Please beware Private Sector Delegate ticket fee applies, for further information please contact Paul Anthony; 0161 270 3330; Paul@4allofus.org.uk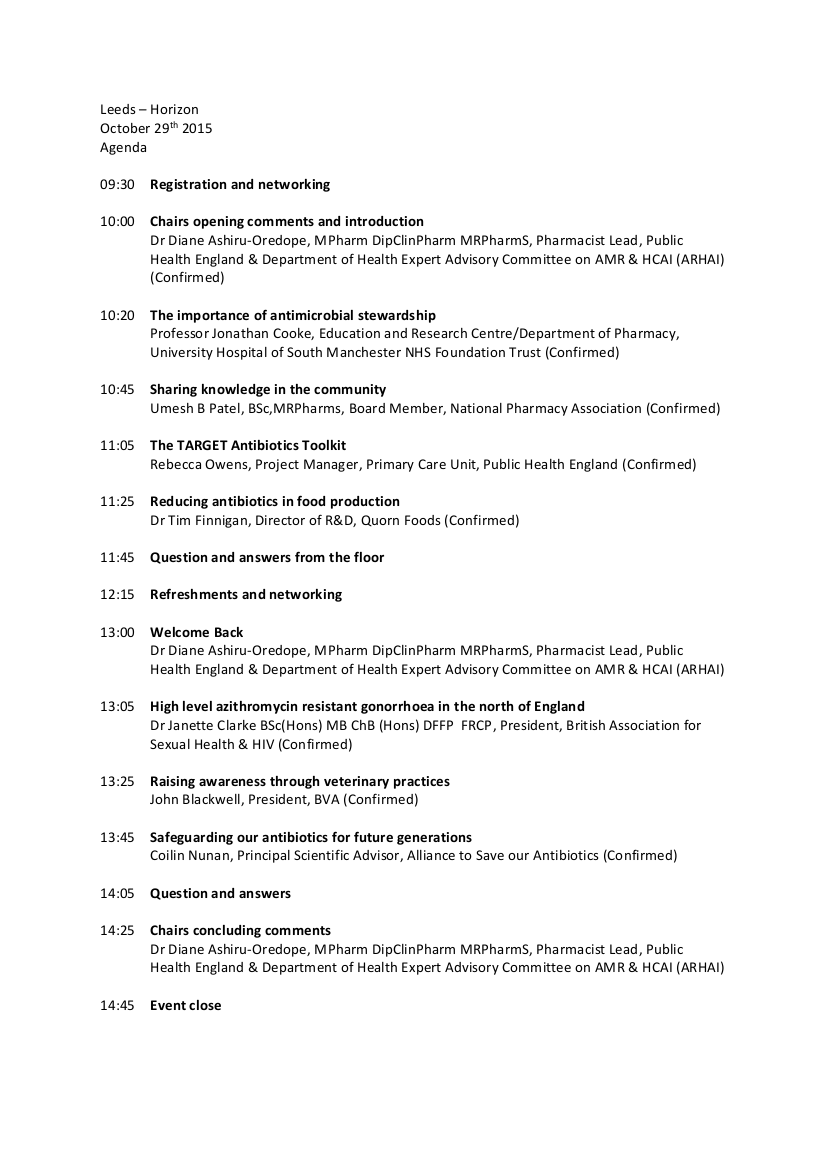 Why attend:
Access to the latest information and media;
Hear from those at the forefront of the agenda;
Understand the priorities set and how you can assist;
Your opportunity to sign up and become an Antibiotic guardian;
Network with likeminded professionals;
Improve your knowledge; and
Have your say!
Organiser of Antibiotic Guardian - Leeds
4 All of us are working locally and nationally with our partners on events & communications which transform service delivery in the fields of health, education, employment, environment, transport and social care. We believe in responsible leadership and provide a friendly service built on social values and good communication.