Description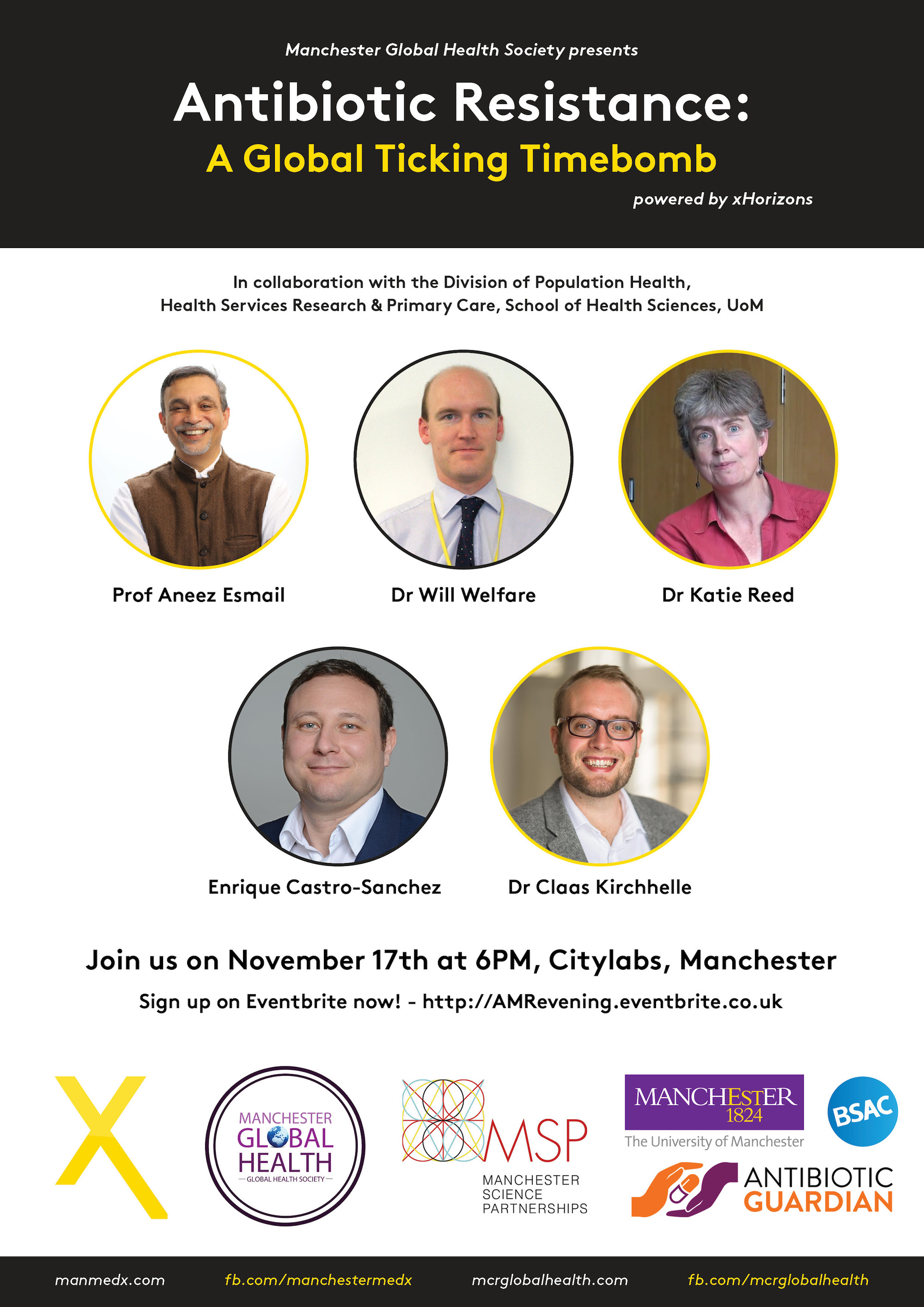 The Manchester Global Health Society in partnership with ReThinkX (formerly Manchester MedX) are proud to present to you 'Antibiotic Resistance: A Global Ticking Timebomb', an evening of presentations and discussion on Antibacterial Resistance within the global dimension.
With the September 2016 UN Resolution on Antimicrobial Resistance bringing increased public attention to this advancing threat to health and life as we know it, we invite you this World Antibiotic Awareness Week to join us in discussion of this truly global problem, which requires a truly coordinated, multidisciplinary and global response.
Join us on Thursday November 17th at Citylabs, Manchester, 18:00 – 20:30. Registration from 17:30.
Followed by refreshments.
Speakers:

Professor Aneez Esmail
Dr Will Welfare
Dr Katie Reed
Enrique Castro-Sanchez
Dr Claas Kirchhelle
This event is held in collaboration with the Division of Population Health, Health Services Research & Primary Care, School of Health Sciences, University of Manchester.
Supported by the British Society for Antimicrobial Therapy, Antibiotic Action, and Antibiotic Guardian.
Organiser of Antibiotic Resistance: A Global Ticking Timebomb
Manchester MedX is an annual, national conference on medical technology and innovation. Our mission is to provide an accessible, stimulating environment that brings together researchers, doctors, and students to inspire new thoughts and ideas that will drive healthcare forward.
The Manchester Global Health Society is a multidisciplinary award-winning society at the University of Manchester and beyond that not only provides a broad global and public health education, but aims to apply a global outlook to local initiatives with a wide range of events and opportunities to get involved and engaged in health on the ground.