Antidotes to WFH (working from home) - Presented by Dave Florence
It has become increasingly clear that 'WFH', whilst has benefits, can also create poor health, both psychologically and physiologically
About this Event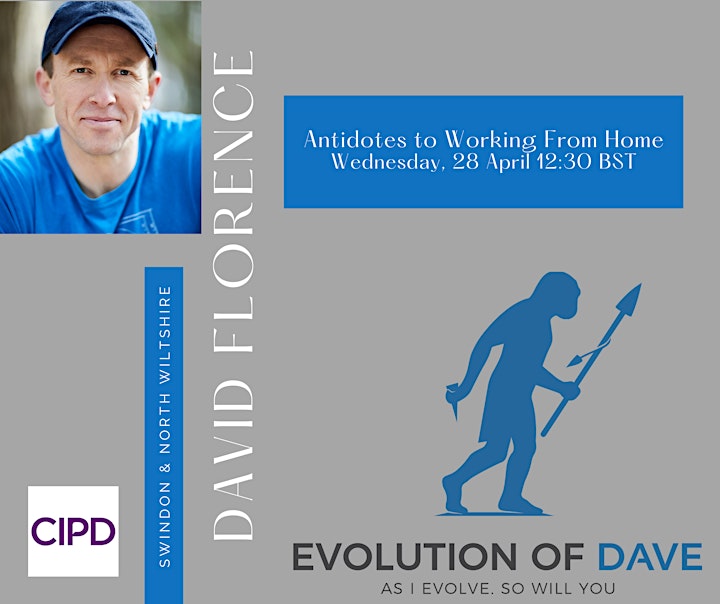 Due to the current Covid-19 situation, we will deliver this event as a webinar. Thank you for your support and understanding at this time.
Antidotes to WFH (working from home) - Presented by Dave Florence
Event details:
It has become increasingly clear that 'WFH', whilst has benefits, can also create poor health, both psychologically and physiologically. Many work from home employees are noticing changes in mood, loneliness, increased anxiety, foggy brain, sleep issues and worse still high blood pressure, increased weight, depression and likely a weakened immune system.
It is all too easy to become so consumed by your work commitments, that getting locked into your seat for a number of hours without moving is now the norm.
Through a variety of simple practices, you can reverse the negative impact of working from home and start to enjoy the benefits. These practices can be segued easily into everyone's working routine, prior knowledge is not a requirement and most take just a few minutes, meaning work schedule is not an excuse to miss them. So long as employers actively promote the use of these practices, then it is highly likely employee engagement, efficiency and performance will improve, a win, therefore for everyone.
Within the webinar I will introduce some of these practices, covering simple breath techniques that increase blood flow, build internal balance and act as a calming state changer, offer easy to follow 'chair yoga' ideas that will engage muscles and provide simple mind hacking techniques that will help you stay focused on the task at hand.
Content:
Introduction (my background)
Quick state changing breath-work practice (3mins)
WFH: Negative psychological and physiological health implications
Antidotes to those symptoms, including examples and follow along
How finding a flow through a variety of simple practices can improve efficiency, employee engagement, performance and the overall health of an entire company, without requiring special kit, gym space or equipment
About our Speaker - Dave Florence
Since the end of 2017 and following a 'Wake Up Call', David has researched and experimented with a variety of natural methods and practices that have upgraded his life in many ways. From Breath-work to Yoga, Intermittent Fasting to Intermittent Hypoxia as well as new practices such as Vigorous Intermittent Lifestyle Physical Activity (VILPA) and not forgetting Cold Therapy via the Wim Hof Method.
Through a variety of online channels and courses, David continues to share his experience, knowledge and practices to those that follow him and who also wish to enhance their mental and physical health.
David is qualified in:
Clinical Hypnotherapy, NLP, Breath-Work & has more recently become a Flow Coach and Ambassador for growing Biohacking and 'Flow State' generating business FGI.
Additional Information:
Please note this event may be recorded for future viewing. By registering for and attending this event, you are voluntarily acknowledging and accepting this may be a recorded event.
Coronavirus:
The CIPD is providing Coronavirus advice to Employers both online and in the media. You can find up to date information on the CIPD's website "here".