Description
'Antiquity Matters' is the culmination of more than sixty years of a writing life during which Frederic Raphael has returned again and again to the literature and landscape of the ancient world. In his new book, Raphael deploys his renowned wit and erudition to give us a vivid mosaic of the complexities and contradictions underlying Western civilization and its continuing influence upon contemporary society. Tackling a broad range of topics, from the presumed superiority of democracy to the momentum behind today's gay rights movement, Raphael's often daringly heterodox view of the Greek and Roman world will provoke, surprise, and, at the same time, entertain readers. He shows how the interplay of fiction and reality, rhetorical aspiration and practical cunning, are threaded through modern culture.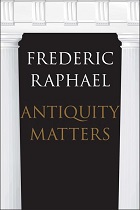 Come and hear from the man himself: we are delighted to welcome renowned screenwriter, biographer, non-fiction writer, novelist and journalist Frederic Raphael to Heffers, where he will talk about his new book Antiquity Matters - and answer your questions about his work.
Antiquity Matters will be available to purchase at the event and Frederic will be signing copies after his talk. If you are unable to attend but would like to request a signed copy, please send an email via the 'contact' button on this page.
Tickets for the evening are £5 and can be purchased through this page, by calling 01223 463200 or in person at Heffers bookshop. Please note that tickets are transferable but not refundable.
Like this event? See our full programme here.
Date and Time
Location
Refund Policy