APA WEBINAR - Building your defences with Vitamin C by Patrick Holford
Event Information
Refund Policy
Contact the organiser to request a refund.
Eventbrite's fee is nonrefundable.
The APA is delighted to offer a webinar by Patrick Holford, BSc, DipION, FBANT, NTCRP, on building your defences with the use of Vitamin C.
About this Event
In these covid times, we are more aware than ever that our immune system needs a boost. We invite you to join us for an exclusive webinar on how to build up your immune defense through diet and a natural approach.
There are two ways to not suffer from a virus. The first is to not get infected. That's what masks and social distancing are about. The second is to have a strong immune response. That's what vaccines and vitamins are about.
In this webinar Patrick will explain:
• How viruses work and where their weaknesses are.
• Why animals that make vitamin C rarely succumb to flu or colds.
• The truth about vitamin C and how to use it when you are infected.
• How black elderberry blocks viral replication.
• Why vitamin D levels crash in winter to make us more susceptible.
• Other critical immune support nutrients from selenium to zinc.
• How intravenous vitamin C saves lives in those with respiratory distress.
Since time immemorial, man has been looking into how we can preserve our youthful vigor. We members of the Ayurvedic community know how Amalaki has always flown the flag for the extending longevity.
Do you think as philosophers of healthcare that we need examine vitamin C and find correlation too the Rishis perception?
Ayurveda has stated that food looses it vitality only a couple of hours after cooking, in that it then will increase Ama. The modern science states that Vitamin C is lost after heating. The question is, was it the potency and presence of vitamin C that the Rishi's were pointing too?
To keep our minds update and upgraded with the modern theory supports and expands our conversations with others. We also at APA believe that by staying in touch with the modern principles of natures fruitful abundant properties will support the timeless wisdom of Ayurveda's presence in this time frame!
About the speaker:
Patrick Holford, BSc, DipION, FBANT, NTCRP, is a leading spokesman on nutrition and founder of the Institute for Optimum Nutrition. He is the author of 45 books, translated into over 30 languages, including The Optimum Nutrition Bible, Optimum Nutrition for the Mind and Ten Secrets of 100% Healthy People, and his latest books Flu Fighters, The 5 Day Diet, and Optimum Nutrition for Vegans.
Patrick was involved in groundbreaking research showing that multivitamins can increase children's IQ scores – the subject of a Horizon television documentary in the 1980s. He was one of the first promoters of the importance of zinc, essential fats, low-GL diets, and homocysteine-lowering B vitamins and their importance in mental health. He helped start the whole profession of nutritional therapy in the UK, founding the Institute for Optimum Nutrition in London in 1984. Patrick is also the founder of the charitable Food for the Brain Foundation which helps those with mental health issues through nutrition and offers a Cognitive Function Test for Alzheimer's prevention. He is the founder of the following campaign https://www.vitaminc4covid.com/webinar/
Please click HERE in order to listen to Patrick discuss his recent research work on Vitamin C.
Please click HERE to watch a video from Dr Vijay Murthy who talks about the use of Vitamin C within the context of Ayurvedic practice and with reference to the famous Ayurvedic remedy called Chyawanprash.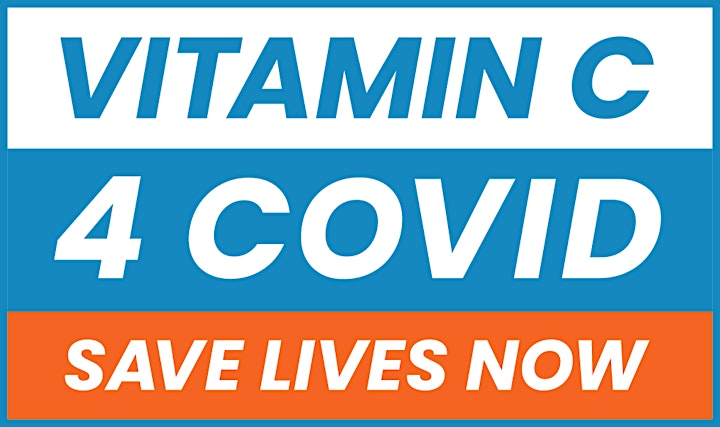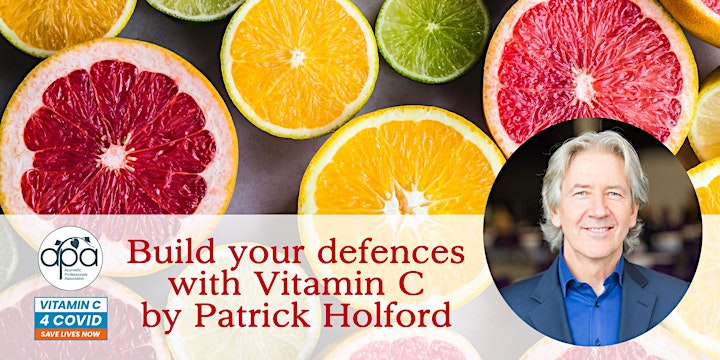 Date and Time
Location
Refund Policy
Contact the organiser to request a refund.
Eventbrite's fee is nonrefundable.