APBC Annual Conference 2017

Sunday, 30 April 2017 from 09:30 to 17:00 (BST)
Who's Going

Loading your connections...
3 of your friends are going.
Share it to get more people on board.
Share

Sara Haughty
San Francisco, California

Luke Picard
London, United Kingdom

Rick Vespucio
Florence, Italy
Event Details
Keep Calm and Carry On...Understanding and managing over-arousal in dogs
Many owners struggle with dogs that are over-aroused, whether this is the result of excitement, fear or frustration. This can lead to difficulties with work, training and many behaviour problems including recall problems, inappropriate chasing, barking and repetitive behaviours. Managing arousal and teaching dogs to be calm is an important aspect of dealing with many problem behaviours. This conference should be of interest to anyone living or working with dogs, whether they are wired Whippets, crazy Collies or even chilled Chihuahuas. During the day we will explore what arousal is, why some dogs seem to become over-aroused more easily than others and how this can influence a dog's physiology and ability to learn. We will look at practical strategies for reducing arousal and helping dogs to be calmer including appropriate management strategies, exercise, training and activities such as tracking and searching. We will explore the use and efficacy of calming medications, supplements and diets, and therapies such as massage and T touch. We will also look at achieving calmness in specific situations including within the multi-dog household.
Registration from 08:30
Programme from 09:30-17:00
Speakers:
Dr Anne McBride BSc, PhD, Cert.Cons., MAPBC, Hon.Mem.TCBTS, Hon.Mem.BVNA


Anne has a degree in Psychology and a PhD in rabbits! Her thesis was on their social and parental behaviour. She has worked with animals and people in a variety of contexts including laboratories, hill farming and zoo keeping and has been a dog trainer and behaviour counsellor since 1987. In 1994, Anne set up the first course of its kind, the postgraduate Diploma / MSc course in Companion Animal behaviour Counselling at the University of Southampton and was its director until its closure in 2010. Alongside working with dogs and cats, Anne has always had a particular interest in exotics and promotion of their welfare through understanding their behaviour and meeting their behavioural needs. She has written, and continues to write about this subject in books, journal articles and specialist publications such as Rabbiting On – the members' journal of the Rabbit Welfare Association and Fund (RWAF). Anne is a Senior lecturer in Psychology at Southampton, Honorary Associate Professor at the Veterinary School at the University of Nottingham, Honorary Member of both the British Veterinary Nursing Association and the Canine Behaviour and Training Society (previously known as the UKRCB). She is also a member of the Companion Animal Welfare Council. Anne teaches nationally and internationally on her areas of academic interest, namely animal behaviour and human-animal interactions and their effects on the welfare of humans and animals. Anne's central belief is that animal and human welfare will only be improved if we continue to educate and raise knowledge and skills standards of professionals working in the human-animal field, and thus, through them, of animal owners and keepers. She is a strong supporter of the Animal Behaviour and Training Council (ABTC) which is regulatory body that represents animal trainers and animal behaviour therapists to both the public and to legislative bodies. She is the council representative for the RWAF and Chair of the ABTC Programme Recognition Committee.
Graham Thompson PG Dip CABC MSc CABC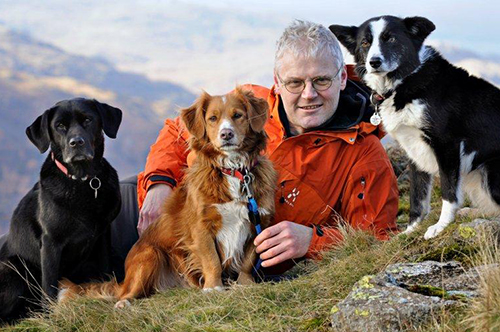 Graham Thompson gained the Post-Graduate Diploma in Companion Animal Behaviour Counselling (PG Dip CABC), with Distinction, from the University of Southampton and also the degree of Master of Science in Companion Animal Behaviour Counselling (MSc CABC), with Distinction, from the University of Southampton. He sees cats and dogs on behavioural referral from veterinary surgeons. Graham is based in Ambleside in the heart of the Lake District in Cumbria, but has seen clients from all over the UK. Graham is particularly interested in the behaviour of dogs and their owners in the countryside. During his under-graduate studies in Applied Animal Behaviour at the University of Southampton he investigated factors affecting the distance dogs roam from their owners in recreational environments through the use of GPS technology. He researched the effects of play on the roaming behaviour of dogs for his MSc at the University of Southampton. Most recently Graham has taken a greater interest in how practitioners can most effectively bring about changes in the behaviour pet owners, to facilitate improvements in pet welfare and training. He is an ASAB Certificated Clinical Animal Behaviourist (CCAB), a Full Member of the Association of Pet Behaviour Counsellors (APBC) and an Animal Behaviour and Training Council (ABTC) Registered Clinical Animal Behaviourist. Varied numbers of rescued dogs and cats live with Graham in the Lake District
Caroline Warnes BVSc MSc MRCVS CCAB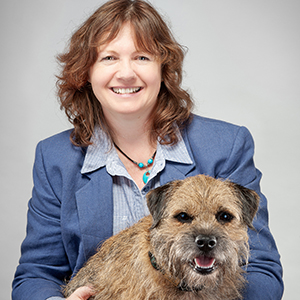 Take a chill-pill. Calming drugs, diets and supplements: how they work and how we can use them to address arousal-related problems in dogs.
When dogs are over-aroused it is very tempting to reach for a quick solution, and in some cases behaviour modification is difficult or ineffective on its own. In addition to a range of arousal-reducing drugs there are variety of diets and supplements promoted as having calming effects in dogs. This talk will explore how these work in theory, how effective they are likely to be in different situations and how they can be used in practice to address arousal-related problems in dogs.
Caroline qualified as a Veterinary Surgeon from the University of Bristol and worked for nearly ten years in general practice before developing a special interest in companion animal behaviour. She completed the Diploma/MSc in Companion Animal Behaviour Counselling at the University of Southampton, and her MSc project looked at the effects of spaying on behaviour in bitches. Caroline is a full member of the Association of Pet Behaviour Counsellors, an ASAB accredited Certified Clinical Animal Behaviourist and is registered as both a Veterinary Behaviourist and Clinical Animal Behaviourist through the Animal Behaviour and Training Council. She is co-owner and administrator of a small animal veterinary practice in Swindon, Wiltshire and also runs her own companion animal behaviour referral practice. Caroline enjoys teaching and in addition to giving lectures and webinars she is has been a visiting lecturer at both the University of Southampton and more recently the University of Bristol School of Veterinary Science.
Pat Tagg BSc (Hons) Psych (Open), MSc (CABC)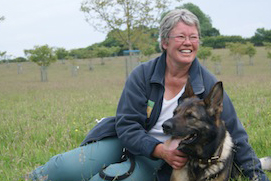 Pat has parallel career experience in the behaviour and training of companion and agricultural animals and the training and development of people. Pat has over 35 years practical experience of handling and training companion and agricultural animals, extensive experience of resolving behaviour issues and of coaching interpersonal skills for professional personnel.
After studying agriculture Pat launched a pig farming business with a difference. The farm featured large scale positive training programmes, resulting in autonomy over a number of circumstances for the sows (500 of them, living outdoors on the Dorset Downs). The sows were cared for with the help of working GSDs. Pat worked for eighteen years in a regional management role for the National Farmers' Union, with responsibility for training and developing a large and progressively accomplished team. She has (and continues to) run her own companion animal behaviour referral business since 1998 and was for many years visiting lecturer at the University of Southampton.
 Currently Pat is developing the "Dogtaggs" suite of services which include training and practical development programmes for pet professionals and owners alike, communication skills workshops for business and private individuals. She is in the process of building a flock of 150 wonderful Poll Dorset sheep; this enables, for the first time in the UK, the teaching of German style sheep tending with GSDs. 
Toni Shelbourne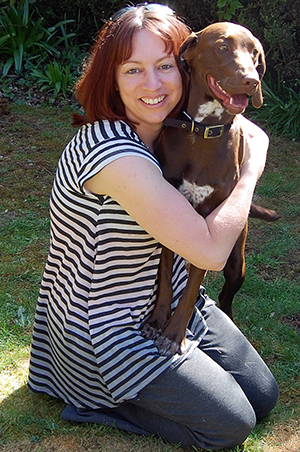 Tellington TTouch Training – The perfect training partner to preventing, managing and reducing over-arousal in dogs.
Self-carriage, self-confidence and self-control are intrinsically linked. When a dog is highly aroused due to excitement or fear, learning is inhibited. The ability to act rather than re-act is impaired as the body deals with the heightened state on a physiological level. In short we stop thinking. For dogs who can't focus, cooperate or concentrate, putting them into any learning environment can be challenging but how do you help them be successful? Simple -change the posture, change the behaviour. In this talk by Toni Shelbourne, Tellington TTouch Companion Animal Practitioner, learn how incorporating Tellington TTouch Training, (TTouch for short), can enhance and shorten your training programme with highly aroused dogs.
Toni Shelbourne: Tellington TTouch Practitioner, Real Dog Yoga Instructor, author and former wolf handler, expert panel member for the Dog Welfare Alliance, Affiliated Member of The International School for Canine Psychology & Behaviour. Toni Shelbourne has worked with domesticated and wild canids for over 27 years. After a long and successful career with the Guide Dogs for the Blind Association, she started her own business as a Tellington TTouch Companion Animal Practitioner, she is one of the highest qualified Practitioners in the UK. In 2001 her work took her to the UK Wolf Conservation Trust were she meet a pack of socialised wolves. She went on to work with them for over a decade as a Senior Wolf Handler and Education Officer for the organisation. Through observing the wolves she has a unique insight into their behaviour. Over the last 10 years Toni has been developing her writing. She spent two years editing and writing features for Wolf Print, the UK Wolf Conservation Trust's international magazine. She went on to write for national dog magazines, rescue society newsletters and website blogs. Her first book, The Truth about Wolves & Dogs, was published in 2012. Among the Wolves: Memoirs of a Wolf Handler came out in June 2015. Toni also writes a series of eBooks and paperbacks called Help! My Dog is Scared of Fireworks, (Co-authored with Karen Bush), was released in 2015 and entered the top 10 books in the dog category in the Kindle store. Their latest book, released in Jan 17 called HELP! My Dog Doesn't Travel Well In The Car: Solving motion sickness and other travelling issues, is set to exceed the first. Other titles are planned. In 2015 Toni enhanced her skill set by training as a Real Dog Yoga Instructor; a method which fits really well with the Tellington TTouch Training. Toni works privately with clients, teaches workshops, and give demos and talks all over the UK and abroad. She lives in Berkshire with her partner and their rescue lurcher Mr P, who came home with them after meeting him Battersea whist attending the Real Dog Yoga course. Find out more about Toni and Tellington TTouch by visiting www.tonishelbourne.co.uk
 Sian Ryan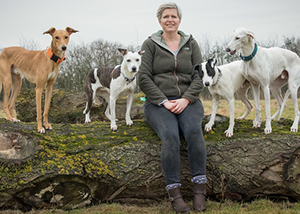 Managing the Madness in Multi-dog Households 
There are days when meeting the needs and managing your interactions with a single dog can be exhausting; add one or more dogs to the mix and the difficulties can increase exponentially. With video examples from her own group of 4 rescue dogs with very different personalities, Sian will highlight some of her priorities for restoring calm, staying sane, and meeting needs with particular emphasis on creating context-based behaviours that become habits rather than instructions. With these in place, the amazing upsides of multiple dogs become more apparent. 
Sian gained her MSc in Clinical Animal Behaviour from the University of Lincoln with distinction in 2011. Whilst finishing her dissertation on Self Control in Pet Dogs she worked as a behaviour counsellor and trainer in the Lincoln Animal Behaviour Clinic and went on to work as a researcher looking at novel ways of measuring emotions in dogs in 2012. With several years of dog training experience, Sian was the first course tutor for Life Skills for Puppies training classes and helped create and develop the course, as well as tutoring on the Life Skills for Puppies Trainers Courses offered by the University of Lincoln. Sian writes for several organisations and her book No Walks? No Worries! (with co-author Helen Zulch and photographer Peter Baumber) was published in October 2014. Sian has also appeared as an animal training and behaviour expert on Bang Goes the Theory (http://www.youtube.com/watch?v=n7Rl55wdMr8) and was consulted during the making of Inside the Animal Mind with Chris Packham.
Sian has recently completed an exciting project for the BBC but can't give details as yet. Sian owns and runs the Developing Dogs Training Centre and Holiday Cottages in Cambridgeshire, as well as giving seminars and workshops across the country.
Nitty Gritty
Early bird rate for everyone:  £55  (book before 28 February  2017)
Standard non-member price: £65
Standard member price: £60
Please make sure you register at the correct rate as mistakes cannot be rectified afterwards. Everyone (members and non-members) should register at Early Bird rate until 28 February  2017. 
FEES INCLUDE REFRESHMENTS AND A PACKED LUNCH
A group discount is available for animal welfare and assistance dogs charities if sending four or more attendees. Please email events@apbc.org.uk to request details.   
Please note that other than assistance dogs, the venue does not permit dogs on the site. 
Please note that no refunds for cancellations can be given after 16 April 2017.  Cancellations prior to 16 April 2017 are subject to an £8 cancellation fee.  The organisers reserve the right to replace speakers in necessary.
Save This Event
When & Where

Kettering Conference Centre
Thurston Drive
Kettering, Northants
NN15 6PB
United Kingdom


Sunday, 30 April 2017 from 09:30 to 17:00 (BST)
Add to my calendar
Organiser
Association of Pet Behaviour Counsellors
APBC Annual Conference 2017