APBC Exotics and Small Furries Conference 2015

Sunday, 27 September 2015 from 10:00 to 17:30 (BST)
Event Details
 APBC Exotics and Small Furries Conference 2015
Kettering Conference Centre
 Sunday 27 September 2015 - 10am until 4.30pm 
Book now!
The APBC Exotics and Small Furries Conference is the 'must-go-to' event for many people within the exotics world - behaviourists, welfare and charity workers, behaviour students, vets, vet nurses and breeders.
This year we will again have some key players in the behaviour and welfare world who will be sharing their knowledge with you.
Speakers are:
Dr Roger Abrantes PhD, BA, DHC, DF, MAPBC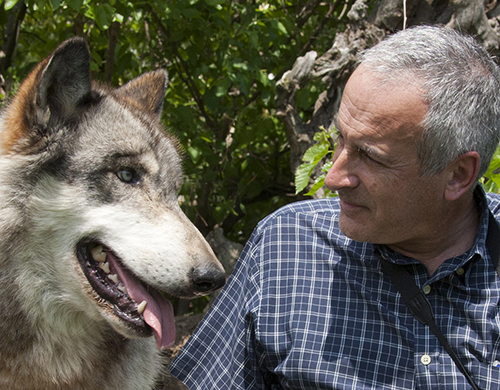 The fundamental principles of Ethology that all animal trainers and owners must know
The fundamental principles of Ethology that all animal trainers and owners must know: innate and learned behavior, neonatal and parental behavior, pacifying and social behavior. Motivation and instincts. Aggressive, fearful, dominant and submissive behavior. Applied ethology.
Roger Abrantes, PhD in Evolutionary Biology and Ethology, and BA in Philosophy, DHC, DF, MAPBC, born in Portugal in 1951, currently based in Cambridge, UK, has lived in Portugal, Denmark, USA, Australia, Tanzania and Thailand. He is the author to 27 books in English, German, Spanish, Danish, Swedish, Norwegian, Italian, and Czech, and numerous articles on behavior. He is probably one of the most versatile ethologists in the world. His work ranges from lecturing at the Ethology Institute Cambridge, where he is the divisional director, to appearances as guest lecturer in universities world wide, popular talks, treatment of behavior problems, teaching canine and human behavior to police officers, training rats to detect landmines in Tanzania, and performing marine environmental management duties (he is also a certified Divemaster, Rescue Diver, and a Sea Captain).
He has written popular books with sound advice to pet owners as well as theoretical scientific dissertations. He teaches ethology, anthropology, and epistemology (theory of knowledge), besides his practical work with dogs, horses cats, rats, and diving missions. He is a popular guest in TV and radio programs in his home countries and in the US.
His English books "Dog Language–An Encyclopedia of Canine Behavior" and "The Evolution Of Canine Social Behavior" became hits the moment they reached the US bookshelves. He lectures often in the US. Dr. Abrantes is especially known for his views on social behavior and its applications to the daily understanding of pet behavior; and for his no-nonsense working methods, a practical and thorough application of Ethology and Learning Theory, teaching the animal the new patterns patiently and efficiently step by step. His actual work involves research into the philosophical aspects of evolutionary biology and writing articles and blogs (besides his sailing and diving commitments).
Richard Saunders BSc (Hons), BVSc, MSB, CBiol, DZooMed, MRCVS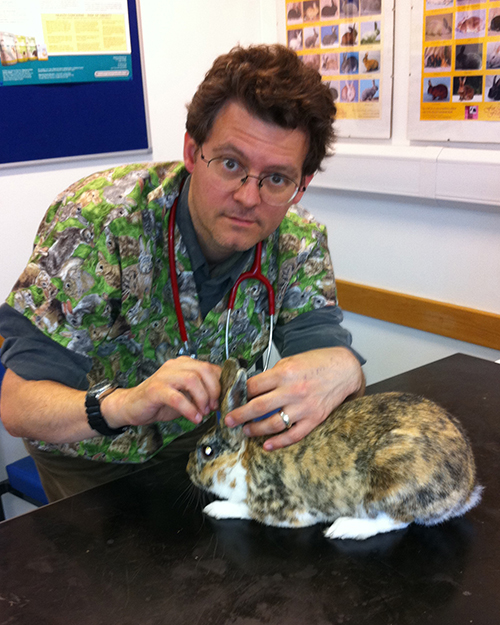 Health, Disease and Behaviour in the Exotic Pet
How health and disease states can impact on behaviour in exotic pets, leading to apparently primary behaviour problems, changing behavioral dynamics in groups, or masking behaviour problems. Prey species may behave differently when ill, or may hide illness because their evolutionary strategy is to appear bright, alert and able to fight or run when attacked. Social animals may hide illness to avoid conflict within the group, and illness may cause problems when it decreases their ability to maintain that order.
Richard graduated from Liverpool university in 1994, having intercalated in Zoology during his veterinary course. He has worked in small animal, exotic and British wildlife practice. He holds the RCVS Certificate and Diploma (Mammalian), in Zoological Medicine, is an RCVS Specialist in Zoo And Wild Animal Medicine, and is the author of several chapters on exotic animals in BSAVA manuals, including the BSAVA Manual of Rabbit Medicine, and the BSAVA Manual of Rabbit Surgery, Dentistry and Imaging. He is a co-author of Notes on Rabbit Internal Medicine, and Rabbit Behaviour, Husbandry and Welfare. He is the RWAF Veterinary Adviser, and teaches Rabbit and Exotic animal Medicine at the University of Bristol.
Dr Anne McBride BSc, PhD, Cert.Cons., MAPBC, Hon.Mem.TCBTS, Hon.Mem.BVNA


Introducing Ratty, Mrs Tittlemouse, Peter and Friends: Understanding Small Mammals 
Many people buy small mammals as pets, often for children, believing these animals to be 'short-lived', 'cheap to keep' and 'easy to keep healthy and happy'. Yet many tens of thousands will be given up for rescue or effectively abandoned in their cage, provided simply with food, water and bedding and the vast majority will die young. This may be due to children getting bored with them, or the pet having developed an unwanted behaviour, such as biting. Both of these scenarios are preventable if we give owners clear information about the pet, what it is, how it thinks and what it needs, This talk will provide an introduction to the world of small mammals, how their wild origins have shaped their physique and behaviour and how living in our homes can be challenging for them in ways that are not immediately obvious to us. Throughout, we will consider how they can be given physical and mental stimulation so they can be healthy, happy living to a ripe old age, which may be several years, keeping their owners interested and entertained throughout.
Anne has a degree in Psychology and a PhD in rabbits! Her thesis was on their social and parental behaviour. She has worked with animals and people in a variety of contexts including laboratories, hill farming and zoo keeping and has been a dog trainer and behaviour counsellor since 1987. In 1994, Anne set up the first course of its kind, the postgraduate Diploma / MSc course in Companion Animal behaviour Counselling at the University of Southampton and was its director until its closure in 2010. Alongside working with dogs and cats, Anne has always had a particular interest in exotics and promotion of their welfare through understanding their behaviour and meeting their behavioural needs. She has written, and continues to write about this subject in books, journal articles and specialist publications such as Rabbiting On – the members' journal of the Rabbit Welfare Association and Fund (RWAF). Anne is a Senior lecturer in Psychology at Southampton, Honorary Associate Professor at the Veterinary School at the University of Nottingham, Honorary Member of both the British Veterinary Nursing Association and the Canine Behaviour and Training Society (previously known as the UKRCB). She is also a member of the Companion Animal Welfare Council. Anne teaches nationally and internationally on her areas of academic interest, namely animal behaviour and human-animal interactions and their effects on the welfare of humans and animals. Anne's central belief is that animal and human welfare will only be improved if we continue to educate and raise knowledge and skills standards of professionals working in the human-animal field, and thus, through them, of animal owners and keepers. She is a strong supporter of the Animal Behaviour and Training Council (ABTC) which is regulatory body that represents animal trainers and animal behaviour therapists to both the public and to legislative bodies. She is the council representative for the RWAF and Chair of the ABTC Programme Recognition Committee.
Jane Williams BSc (Hons), MA, MSc (CABC), CCAB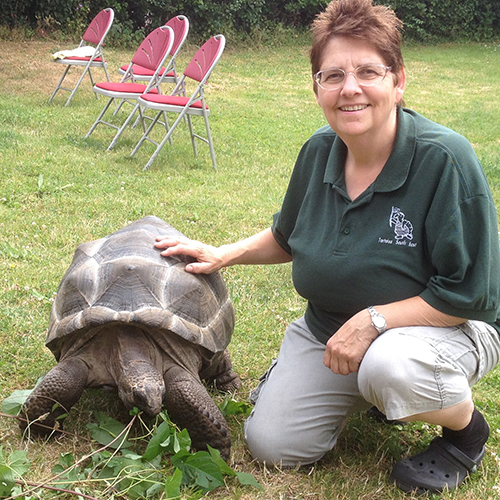 Tortoise Territories – Providing indoor and outdoor habitats for tortoises in the UK 
To allow tortoises in captivity to show as many naturally occurring behaviours as possible, in a country where they are not endemic, requires time, effort, money and imagination on the keeper's part. Offering both indoor and outdoor accommodation to provide a suitable environment during 365 days of a British year means understanding the tortoise's ethology, natural habitat and environment. Enriching that environment is a challenge, but one which is fulfilling and rewarding, allowing the tortoises to stay healthy and well for the part of our lifetimes that we keep them, so that they can live their full lives of over 100 years.
Jane Williams has delivered many workshops and CPD events over the last 25 years to tortoise owners, school children, veterinary and zoo staff. She delivered the tortoise lecture at the Royal Veterinary College for second year students for five years. Jane has kept over 20 species of Chelonia during her time caring for, and recuperating, tortoises in the sanctuary she runs. She has had articles published in a number of reptile publications and for the BVNA journal. She has presented at Tortoise Welfare UK international conferences in recent years. Jane completed her M.Sc. in Companion Animal Behaviour Counselling - Research area - Tortoise Welfare and Husbandry, at the University of Southampton in 2011.
Danielle Middleton-Beck BSc (Hons), PG.Dip, CABC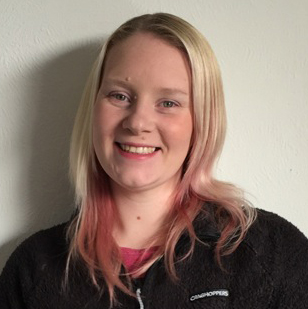 Lizard Aggression - Taming or Training?
Yes, indeed - lizards have their own personalities and needs. They can be friendly and feisty, and as with all other animals, they must have opportunities to engage in their natural behaviours. Their ability to do so can lead to the development of behavioural problems, including aggression. Although aggression is a normal behaviour for all animals, it is undesired in the species we choose to keep as companion animals or exotic pets.
Lizards are incorrectly viewed as having limited intelligence, and thus, incapable of learning. As a result, it's often thought that lizards can't be trained and that using force to 'tame' them is the most effective way for them to be handled. Although well-meaning keepers frequently recommend this method of "taming", it can easily cause long-term psychological stress to the lizard and prevent the development of a trusting human/lizard relationship.
This talk will discuss some of the reasons lizards use aggression towards their caregivers, what keepers and breeders can do to prevent aggression in lizards, and what to do if you have an aggressive lizard.
Danielle has been keeping and working with reptiles for over 15 years, and training animals professionally for over 8 years. She graduated from Bangor University in 2008, with a Bsc (hons) in Zoology and went on to complete an MSc in Companion Animal Behaviour Counseling, at the University of Southampton, in 2015. Her MSc project focused on the factors affecting lizard welfare when kept as companion animals. Danielle is an animal behaviour counselor and owns and runs an animal behaviour, rehabilitation and training business in Bolton, with her Husband James. Over the years Danielle has, worked in different animal collections including a safari park, zoo and pet shops. Danielle has kept a variety of exotic animal species, from Degus to Monitor Lizards, as companion animals. She currently lives with her husband and 2 year old son and their 2 dogs, Green Iguana and Savannah monitor.
Elaine Henley PG.Dip, CABC

The Parrots' Top 20
Foraging, preening, exploring, socializing, flying…parrots are busy creatures when living in the wild. When living in captivity, it is imperative that parrots be engaged in similar ways. The environmental and developmental needs of captive parrots cannot be over looked as if they are, behavioural and physical problems can be the result. This presentation will provide twenty tips that will help professionals recognize the sources of some of these problems, and assist caregivers in avoiding issues like aggression, excessive and unexpected fear, and feather destructive behaviour – a real "how to" about creating the best environment possible for the pet parrot.
Elaine Henley holds a Post Graduate Diploma in Companion Animal Behavioural Counselling from the University of Southampton and is a full member of the Association of Pet Behaviour Counsellors (APBC) as well as being an Animal Behaviour Training Council (ABTC) registered Clinical Animal Behaviourist for both parrots and dogs. Elaine runs the Animal Behaviour Clinic, where she helps caregivers of parrots and dogs with behaviour and training issues. Elaine also lectures on the subject of exotic and dog behaviour and has been invited to give presentations at animal behaviour conferences; the most recent being the ABMA conference in Denmark 2015; in September, Elaine will be delivering a parrot behaviour and training workshop in New York, USA. Elaine lives with three African Greys, 2 CAGS's and 1 TAG, as well as 4 dogs and 3 children.
Fees and conditions
Early-bird price:  APBC members:  £50   non- APBC members  £54 (booked and paid for prior to 31 July 2015).
Standard price: APBC members:  £55   non-APBC member price: £60 (booked and paid for after 1 August 2015).
FEES INCLUDE REFRESHMENTS AND A VEGETARIAN PACKED LUNCH!
Please note that other than assistance dogs, the venue does not permit dogs on the site. 
Please note that no refunds for cancellations can be given after 1 September 2015.  Cancellations prior to 1 September 2015 are subject to an £8 cancellation fee.  The organisers reserve the right to replace speakers in necessary.
Put the date in your diary!
When & Where

Kettering Conference Centre
Thurston Dr
NN15 6PB
United Kingdom


Sunday, 27 September 2015 from 10:00 to 17:30 (BST)
Add to my calendar
Organiser
Association of Pet Behaviour Counsellors
APBC Exotics and Small Furries Conference 2015