Refund policy
Refunds up to 1 day before event
Eventbrite's fee is nonrefundable.
APCCA Conference: Creative Connection '1st International Summer Conference'
About this event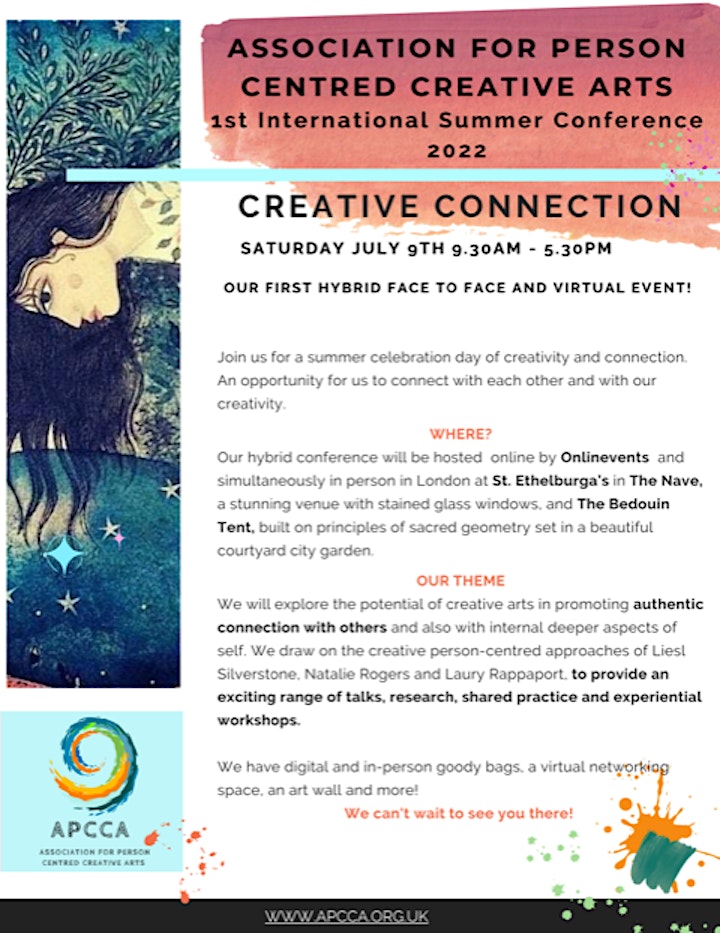 The conference theme explores the potential of creative arts in promoting authentic connection with others and also with internal deeper aspects of self. We will draw on the person-centred creative approaches of Liesl Silverstone, Natalie Rogers and Laury Rappaport, to provide an exciting range of talks and experiential workshops.
APCCA and ONLINEVENTS LTD (OE) are working together so that you can join this conference via zoom and with a Pay What You Can ticket, so that wherever you are in the world and whatever your financial circumstances are you will be able to join us at the conference.
The conference will be located in London at St. Ethelburga's in The Nave a stunning venue with stained glass windows, and The Bedouin Tent, built on principles of sacred geometry set in a beautiful courtyard city garden. If you can make it to London you can use the link below to book a ticket to attend in person.
https://www.apccamembers.org.uk/events/apcca-summer-festival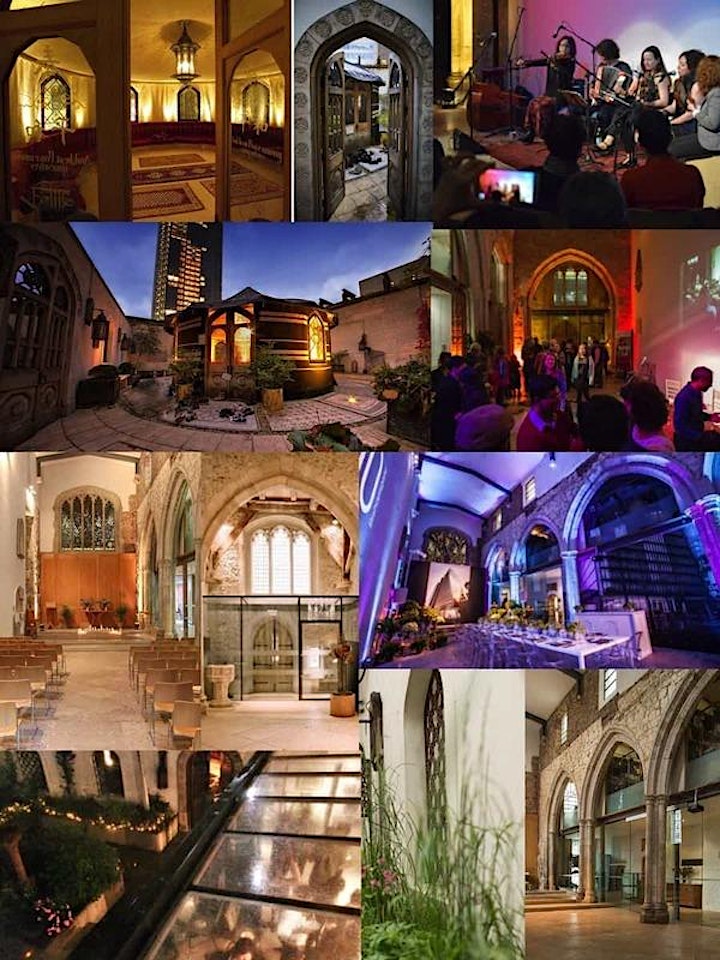 We are offering the online event free of charge to any Ukrainian colleagues who have been impacted by the war. APCCA will also arrange for two years associate membership free of charge. Please contact ani@apcca.org.uk to arrange.
APCCA is a not-for-profit organisation and is run with the passion and energy of volunteers. This event will be raising funds for the APCCA Art Project Grant Fund. All profits will go directly to the fund which will be distributed this autumn. You can read more about the fund and the work we do here; https://www.apcca.org.uk/art-project-grant-fund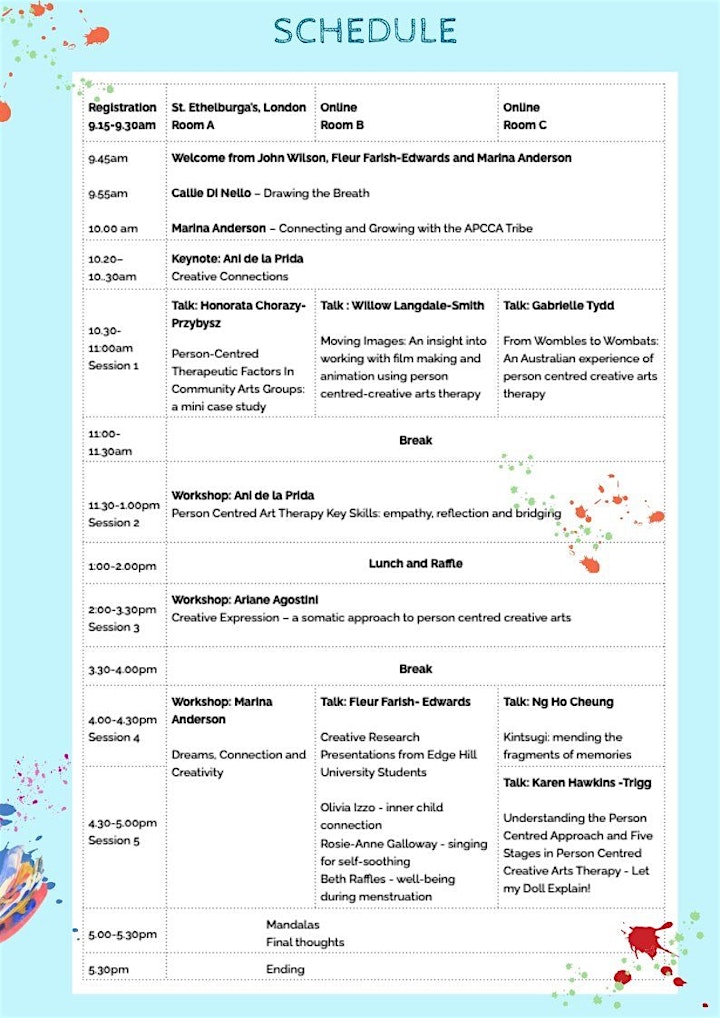 This conference will be recorded and you can use the ticket function to pre-purchase the recording before the event. This will be useful for colleagues who are not able to attend the event live and also for those who attend the event live and want to watch it again.
This workshop will be hosted on the Zoom meeting platform where we will use our camera and microphones to interact with each other as a group.
To support practitioners in this time of extraordinary circumstances we are offering access to this group for a self-select fee.
The self-select fee is a radical inclusion policy to open learning for all colleagues. The guide price for this event is £40.00, however, we appreciate that income varies greatly in different locations and circumstances. Please contribute what you can to help us maintain inclusive professional training.
All the colleagues at ONLINEVENTS and the presenters we collaborate with are committed to working in a manner consistent with the BACP Ethical Framework, which can be accessed on the link below. When registering for this event you are agreeing to be present and interact in a manner that is consistent with this Framework.
https://www.bacp.co.uk/events-and-resources/ethics-and-standards/ethical-framework-for-the-counselling-professions/
The day will include an exciting range of workshops and talks including;
Keynote: Ani de la Prida - Creative Connection
Ani de la Prida - Person Centred Art Therapy Skills Practice - empathy, reflecting and bridging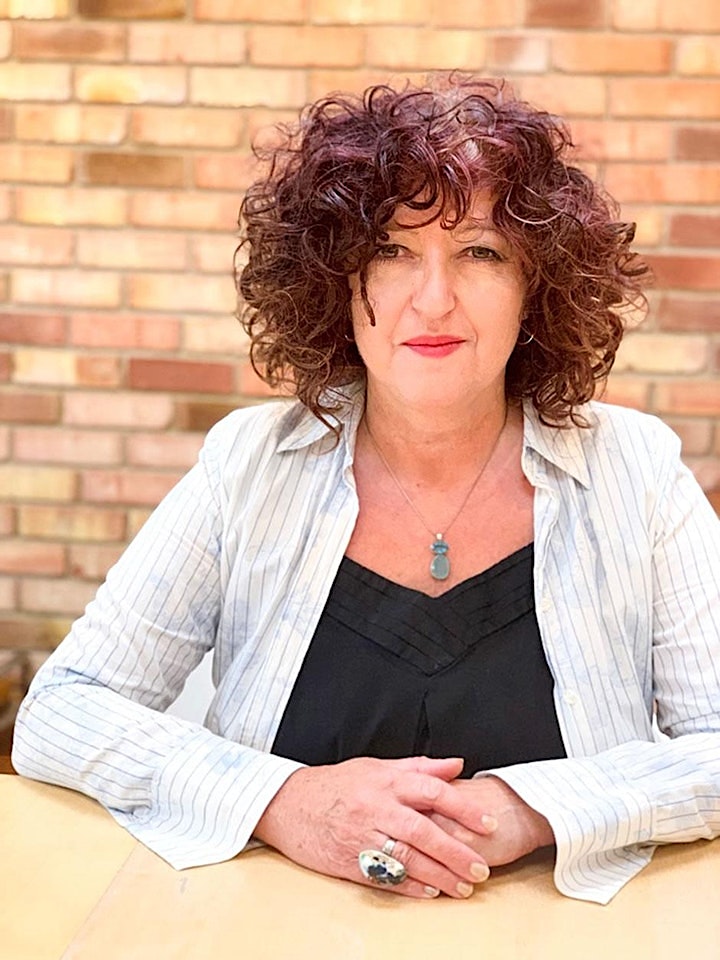 Ani de la Prida
Ani is a psychotherapist, creative arts counsellor and supervisor who brings a person-centred and pluralistic philosophy to her work. She is passionate about creative approaches to therapy and training. She has over twenty years' experience working with children, young people, adults and groups. Her experience includes working in schools, drug treatment programmes, probation services, offender programmes, EAP for Essex Police and Essex Fire Services, and she currently has a small private practice.
Ani is the founder of the Association for Person Centred Creative Arts where she is course director, and is also a senior lecturer at the University of East London. Ani has worked on several projects for the BACP and is an Executive Member of the Private Practice Division. Her research interests include creative arts in therapy, digital media in therapy and pluralistic practice.
The Pluralistic Therapy Primer (PCCS Books 2021)
What Works in Counselling and Psychotherapy Relationships (BACP 2020)
The Handbook of Counselling Children and Young People (Sage, 2018)
Website | https://www.apcca.org.uk/ | https://www.anidelaprida.com/
Facebook | APCCA - Association for Person-Centred Creative Arts
Twitter | @apcca_org | @anidelaprida
Instagram | apcca_org | anidelaprida
LinkedIn | Ani de la Prida
Ariane Agostini - Creative Expression - a somatic approach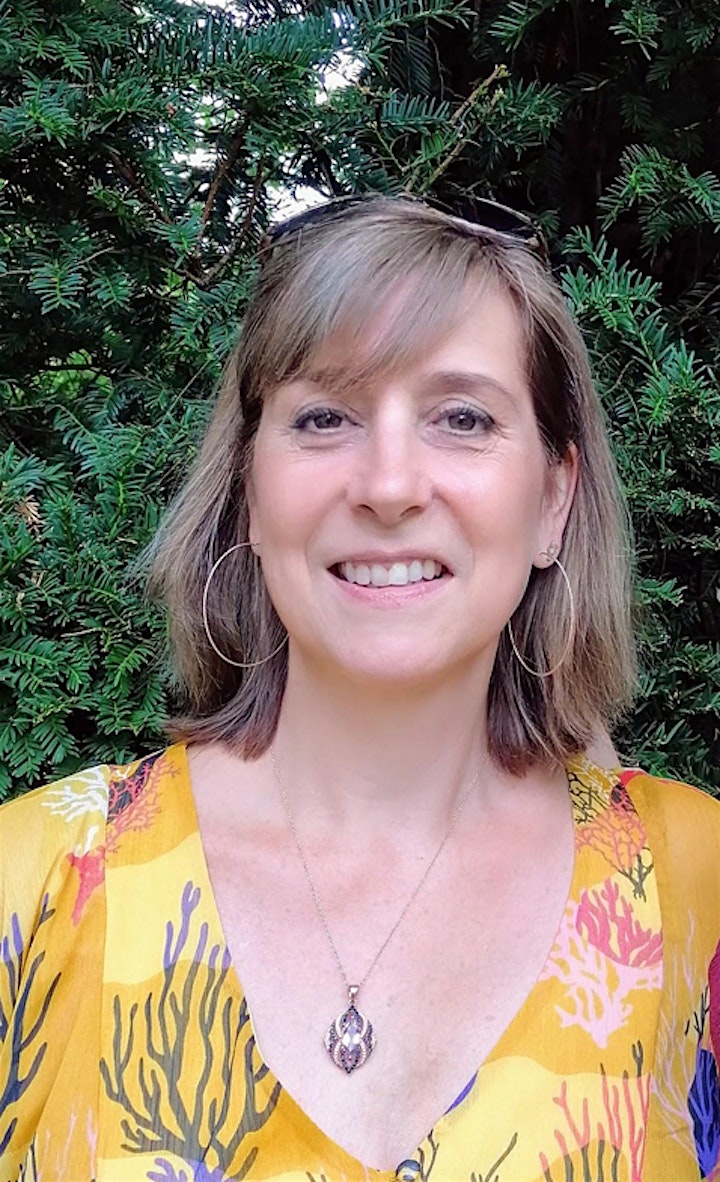 Ariane Agostini
Ariane Agostini is a person-centred creative arts facilitator, coach and workshop leader. She is the founder of Soul Atelier, committed to supporting people to connect with their deepest self and live a life of meaning and purpose. Arianne is a tutor for the Association for Person Centred Creative Arts (APCCA) and an Associate professor at Regent's University London.
Ariane works therapeutically with movement, visual art and writing. She delivers workshops and training courses via APCCA and Soul Atelier, both online and face-to-face in Central London.
In addition to her academic qualifications, she has trained in in coaching (CTI), Facilitation for Leaders/Worldwork(Cfor), Person Centered Art Therapy (APPCA), Leadership Embodiment (Wendy Palmer), Dance of Awareness™, Dance Movement Psychotherapy (Goldsmiths), Principles of Somatic Experiencing and Focusing. Her approach is also informed by her experience with Holotropic Breathwork, QiGong, Yoga, Pilates, Mindfulness Mediation and Shamanic Practice.
The day will also include exclusive workshops for online participants;
Person-Centred therapeutic factors in community arts groups - a mini case study by Honorata Chorąży-Przybysz
Person Centred Art Therapy - PersonCentred Creative Arts Therapy - an Australian experience by Gab Tydd
Kintsugi - mending the fragments of memoirs by Ng Ho Cheung
Understanding the Person Centred Approach and Five Stages in Creative Arts Therapy - let my doll explain! Karen Hawkins-Trigg